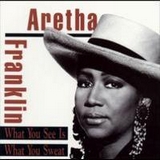 (Aretha Louise Franklin)
*25.03.1942 in Memphis, Tennessee, USA
+16.8.2018 in Detroit, Michigan, USA
U.S. Singer, Songwriter and Pianist
Biography • Quotes • Weblinks • Literature & Sources
Biography
Aretha Franklin, best known for her powerful soul hits such as "Respect" and "A Natural Woman," provided inspiration to Blacks and to women during the social movements of the 1960's and 70's. Called the "Queen of Soul" for bringing this brand of Black gospel-rooted rhythm and blues music to its fullest potential, Franklin is also a gifted jazz, blues, pop and gospel singer, and has established herself as an icon in American music. In 2008 she was ranked first in Rolling Stone magazine's list of the "100 greatest singers of all time" by a panel of 179 experts.
The daughter of a gifted gospel singer (Barbara Siggers) and a Baptist preacher noted for his rousing sermons (C.L. Franklin), Aretha Franklin grew up in an environment which fostered her considerable talent. Although her parents separated when she was 6 and her mother died when she was 10, Franklin later wrote of a happy childhood in Detroit, where she and her siblings were raised by their father and grandmother "Big Mama". The children were exposed to gospel music and musicians from an early age; not only Aretha but her sisters Erma and Carolyn would become accomplished singers and musicians.
Video auf Youtube ansehen: Aretha Franklin – Don't Play That Song (1970)
The charismatic minister's household was open to many Black gospel and jazz performers, from Art Tatum and Dinah Washington to Sam Cooke and Mahalia Jackson. As a girl Aretha sang regularly in her father's church; she was especially influenced by the noted gospel singers Clara Ward and James Cleveland. Aretha was something of a prodigy: not only did she have an amazing voice, she also taught herself to play piano by ear.
Her father allowed Aretha at 14 to accompany him on his preaching and gospel tours, and she also made her first gospel recording at that age, singing the hymn "Precious Lord" for Chess Records. Aretha had two children while still a teenager; both were cared for by her grandmother while she was on tour with her father and after she moved to New York at 18 to continue her singing career in the secular world. Although the Black-owned Detroit company Motown had been interested in adding Aretha to its artists, she and her father "had [their] sights set on something bigger."
Unlike Mahalia Jackson, who refused to sing other than religious gospel songs, Aretha Franklin wanted to follow gospel singers like Sam Cooke and "cross over" into the worlds of blues and pop. In New York she took dance and vocal lessons and cut a demo recording. When he heard her demo, the prominent record producer John Hammond – he had recorded Bessie Smith and Billie Holiday and also signed Count Basie, Bob Dylan and Bruce Springsteen to Columbia Records – was immediately captivated by Aretha's potential: "It's the best voice I've heard in 20 years." He offered her a contract with Columbia that provided her almost unprecedented royalties. Franklin recorded with Columbia from 1960-1966, during which time she moved easily among the various genres the company selected for her: jazz, blues, pop. "Like Billie Holiday, Franklin brought a bluesy quality to her jazz performances that was unusual and compelling. While Holiday had been influenced by the blues of Bessie Smith, Franklin drew on Holiday's singing as well as her own gospel roots for her signature sound." (Jackson 167)
But while Franklin's work at Columbia was of high quality and demonstrated her great versatility, it did not bring her the hits she craved or allow her to define her own unique musical personality. Columbia's marketing strategy aimed to make her "the black Barbra Streisand" (Dobkin 27), its producers only occasionally allowing her to compose her own songs or accompany herself on the piano. Moreover, her husband and manager, the Detroit-based music promoter Ted White, with whom she had her third son, was a restraining force in her development of a more powerful, uninhibited style. When Franklin eventually freed herself of his influence (they finally divorced in 1969), the hits started coming.
When her contract with Columbia expired in late 1966, Franklin was ready to accept the offer of Atlantic Records co-owner and producer Jerry Wexler, not only because of the $30,000 signing bonus, but also because of Atlantic's legendary roster of R&B musicians, including Ray Charles and Ruth Brown, whom Aretha had admired since childhood, and its more recent musicians such as Otis Redding and Wilson Pickett. The burgeoning civil rights movement of the 1960's had given rhythm and blues a new power and energy, as whites and Blacks alike responded to "Soul," the music of liberation and equal rights. C.L. Franklin had been a friend of civil rights leaders including Martin Luther King Jr., and Aretha also became involved in the movement, singing at fund-raisers and other events.
Video auf Youtube ansehen: Aretha Franklin – Cant Turn You Loose (1980)
Aretha Franklin's first album with Atlantic, "I Never Loved a Man [the Way I Love You]," produced in 1967 with the "good and funky" musicians of FAME Studios from Muscle Shoals, Alabama, allowed her finally to be herself as an artist. She chose or wrote all the songs and played piano herself, working out the harmonies beforehand with her sisters Carolyn and Erma. They, along with the Sweet Inspirations, would also provide backing vocals for Aretha's soul numbers; among the group was good friend Cissy Houston, mother of Whitney Houston. The album was a phenomenal success and included such soul hits as "Do Right Woman, Do Right Man," "Baby I Love You," "Dr. Feelgood," and "Respect" (originally a song of Otis Redding). The single "Respect" rose to the top of both R&B and pop charts and made Aretha a star overnight. It was followed by other chart-topping singles and albums, including such favorites as "You Make Me Feel Like a Natural Woman" and "Chain of Fools." In one year Aretha released an unprecedented six Top Ten singles and three Top Ten albums, a feat equaled only by Elvis Presley (Bego 95).
Franklin's songs – in particular her pounding "R-E-S-P-E-C-T: find out what it means to me!" – hit a vital chord in American society of the late 1960's: the burning energy of the Black woman's demand for respect spoke not only to Black liberationists – it became the "new Negro national anthem" and the theme song of the civil rights movement (Jackson 173) – but to women's growing demands for empowerment and equality as well. "'The song took on monumental significance,' Franklin said; it proved that music – and music made by women – mattered." (Jackson 174)
Franklin's albums of the 1960's and early 1970's continued high on the charts in both pop and R&B, and she had garnered a total of 18 Grammy awards by 2008. She sang at the funerals of Martin Luther King Jr. and Mahalia Jackson, and at the inaugurations of Presidents Carter, Clinton and Obama. Among her many honors, Franklin is proudest of the Presidential Medal of Freedom (2005) and a Grammy Award for Lifetime Achievement (1995). She was the first woman inducted into the Rock and Roll Hall of Fame (1987). In 1985 her voice was declared a "a natural resource" of her home state of Michigan.
Over the years Franklin has suffered personal as well as career-related ups and downs, but has always rebounded and reinvented herself as a performer, singing songs by the Beatles, Paul Simon, and Jimi Hendrix as well as her own compositions and appearing in duet performances with artists such as Annie Lennox, George Michael, Elton John, Whitney Houston or Mary J. Blige. When Luciano Pavarotti was too ill to sing at his Grammy Award celebration in 1998, Aretha stepped in and delivered her own unique performance of "Nessun dorma" from Puccini's Turandot. Her most recent album, "A Woman Falling Out of Love," was released in May 2011.
Video auf Youtube ansehen: Aretha Franklin – Respect (1967)
Following her marriage to Ted White Aretha Franklin lived for some time with her manager Ken Cunningham, with whom she had her fourth son. From 1978-1984 she was married to actor Glynn Turman.
Aretha Franklin died on August 16, 2018, in Detroit, Michigan.
Author: Joey Horsley
Quotes
You know a force from heaven. You know something that God made. And Aretha is a gift from God. When it comes to expressing yourself through song, there is no one who can touch her. She is the reason why women want to sing. (Mary J. Blige, in her tribute to Aretha Franklin, ranked all-time best singer of the rock era by Rolling Stone.)
Links
Biography.com Aretha Franklin Page (Biography, video clips, additional links) http://www.biography.com/articles/Aretha-Franklin-9301157
"Aretha Franklin." Wikipedia, the Free Encyclopedia http://en.wikipedia.org/wiki/Aretha_Franklin Updated on 17.5.2011
Wikipedia.de http://de.wikipedia.org/wiki/Aretha_Franklin
Laut.de (Bio, discography, links) http://www.laut.de/Aretha-Franklin
Rock and Roll Hall of Fame: http://rockhall.com/inductees/aretha-franklin/bio/
Rolling Stone Aretha Franklin Bio http://www.rollingstone.com/music/artists/aretha-franklin/biography
Rolling Stone's List of 100 Greatest singers of all time, in RS Nov 27, 2008, ranked by a panel of 179 experts: (Aretha is #1, commented by Mary J. Blige) http://www.rollingstone.com/music/lists/100-greatest-singers-of-all-time-19691231/aretha-franklin-19691231
Time Magazine: Music: "LADY SOUL SINGING IT LIKE IT IS" Friday, Jun. 28, 1968 (the article she resented): http://www.time.com/time/magazine/article/0,9171,841340,00.html
Youtube Links
Aretha Franklin - 60 Minutes Interview 1989 – (with Ed Bradley) Part One http://www.youtube.com/watch?v=04x7bNc8Lec&feature=related
Aretha Franklin - 60 Minutes Interview - Part 2‬ http://www.youtube.com/watch?v=jLyPn5AD55A&feature=related
Aretha Franklin - Phil Donohue Show - Part One http://www.youtube.com/watch?v=juYhPksSsOU&feature=related
‪TIME 10 Questions: ‪10 Questions with Aretha Franklin‬ http://www.youtube.com/watch?v=k234-9ftkM8&feature=fvsr
YouTube Mix for Aretha Franklin (Songs listed by year) http://www.youtube.com/artist?a=GxdCwVVULXe61HUKknk3PSUElDACS3Z4&feature=watch_video_title
Murphy Brown, Aretha Franklin: "Duet" http://www.youtube.com/watch?v=Olim8s4CYEA
Aretha Franklin Videos (channel with many performances, interviews) http://www.youtube.com/user/ARETHAVIDEOS#p/u
Aretha Sings at Barack Obama Inauguration, January 20, 2009 http://www.youtube.com/watch?v=JLppmMQA67U&feature=fvst
Grammy 2011 - Tribute to Aretha Franklin http://www.youtube.com/watch?v=AWOCWgCgvQM
Aretha Franklin – Respect (1968) http://youtu.be/0L4Bonnw484
Literature & Sources
Bego, Mark. 2001 (1989). Aretha Franklin: The Queen of Soul. Da Capo Press. (Updated Edition).
Jackson, Buzzy. 2005. A Bad Woman Feeling Good: Blues and the Women Who Sing Them. New York: Norton.
Dobkin, Matt. 2004. I Never Loved A Man the Way I Love You: Aretha Franklin, Respect, and the Making of a Soul Masterpiece. New York: St. Martin's.
Franklin, Aretha and David Ritz. 1999. Aretha: From These Roots. New York: Villard.
"Aretha Franklin." 2004. Contemporary Black Biography. Vol. 44. Detroit, MI: Gale. Webupdate 24 Jan. 2011.
"Aretha Franklin." 2006. Contemporary Authors Online. Detroit: Gale. Gale Biography In Context. Webupdate 24 Jan. 2011.
If you hold the rights to one or more of the images on this page and object to its/their appearance here, please contact Fembio.
---