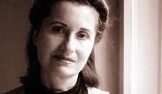 Austrian author, 2004 Nobel laureate for literature
born 20. Oct. 1946 in Mürzzuschlag, Styria
Biography
The critics have found her literature to be torturous reading, to be pornography, and her reading public tends to leap from the viciousness of the text to a presumed viciousness of the writer: One often succumbs to the error of considering the author to be inhuman, unloving and cynical simply because she is able to describe inhumanity and lovelessness with such cynicism. (Sigrid Löffler in Emma 10/1985)
The singularity of Jelinek's work stems from her politically explosive themes and the disruptive aesthetic power of her texts…. One of the best known and most controversial authors in the German language, she writes prose fiction and dramas that admit of no central interpretation which might penetrate the heart of her texts. Rather, she develops a decentering structure. For this structure she breaks apart various bodies of text, dissects them, and fuses particles in a new way. She dissects the words of others, trivial phrases, literature, and theoretical discourses, and recombines them in a textual web that has a decomposing and disintegrative effect, but also constructs. (D. von Hoff)
Quotations of Elfriede Jelinek
Elfriede Jelinek in conversation with author Marlene Streeruwitz, published in Emma, September/October 1997:
I was never as popular with men as [Ingeborg] Bachmann was.
Of course it's also true that by my way of dressing and using make-up I'm trying to compensate for the fact that I didn't learn the feminine role in time or really well.
After they limited woman for centuries to her biological function, they can get rid of her entirely now.
We find the words for what's going on, but nothing changes.
We're not permitted to say "I." And at bottom we aren't able to either … That's why I write in such an "exemplary" way; I don't portray individual fates. I describe a female It and actually have the feeling that I'm writing for and with all women.
And then as a woman you also learn that intellect reduces the erotic value of a woman. That's painful.
It's exclusively scholars involved in women's research who study my work … The only ones who take me and my work seriously are female dissertation-writers.
It's constantly being said that feminism is superfluous since women have of course already achieved everything; but you only have to look at how much of the world's wealth is controlled by women. In fact exactly 1 per cent. That is a joke. And on top of it all you have to justify yourself for being a feminist. As if one could possibly be anything else!
Author: Luise F. Pusch
If you hold the rights to one or more of the images on this page and object to its/their appearance here, please contact Fembio.
---