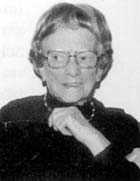 Mother, teacher, first female pediatrician to open a practice in Wolfsburg.
born on December 3, 1903 in Erfurt
died on September 22, 1989 in Wolfsburg
Biography • Literature & Sources
Biography
(Based on an account by her son, Dr. Jürgen Just, a pediatrician in Wolfsburg.)
The life path of Anneliese Just, which she would shape with characteristic strength and vigor, began promisingly after the turn of the century. Anneliese was born in Erfurt in 1903, the third of five children in a well-to-do middle-class family; her mother was a homemaker, her father a leather producer. Her school years in Erfurt were overshadowed by the First World War. After successfully completing college preparatory school, or Gymnasium, she attended university and graduated, qualified to teach high school.
In 1924 Anneliese Oehmchen obtained a position as a private tutor in the family of the director of the Jungborn Sanatorium on the northern edge of the Harz region. Six years later she married Dr. Walter Just, the oldest brother of her pupil, and the chief physician of the alternative-leaning treatment center. Their three children were born in Jungborn. On October 11, 1936, her husband lost his life in a tragic accident at a railroad crossing. She escaped death herself by leaping out of the automobile. Her parents-in-law helped as best they could and even offered to care for her and the children for the rest of their lives. But two years after the accident Anneliese Just decided to study medicine, in spite of her age of 35 (!), in order to carry on the work of her husband in the sanatorium. She moved to Göttingen, and the children followed her in March 1939. The Second World War broke out six months later.
By regularly demonstrating her diligence and abillity, Anneliese Just was able to study without paying fees. A life insurance policy provided her and the children a modest income. In 1943 she passed the state examination in medicine and did her internship at the university clinics in Göttingen. After the war's end it was clear that she could never return to the Sanatorium of her parents-in-law, since it was located in what was now the border strip beyond the line dividing East and West Germany. She remained in Göttingen and took a residency in the pediatric clinic. In 1949 she was certified as a specialist (Fachärztin) in pediatrics. But when she had to give up her clinic position to a returning colleague who had been a prisoner of war, Anneliese was forced to look for a place to set up her own practice.
After many unsuccessful inquiries and requests Anneliese Just was approved in the fall of 1950 to open a practice in Wolfsburg. The search for a space to live and open an office in Wolfsburg was difficult, since rebuilding was slow in the impoverished post-war years, and the town was full of displaced persons, refugees and returning soldiers. In May 1951 she opened her pediatric practice above the Mohren Apothecary on Rothenfelder Street. It would have been too expensive to refurbish the entire floor, so she shared the space with a dentist, Dr. Heinrici. At first it was not possible to find an apartment, and the 66 square meters of her office rooms had to do double duty at night and on weekends as her living space; her children, by now grown, spent their days out of the house. For three and a half years Anneliese Just and her children made do without a separate apartment. This became all the more difficult when an ailing sister moved in with them and had to be cared for. Finally, in December 1954, the family was able to move into an apartment of their own on Porsche Street.
When Anneliese Just opened her practice in 1951 there were some 30 physicians in Wolfsburg. They all knew each other personally and got along in a friendly fashion, and when the need arose they consulted each other as colleagues. The legendary "Uncle Willi" (Dr. Wolf) would often call her and say something like: "Anneliese," – he used "du" and first names with everyone on principle – "I can't figure out what's wrong with child X; why don't you go over there." Another time Dr. Weise had requested a bedside consultation in the middle of the night. As the two of them left the patient's house together, Anneliese Just's son Jürgen, who had brought his mother to the consultation and fallen asleep waiting on his motor scooter, was wakened by loud laughter. House calls were much more frequent then than now, and Anneliese Just made them whatever the weather and even at night with the little NSU-Lambretta. Once she fell on an icy street and broke her nose. – In 1953 she was finally able to buy her first used VW beetle.
Anneliese Just treated many chronically ill and disabled children, whom she accorded a special status. They were not required to wait so long and were remembered by "Tante Doktor" at Christmas or on birthdays with a little present. She always developed an especially close relationship with such patients and their families. Personal contacts were important to her in spite of the ongoing heavy demands of her profession.
The office on Rothenfelder Street was renovated at the end of 1954, when it no longer had to serve as a private residence, and was enlarged in 1972, although Anneliese Just was by then already 68 years old. At the end of 1976 she had to give up these rooms because the lease was terminated, but was able to continue her work in the pediatric practice of her daughter-in-law and son in Detmerode.
On the occasion of her 75th birthday in December 1978 Anneliese Just yielded to the wishes of her children and gave up her medical work. This was hard for her, in spite of the fact that she had had no real private life since 1938. She still made occasional house calls, and in the Wolfsburg pediatric practice people still inquired how "Tante Doktor" was getting on. In the 60s and 70s she had cared for many children from Italian and Tunisian families who lived in worked in Wolfsburg. These families especially continued to show their interest and concern about her well-being, even years later.
Dr. Just did not have time for social or political engagement beyond the intensive work of her practice, all the more since she repeatedly had to take care of her two chronically ill sisters. – The children helped in the household and practice as much as they could. Her daughter later went to Berlin as a dealer in musical books and scores; her younger son heads an architectural firm there.
Photography was Anneliese Just's passion from the early 1930s to her last years. Her subjects included humans, landscapes, plants, animals, and buildings. She also loved hiking and travel. Her first camping trip with the children and the newly acquired VW was to southern Germany in 1954. There followed many trips to Scandinavia and later to Sardinia. From 1966 on Dr. Just lived in her flat on Röntgenstraße. She later also enjoyed the company of her older sister, Gertrud Henning, for many years a teacher at the Porsche-Realschule, who had found an apartment in the same building. Anneliese Just played an especially loving role in the lives of her grandchildren Karin and Martin; both followed her path and became physicians.
Anneliese Just spent the longest stretch of her life, almost 40 years, living and working in Wolfsburg. She died unexpectedly in September, 1989. She unfortunately did not live to witness the opening of the border and the reunification of the two Germanies. In her last years she corrected proofs together with her son, who also worked on the editorial staff of the journal Kindergesundheit (Children's Health). In delicate, filigree handwriting the aged pediatrician noted stylistic corrections, which were always accepted.
Professor Dr. med. Hellbrügge, internationally known among colleagues as the father of social pediatrics, acknowledged Anneliese Just's contributions on the occasion of her 80th birthday in the professional journal Der Kinderarzt (The Pediatrician) 15/1 (1984): "She is the perfect example of the magnificent achievements of German pediatrics, which gave its all for the children, even in times of crisis, in the difficult years after the war."
Her many former patients recall to this day Dr. Just's committed and effective service and are grateful.
Revised version of the account by Dr. med. Jürgen Just.
Author: Hannelore Künne. Translation by Joey Horsley
Literature & Sources

from: Frauen in Wolfsburg – Ein Blick in ihre Geschichte (Women of Wolfsburg—InSight into Their History), 1998. Published by city of Wolfsburg, Frauenbüro. ISBN 3-87327-031-5.
If you hold the rights to one or more of the images on this page and object to its/their appearance here, please contact Fembio.
---