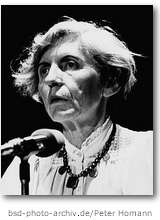 (née Neubert)
born January 10, 1923 in Berlin
died November 26, 1986 in Berlin
German writer
35th anniversary of death on November 26, 2021
Biography • Literature & Sources
Biography
"For me it is important that you were like I try to be: Not conformist, sensitive to those outside, angry in the face of slick routine, awake to the tact of person to person, forever touched by worries about your own children, zealous in protest because convinced of social and democratic responsibility - and writing alone….. Bettine, sister, friend, alter ego… stay close to me with your courage!" (Letter to Bettine von Arnim, 1983)
Ingeborg Drewitz studied against her father's wishes, received her doctorate in 1945, and one year later married her childhood friend who had returned home. She gives birth to two daughters, wins an advancement award, but "the currency reform stops the great flight." A third child dies in childbirth; she has the fourth almost simultaneously with the publication of her first novel, Der Anstoß, in 1958.
Nearly three decades of commitment to life and writing follow. She combines courage with an almost unbelievable fervor for work. Again and again she stands up for those "who stand outside" - in speeches, essays, reviews, actions, exhibitions, in association work and teaching. She personally stands up for women, for cultural minorities, for prisoners, for peace. In addition to this varied, tiring, often discouraging public work, there is always the compulsion to write radio plays, novels, stories. For herself, she writes poems and diaries.
Her last novel, Eingeschlossen, is published in 1986. Returning to Berlin from a reading tour that lasted several months, she undergoes surgery for colon cancer in September. The disease is already too far advanced. In her diary she writes of her readiness to die "because the limits are set, because so-called healing is only an extension of misery, which only blocks the liberation of writing for me." Two days before her death, Ingeborg Drewitz is awarded a final prize, for her "social and political struggles on behalf of women and humanity."
(Text from 1993; translated with www.DeepL.com/Translator (free version), edited by Luise F. Pusch)
Author: Margaret E. Ward
Literature & Sources
Numerous pictures, links, and detailed literature references can be found on the German Drewitz page (click top right).
If you hold the rights to one or more of the images on this page and object to its/their appearance here, please contact Fembio.
---