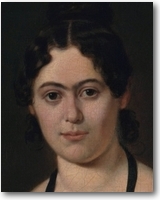 (Johanna Bertha Julie Jenny von Westphalen [birth name])
born on February 12, 1814 in Salzwedel
died December 2, 1881 in London
German pioneer of socialism; wife of Karl Marx
140th anniversary of death on December 2, 2021
Biography • Quotes • Literature & Sources
Biography
"Oh, dear, dear, now you're even getting involved in politics. That's the most neck-breaking thing. Karlchen, just remember that you have a sweetheart at home who hopes and laments and is completely dependent on your fate. (Jenny von Westphalen 1841 to Karl Marx).
In 1843, after seven years of engagement, the "Queen of the ball" of Trier marries Dr. Karl Marx, four years her junior. As an enthusiastic democrat, she henceforth "mengeliered" with him in politics, became his secretary, conducted for him the extensive correspondence with comrades, publishers, copied his texts, discussed them with him; Marx always attached great importance to her political judgment.
A report in the Deutsche-Brüssel-Zeitung about the New Year's festival of the German Workers' Association in 1847/48 notes that "Frau Marx showed her genial talent for declamation" in a "dramatic performance". So she certainly played an independent role in the socialist movement. And not only there: in 1875 the Frankfurter Zeitung published her articles about the London theater and the S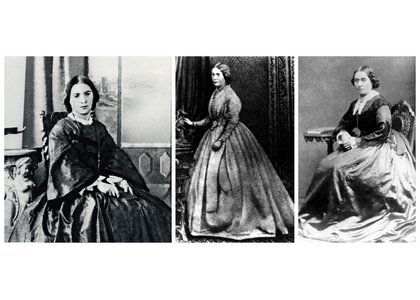 hakespearean actor Irving.
But her dependence on Marx's fate also brought her enough misery: a life in exile (Brussels, Paris and London), constant moves caused by rent debts; a life in poverty, which occasional inheritances and constant allowances from Engels did not eliminate; the early death of four of her seven children, caused by the miserable living conditions; increasing depression. Only in 1867, after 17 years of work, does Marx's first volume of "Capital" appear, and the nightmare pressure in the family subsides. In 1876, Jenny Marx falls ill and is diagnosed with cancer. She died on December 2, 1881.
(Text from 1988, translated in 2021, with www.DeepL.com/Translator (free version), edited by Luise F. Pusch)
Numerous pictures, links, and detailed literature references can be found on the German Jenny Marx page (click top right).
Author: Kathrin Grothe
Quotes
She possessed a cheerful and brilliant mind. The letters addressed to her friends, which flowed effortlessly and casually from her pen, are truly masterful achievements of a lively and original mind. It was considered a celebration to receive a letter from Mrs. Marx…

(Paul Lafargue in his memoirs of Karl Marx, 1890)
I had already met Frau Jenny Marx, she was a distinguished appearance who immediately won my sympathy, who knew how to entertain her guests in the most charming and amiable manner. [...] When I visited the Marx family once again the day before our departure, Mrs. Marx was lying in bed. Upon my request to be allowed to say goodbye, Marx led me to her with the strict instruction not to chat with her for more than a quarter of an hour. But we immediately got into such animated conversation that I forgot all about her condition, and the quarter of an hour turned into more than half an hour. Then Marx, who had become impatient, entered and lectured me, saying did I want to ruin his wife? Wistfully I said goodbye to her, because the illness she was suffering from was incurable. I never saw her again. She died the very next year.

(August Bebel, in: Aus meinem Leben, vol. 3, p. 139 ff.)
Stumpf remained friends with the Marx family. It was in the summer of 1875 when I received a billet from him: "Be sure to come to the Hotel Landsberg tonight at 8 o'clock; interesting and dear visit." I appeared punctually at the hotel and found Stumpf there with a - as they say - distinguished-looking lady, whose age I estimated at 55 to 60. A sharply cut, witty and attractive face, a proud bearing and an extraordinarily amiable nature - that is how Jenny Marx, the companion of Karl Marx, whose grandfather, Herr von Westphalen, was the brilliant bourgeois chief of staff of Prince Ferdinand of Brunswick in the Seven Years' War and whose brother was the Prussian Minister of Reaction von Westphalen, met me. She brought me greetings from her husband and daughter Eleanor. The conversation, during which we were very opulently entertained by Stumpf, was so stimulating that we stayed together until about three o'clock in the morning.

(Wilhelm Blos, in: Denkwürdigkeiten eines Sozialdemokraten. Munich: G. Birk, 1914 and 1919, vol. 1, p. 190)
But much closer to me than all these things was a painful event around this time that moved me deeply. On December 2, 1881, Jenny Marx, the wife of our great pioneer, had died. We had corresponded often, and I had seen her only once - in Mainz - but the impression that the rare woman made on me had remained a lasting one. She had been a little over sixty years old at the time, but had given the impression of being in her fifties. So well had her excellent constitution and her unshakable courage to live withstood the terrible adversities she had to endure. One can imagine what the loss of this life companion meant to Karl Marx, who brightened and warmed his whole existence. "She not only shared," said Engels in an obituary, "the destinies, the labors, the struggles of her husband, she took part in them with the highest understanding, with the most ardent passion."

(Wilhelm Blos, ibid., vol. 2, p. 37
Literature & Sources
Gabriel, Mary (2011): Love and capital. Karl and Jenny Marx and the birth of a revolution. 1st ed. New York: Little Brown and Co.
Healey, Edna (1986): Wives of fame. Mary Livingstone, Jenny Marx, Emma Darwin: Sidgwick & Jackson.
Peters, H. F. (1986): Red Jenny. A life with Karl Marx. London: Allen & Unwin.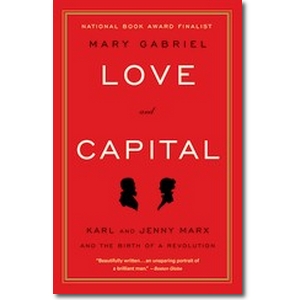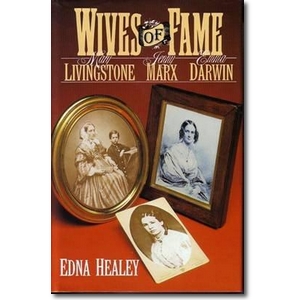 If you hold the rights to one or more of the images on this page and object to its/their appearance here, please contact Fembio.
---