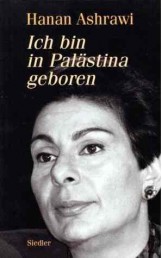 Palestinian politician and professor of English literature
born on October 8, 1946 in Nablus, Palestine
70th birthday on October 8, 2016
Biography
Hanan Mikhail Ashrawi has been called one of the most influential women in the Arab world. A former professor of English literature, Ashrawi is best known for her advocacy of Palestinian self-determination and peace in the Middle East. As a leader in politics and civil society, she has worked tirelessly for an end to the Israeli occupation and for democracy and gender equality in Palestine.
Hanan Mikhail was born on October 8, 1946 in Nablus, Palestine, which is now part of the occupied West Bank. Hanan was the youngest of five daughters in a middle class Christian family. Her mother, Wadi'a Ass'ad Mikhail, was an ophthalmic nurse and her father, Daoud Mikhail, a physician. In the 1948 war that established Israel, the family fled to Amman, Jordan. Once Jordan had taken control of the West Bank two years later, the Mikhails settled in Ramallah, where Hanan attended a Quaker school for girls. Hanan was inspired to activism by her father, who favored a greater role for women in society and was repeatedly imprisoned by the Jordanian authorities for his activities with the Arab Nationalist Socialist Party and the Palestinian Liberation Organization (PLO).
After finishing high school, Mikhail pursued a bachelor of arts in English literature at the American University in Beirut. The 1967 War sparked her direct engagement in the Palestinian struggle. With her family under occupation and herself in exile, she became spokesperson for the General Union of Palestinian Students, helped organize women's revolutionary groups and served as a guide to foreign reporters visiting refugee camps.
After graduating with a master of arts in Renaissance literature and textual criticism in 1970, Mikhail was denied a visa by Israel to return to the West Bank. However, the American University offered Mikhail a full scholarship to the University of Virginia at Charlottesville, where she received her doctorate in English and Comparative Literature.
In 1973 Mikhail returned to the West Bank when the Israeli government allowed Palestinian exiles to rejoin their families. She established the English Department at Birzeit University, teaching, chairing the department (1973-78 and 1981-84) and serving as Dean of the Faculty of Arts (1986-1990). She also published literary criticism including Contemporary Palestinian Literature under Occupation (1976).
When the Israeli military closed the university intermittently to stop student protests, Mikhail founded the Birzeit University Legal Aid Committee/Human Rights Action Project. During this time she also organized women's study groups on issues including divorce, dowry (mahr) and women's right to choose their husbands. In August 1975 Mikhail married Emile Ashrawi, an artist, filmmaker and UN photographer. Within six years the couple had two daughters, Amal and Zeina.
In 1987, Palestinian protest against the Israeli occupation transformed into the first intifada (translated as "to shake off"). Ashrawi and other women took on leading roles, starting economic projects, participating in political committees and entering dialogue with Israelis who opposed the occupation. Ashrawi joined conferences and activities in Europe and Jerusalem and engaged in an ongoing dialogue where Palestinian and Israeli women explored possibilities for peace.
Ashrawi emerged as an articulate, forceful advocate in the US media in April 1988 and served as the Official Spokesperson of the Palestinian Delegation to the Middle East Peace Process from 1991-93. She also participated in the 1991-1992 Madrid peace conference as a member of the Palestinian Leadership Committee delegation. Some Palestinians criticized her for being too accommodating, but many admired her straightforward and calm negotiating style.
After the Oslo agreement in September 1993, Ashrawi resigned as spokesperson and declined to serve in the new Palestinian Authority. She instead founded the Palestinian Independent Commission for Citizens' Rights (PICCR), which investigated Israeli and Palestinian human rights violations. To raise international awareness of the Palestinian situation, Ashrawi also chronicled her involvement in the struggle in This Side of Peace: A Personal Account (1995).
In the Palestinian Authority's first elections in 1996, Ashrawi was elected to the Jerusalem District of the Palestinian Legislative Council. In the same year, she accepted the post of Minister of Higher Education and Research.
In December 1998, Ashrawi left the Ministry of Higher Education and Research and founded MIFTAH, the Palestinian Initiative for the Promotion of Global Dialogue and Democracy. Based in Jerusalem, MIFTAH's promotes human rights, democracy and dialogue based on the free exchange of information and pro-active policy development. At the same time Ashrawi participated actively in the second intifada, suffering a leg injury from an Israeli stun grenade during a March 2001 protest. Later that year, the Arab League recruited Ashrawi as their Commissioner for Information and Public Policy. In the wake of the September 11th attacks, she conveyed the shock and grief felt in the Arab world and discouraged anti-Arab discrimination in the Western press.
Today Ashrawi continues to head MIFTAH and serve on the Palestinian Legislative Council. A regular contributor of articles and speeches on the Palestinian situation to such bodies as the World Economic Forum, she also serves on the advisory boards of many organizations including World Bank Middle East and North Africa (MENA), United Nations Research Institute for Social Development (UNRISD) and the International Human Rights Council. Ashrawi received the Swedish Olof Palme Prize (2002) and the Sydney Peace Foundation prize (2003) in recognition of her efforts for peace and human rights.
(Text from 2005)
Author: Sarah K. Horsley
If you hold the rights to one or more of the images on this page and object to its/their appearance here, please contact Fembio.
---