Biographies Renate von Gebhardt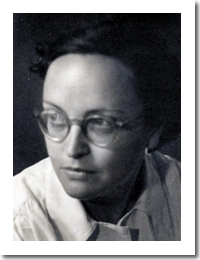 © Bettina von Gebhardt
(Adelheid Renate Felicitas von Gebhardt)
born on November 28, 1921 in Berlin
died June 26, 2019 in Berlin
German writer and editor at RIAS Berlin
100th birthday on November 28, 2021
Biography • Literature & Sources
Biography
She came from a family where there was a lot of writing. But after a brief foray into writing, she turned to radio and became an important figure on children's radio at RIAS Berlin (radio in the American sector).
Renate von Gebhardt's mother was the writer Hertha von Gebhardt, her father the genealogist and archivist Peter von Gebhardt (1888-1947). In the year of her birth, her older brother had died at the age of just one year. Her parents divorced in 1927, but she continued to have good and regular contact with her father.
From 1930 her mother was friends with the writer and sculptor Christa Winsloe, with whom Renate von Gebhardt also had her own contact. She liked to visit her in Munich when she visited her grandparents in Grainau, and made trips with her in their car, which was still a novelty at that time. Later, she maintained her own correspondence with Winsloe until her death. Until old age, she knew how to tell lively stories about her. She inherited Winsloe's literary estate from her mother.
She learned to play the violin and viola as a teenager; later she switched to the organ with passion. Music became her purpose in life during her school years; she left the Königin Luise Foundation in 1937 without graduating from high school - her grades make it clear that she was no longer interested in anything but music. She did not need a high school diploma to study church music. She began her studies at the State Academy for Church and School Music in Berlin, but moved to Munich because of the increasing anti-Semitism in the city, where she experienced it as even worse, before eventually continuing her studies in Heidelberg.
During the Nazi era, her mother made sure that her daughter did not have to join the Bund Deutscher Mädel, but could instead join the Volksbund für das Deutschtum im Ausland. For the rest of her life, she, who deeply despised National Socialism, regretted that she had not helped her Jewish friends enough during that time.
In 1945, she went back to Berlin because she did not want to leave her mother alone at the end of the war.
After the war, Renate von Gebhardt tried her hand at several things. It had already become clear to her that a life as a church musician did not suit her. She learned photography from the photographer Elisabeth Frey, who later emigrated to Canada. When some students of the dancer Mary Wigman, with whom her mother was friends, performed a water ballet at the Swiss Cirkus Knie, she traveled with them through the country for a few weeks in the 1950s, of which a series of photos bears witness.
Another friend from that time was the dancer and Wigman student Margaret Dietz, who emigrated to the USA in 1953, where she worked as a choreographer and became a professor.
THE AUTHOR
Writing ran in her family, which included the writer and Egyptologist Georg Ebers, the author Ina Seidel, her father as a genealogist, and her mother, who wrote numerous works. Through her mother, she also personally knew countless authors from the 1920s and 1930s.
Immediately after the end of the war, Renate von Gebhardt also turned to writing. She wrote a lot and with passion. On her first text, entitled "Jahrgang 1921," she noted in pencil "Opus 1!" - whether it was published is unclear. In it, she describes the post-war situation of her generation, which first had to learn freedom:
"(...) youth is civil again, and a hearty relaxation releases the rigidity and silence, the desperate need for peace and peacefulness. And from this relaxation new vigor is born. We work, we build, and we marvel: we young people do not welcome back anything familiar in the new ways of life, no, we are confronted with facts we never knew or even suspected."
For them, this also included being able to read various newspapers and to hear Mendelssohn played in public.
At first it was feuilleton texts that appeared from 1945 on in numerous newspapers such as Der Morgen, Hessische Nachrichten, Telegraf and Sie. They were mostly short entertaining texts. But there were also animal stories about elephants and pugs (pugs, of course, as she and her mother had been given one by her friend Christa Winsloe) as well as more serious ones, such as "Neue Klänge in Berlin. Ein Kapitel Musikgeschichte," which was published in 1946, and a contribution to the 85th anniversary of Elizabeth Barrett-Browning's death.
She also sent at least one of her texts to her mother's friend, the journalist Hilde Walter, who had emigrated to the United States, to be printed as a "Voice from Germany." Supplementing the text, the author is introduced:
"The author lives in Berlin, is 24 years old, grew up in a family of scholars and writers, and studied music. She published her first sketches in the new German newspapers that came out after the collapse of the Nazis. This atmospheric picture of a trip from Berlin to Weimar appeared in the Hessische Nachrichten."
Renate von Gebhardt's first book to appear was a compilation "from German poetry," the "Schlummerbrevier," in 1946. This was followed by three books for girls, which she wrote herself. She commented on the writing in her humorous way in a feuilleton text for the half-monthly newspaper for young people Horizont under the title "I'm writing a book":
The title sounds proud. It doesn't just sound proud, it's meant to. I admit, quite a few others have written books (before me). Some even two or three or fifty-seven. Or even more. But the exciting thing is that this is the FIRST book I am writing. Just imagine all the things that are involved. To start with the cold, gray-rough reality: you need a typewriter. With ribbon, paper, lots of paper. You need a room where you can, sometimes, be alone.

(...) P. S.: I am on page 43. Nevertheless, against all my doubts, I still come up with something. By the way, it can also be done without a typewriter. Some people can even do it with a pencil. But no one can do it without an idea.
She had no lack of ideas; she also wrote a history of the pencil.
Her first book for girls appeared in 1949: "Annemarie Degner, stud. mus." published by Schaffstein Verlag, which also published her mother's books for girls. In it, she tells the story of a young woman who moves to post-war Berlin after her school years to study music. In 1955 followed the novel "Erste Begegnung" (about first infatuations of schoolgirls) and in 1959 "Denn über alles Glück ..." (1959) (about a vacation trip to France by two friends) was published by Cecilie Dressler Verlag, and a translation of it into Italian appeared in 1961 under the title "Due ragazze e una vacanza".
THE EDITOR
After the war, Renate von Gebhardt applied for a job at the Berlin radio station Kulturfunk, which was headed by Annamarie Doherr. She received an enthusiastic response and was immediately accepted as a reporter. At the same time, however, she continued to write feature texts, was sent to Weimar as a reporter, and in 1946 also wrote a text about "Weimar in the Rain."
In 1947, she moved to RIAS Berlin, where she was given a permanent position and directed children's radio until 1981. There she supervised countless programs for younger listeners and wrote them herself. Among them were very popular ones like the first fairy tale programs. The weekly program "Die RIAS-Kinder besuchen Onkel Tobias" (The RIAS Children Visit Uncle Tobias), which many still remember from their childhood and of which she was the editor-in-chief, was especially well known beyond Berlin's borders. But she also supervised radio plays as well as readings all the way to the RIAS children's puzzle games and participated in the series "Bei uns funkt's".
In addition to the radio broadcasts, she also published game and craft books of the extremely popular series "Onkel Tobias".
Even though things were going well for her professionally, her intimate friendships with women attracted attention and she was advised by RIAS to get a fiancé. She solved this "problem" by going on more frequent dates with a boyfriend at the station.
PRIVATE LIFE
Love relationships with women came naturally to her at an early age, as she knew those from her mother. After several intense love affairs, some of which turned into lifelong friendships, she had three long-term relationships. As Georg Eisenberg so aptly writes in his obituary:
"She always took what she wanted, but she also gave what others would never have dared to take: all her love."
In her last decades, Renate von Gebhardt divided her time between Schleswig-Holstein, where she spent her summers, and Berlin, where she lived in the artists' colony in winter.
(Text from 2021, translated with www.DeepL.com/Translator (free version), edited by Luise F. Pusch)
Author: Doris Hermanns
Literature & Sources
Numerous pictures, links, and detailed literature references can be found on the German Renate-von-Gebhardt page (click top right).
If you hold the rights to one or more of the images on this page and object to its/their appearance here, please contact Fembio.
---