Biographien Claudia de' Medici
Wikimedia Commons
(Claudia von Medici)
*4. giugno 1604, Firenze
+ 25 dicembre 1648, Innsbruck
Contessa del Tirolo
Claudia de' Medici, figlia del collezionista d'arte, mecenate e fondatore di Villa Medici a Roma, si ritrovò fidanzata già alla tenera età di quattro anni. I suoi genitori la fecero educare in un convento, dove imparò a suonare l'arpa e il liuto, a dipingere quadri e a far propria la cosa più importante per una principessa: la devozione religiosa. In un quadro che la ritrae ancora fanciulla la vediamo con le mani castamente congiunte, la chioma riccioluta domata da una cuffietta di pizzo e il collo sinuoso protetto da un rigido colletto.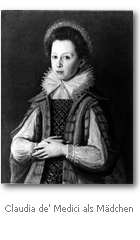 Claudia de' Medici era stata promessa in sposa all'erede della dinastia urbinate, che appena compì sedici anni le scrisse un'appassionata lettera d'amore nel timore che la sua famiglia potesse cambiare idea e combinare un matrimonio con l'Imperatore Ferdinando II. Il timore era forse eccessivo: i genitori di Claudia mantennero infatti fede all'impegno assunto. Così, nell'anno del signore 1621 la giovane sposa partì per Urbino, pronta a soddisfare le grandi aspettative in lei riposte e a mettere al mondo tanti bei principini. Che amara delusione, quando arrivò! Il suo gentile consorte aveva sistemato l'amante, un'attrice, nel palazzo di corte e non aveva nessuna intenzione di modificare il suo allegro stile di vita. Indignata, Claudia fuggì a Pesaro. Solo dopo che Federigo le promise che avrebbe cercato di migliorarsi tornò in quel di Urbino. Lì nel 1622 mise al mondo la sua prima figlia, Vittoria. Essendo femmina non poteva essere un erede al trono, ma era comunque la prova incontestabile di una sponta-nea e promettente fertilità.
L'improvvisa morte di Federigo pose bruscamente fine alle gioie matrimoniali che Claudia aveva appena iniziato a gustare. Fu una vera e propria catastrofe. Siccome la principessa Vittoria per legge non avrebbe mai potuto re-gnare, Claudia dovette lasciare Urbino e tornare in convento. Strimpellío d'arpa invece che musica da festa.
Per fortuna, in soccorso della triste e ricca vedova dicianovenne venne la cognata. Suo fratello Leopoldo, già Vescovo e ora Conte del Tirolo, era sommerso di debiti. Un matrimonio avrebbe aiutato entrambi, e la differenza di età - 18 anni - non costituiva certo un ostacolo per un uomo nel pieno delle sue forze. I ritratti infantili di Leo-poldo mostrano un paffuto cuorfelice dagli occhi azzurri, apparentemente del tutto inadatto al celibato o all'ascesi. Ma l'apparenza, come ben si sa, a volte inganna. Le trattative tra gli Asburgo e i Medici si conclusero in modo soddisfacente per entrambe le parti. Leopold il devoto, l'amante delle arti, pose un'unica condizione. Prima di sposarla voleva assolutamente vedere di persona – ovviamente con la dovuta discrezione – la sua futura consorte. Claudia a 16 anni aveva infatti avuto la varicella. Non fosse mai che la malattia avesse lasciato sulla sua pelle giovane e liscia qualche antiestetica cicatrice. I timori di Leopoldo V si rivelarono infondati, e anche Claudia non ebbe di che lamentarsi. Avrebbe sposato un uomo di fede – libero dal peccato e dalla lussuria, avezzo al rigore e alle privazioni.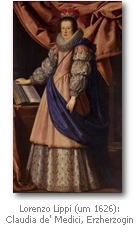 La coppia assaporò a pieno l'inaspettata intimità matrimoniale, che diede subito i suoi frutti. A Claudia de' Medici non doveva mancare nulla nel suo nuovo nido d'amore e di maternità. Per lei Leopoldo fece organizzare il teatro, gli spettacoli cavallerizzi, la caccia alla scrofa e i limoni. Arrivò persino a probire le fustigazioni pubbliche. La contessa non doveva inquietarsi, il prezioso frutto del suo ventre doveva essere ad ogni costo protetto. Purtroppo il frutto si rivelò essere nuovamente una femmina, ma la rapidità con cui Claudia rimaneva incinta faceva ben sperare. Tra il 1627 e il 1632 diede alla luce - su un'apposita sedia da parto che si era portata ad Innsbruck da Firenze – ben cinque figli: tre principesse e (Dio fu benevolo!) due principi. La figlia maggiore, prediletta dei genitori, morì a due anni e mezzo di dissenteria, e al battesimo della più piccola Leopoldo non potè più assistere. All'età di 28 anni Claudia de' Medici si trovò infatti nuovamente vedova. Stavolta non c'era però da temere il ritorno alle anguste celle del convento, anzi. La morte del marito offrì a Claudia un'insperata opportunità: nel suo testamento Leopoldo V aveva disposto che a prendere in mano le redini del regno doveva essere lei.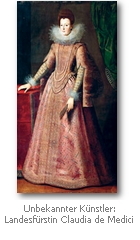 Al compimento della maggiore età di suo figlio mancavano ancora 14 anni, e nel frattempo lei avrebbe potuto governare a modo suo.
La giovane principessa si tuffò a capofitto nel suo nuovo compito. Che non era certo facile. Il Tirolo era pieno di debiti e per farsi obbedire dai ministri e dai consiglieri dovette far appello all'imperatore. Poi c'era la Guerra dei Trent'anni, che non accennava a finire. Truppe francesi e svedesi minacciavano le frontiere del paese. Così Clau-dia de' Medici si rimboccò le mani e si diede da fare: varò una riforma militare, ampliò le strutture di difesa, co-struì fortezze e strinse un'alleanza con la Spagna e con l'Imperatore Ferdinando II. In tal modo riuscì a salvare il Tirolo dagli effetti più nefasti della guerra. Il suo campo d'azione non si limitò però alla sola politica estera. Claudia voleva fare del Tirolo un paese migliore. Innsbruck doveva diventare una città pulita, senza cumuli di letame e immondizia, libera dalla prostituzione. Le pene per i reati di adulterio furono inasprite, le streghe perseguitate senza pietà - ma sempre in base alle regole. Quando un suo funzionario violentò una bambina di dieci anni, lo licenziò in tronco e lo fece punire. Fece largo uso del diritto di graziare chi era stato condannato, che spettava solo a lei. Impose la regola che i condannati all'impalamento, al rogo o alla ruota fossero prima uccisi. Mitigò le pene per le infanticide. Sotto la sua reggenza le strade di Innsbruck furono lastricate, vennero adottate misure di prevenzione contro gli incendi e le epidemie. Claudia favorì lo sviluppo del commercio, dette un forte impulso al settore ittico, fece piantare gelsi per la produzione della seta.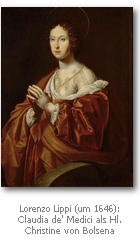 "Dio vede tutto", era il suo motto. I protestanti e gli ebrei venivano tollerati, ma chi rifiutava la confessione veniva espulso dal paese.
Claudia De' Medici fu anche una notevole mecenate, soprattutto nel campo dell'arte sacra. Tra le opere che dette in incarico c'è anche un ritratto della martire Cristina di Bolsena: la Santa, spalle scoperte fino al seno, vi appare con le sembianze di Claudia. Il quadro è forse ispirato alla Stillende Muttergottes di Lucas Granach, per cui la devota contessa aveva finanziato un altare.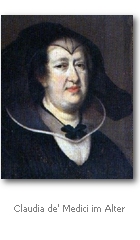 Claudia de' Medici è la regnante austriaca di cui esiste il maggior numero di ritratti: vestita a lutto, con una penna per scrivere, con un grande libro, con un cagnolino, con un cappello piumato. Nei quadri degli ultimi anni sembra sfiorita, stanca, gonfia. Gli anni faticosi della sua reggenza dovevano averla segnata in profondità. Oppure l'aveva segnata il periodo successivo, quello in cui dovette cedere il potere al figlio e stare a guardare senza poter fare nulla. Due anni in cui l'Alsazia - per cui lei si era strenuamente battuta - passò nelle mani della Francia. Poi, subito dopo la fine della Guerra dei Trent'anni, Claudia De' Medici morì per gli esiti di una grave idropisia.
Traduzione di Donatella Trevisan.
Author: Uta Ruscher
Citazione:
"Il ricordo di Claudia rimane sacro a tutti i tirolesi." Carl Zoller
Bibliografia:
Grottanelli, Lorenzo. 1896. Claudia de' Medici e i suoi tempi. Firenze. Ufficio della Rassegna Nazionale
Weiss, Sabine. 2004. Claudia de' Medici. Eine italienische Prinzessin als Landesfürstin von Tirol (1604 – 1648). Innsbruck – Wien. Tyrolia
Per (ulteriori) dettagli date un'occhiata alla versione tedesca!
If you hold the rights to one or more of the images on this page and object to its/their appearance here, please contact Fembio.
---