Adele and Sibylle and Annette and Ottilie: Women in Love in 19th-Century Germany
Review of Angela Steidele, Geschichte einer Liebe: Adele Schopenhauer und Sibylle Mertens (Berlin: Insel, 2010), Hardcover, 336 pages.
By Joey Horsley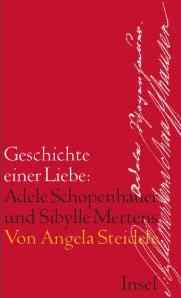 Angela Steidele has written a beautiful, exhaustively researched account of the intimate friendship of Adele Schopenhauer and Sibylle Mertens Schaaffhausen, two brilliant but little-known Germans who lived in the first half of the 19th century. Through extensive use of largely unpublished letters and diary entries Steidele sensitively reconstructs the fascinating story of their lives and relationship, as they discover each other, move apart and then reunite amidst their sometimes turbulent involvements with a number of other intellectual and artistic women of their day: poet/author Annette von Droste-Hülshoff, Goethe's daughter-in-law Ottilie von Goethe, Scottish author and feminist Anna Jameson and the Italian Laurina Spinola. Along the way we glean new information about the conditions of life for women of the cultured middle class in the early 19th century, as well as about the character of their intimate relationships prior to new polarizing and stigmatizing concepts of homo- and heterosexuality. Initially attracted to each other in large part because of their intellectual and artistic gifts and independent spirit, the women supported each other in the face of a patriarchal society whose legal and social restrictions severely hampered their freedom and opportunities.
Steidele's study corrects the previously distorted image of writer, silhouette artist and literary promoter Adele Schopenhauer (1797-1849), the lesser known sister of the misogynist philosopher and daughter of bestselling author Johanna Schopenhauer. Viewed in the context of her relationships with women, especially Sibylle Mertens, Adele Schopenhauer emerges as a woman of deep feeling, integrity and intellectual and creative prowess, in contrast to the traditional portrayal of her as a lonely and frustrated spinster seeking to compensate for the lack of a husband through exaggerated, sentimental fantasies. Schooled in literature and life by her "adoptive" father Goethe, Schopenhauer had a sure sense of literary and aesthetic quality – she recognized early the gift of major poet Droste-Hülshoff – and revealed in her letters a highly developed self-awareness; she was "a psychologist engaged in unsparing self-analysis" (11).
Romantically obsessed from adolescence with her close friend Ottilie von Pogwisch (later von Goethe), Adele was devastated when she realized that her own feelings were more ardent and exclusive than her friend's affection for her. Nonetheless she engaged in flirtations with men; at first she shared romantic feelings for Ottilie's heartthrobs, presumably to stay a part of her friend's intimate life, but finally saw that she was being used as a sort of go-between. She acknowledged to herself that her love for Ottilie was out of the ordinary: "Adele Schopenhauer was aware that she loved in a different way" (63). Her later attachments to men were largely out of practical necessity; like most women of her time, she saw marriage as the only option for adult survival, and for Adele it also meant escape from her demanding and financially irresponsible mother. But she was not considered pretty and was more intelligent and learned than was held to be attractive in a female. Her strongest feelings, moreover, were for women, and her letters show that she was generally repelled by male sensuality. Eventually she began to write and gained partial financial independence through publication of her fiction, poetry, letters and essays on art.
Sibylle Mertens (1797-1857), the more unusual of the two women, is even less familiar to modern readers than her life-partner, though her neglect is equally undeserved. Stemming from a wealthy entrepreneurial family from the Rhineland and given the best musical and aesthetic education, Sibylle Schaaffhausen was married at age 19 to a suitable heir to her father's business; her opinion was neither sought nor considered in the match with a man almost 16 years her senior who shared none of her interests in history, art or music. She and Louis Mertens were both temperamental and strong-willed – Droste described their relationship as a "'marriage from hell'" (30). Despite bearing six children before she was 31, Sibylle did not allow her maternal or wifely duties to curtail her intellectual or social passions. She was fascinated by the architecture and artifacts that stemmed from the early Roman colonization of Cologne and the surrounding area, and her collections and expertise, especially in the area of ancient coins and cameos, gained widespread recognition. She played a leading role as a promoter and perfomer in the musical and cultural life of Cologne and Bonn, and her salon became the central gathering place of the artistic and intellectual elite, from Shakespeare-translator and Sanskritist A. W. Schlegel to artists and collectors like Wilhelm Schadow and Sulpice Boisserée to composers and performers such as Johann Nepomuk Hummel and soprano Angelica Catalani. Among the most cherished guests of the charismatic Sibylle was Annette von Droste-Hülshoff. An example of the delicious tidbits Steidele's research has turned up is her description of how both nearsighted women suffered in similar fashion under the social requirement to appear glamorous, without eyeglasses, in public: "Nothing was more annoying to Sibylle 'than the confusion of an overfilled salon, when I can't put my glasses on my long nose.' Droste suffered even more from such conventions, for she was nearly blind without her lorgnette." (57) As would be the case between Sibylle and Adele, these two extraordinarily gifted women "'felt intellectually attracted to each other''' (57).
Adele Schopenhauer first met Sibylle when she attended her salon in January 1828; both women were immediately taken with each other. In contrast to Adele's former romantic idealization of Ottilie, her attachment to Sibylle flourished despite awareness of the other's faults. Sibylle "'has loosened the icy crust of my heart,'" she wrote. "'I will probably never love anyone the way I love her'" (79). They spent days and nights together, away from Sibylle's children and husband, who did not approve of their friendship and eventually barred Adele from the family's house. By summer Adele compared herself and Sibylle to "'a couple of people who find each other late and then get married'" (79).
Unfortunately, however, circumstances and the women's own behavior interrupted their loving partnership after a few short years. There was no legally or socially sanctioned arrangement for such a relationship; the Roman Catholic Sibylle could not divorce her husband as Adele had wished. Illnesses, travel (even over the Alps and back), and Sibylle's enthusiasm for other women resulted in heartbreak, jealousy and despair on Adele's part and a seven-year separation. Finally, however, after the deaths of Adele's mother and Sibylle's husband, the two lovers were reunited for the seven probably happiest years of their lives (1842-49), during which they encouraged each other's creative and intellectual work and gave each other emotional and practical loyalty and devotion. Sibylle nursed Adele during her last painful illness, mourned her deeply after her death and attempted to have her remaining works published. For years before and even after her own death, Sibylle's children (especially her sons-in-law) retaliated against her for her independent way of life and her "'eccentric friendships'" (225). They sued her for most of her inheritance while she lived and auctioned off and dispersed her magnificent collections after her death, thus virtually erasing the memory of her unique contributions as scholar and archaeologist.
Throughout the book Angela Steidele sets the life-stories into the historical context of same-sex love: "They lived on the threshhold of modern sexuality and shared paradigmatically in the evolution of the new lesbian identity, trying it out and suffering through its birth pangs" (93). Their letters and diaries reveal that Adele and Sibylle reflected intensely about their love for women; both were aware that their feelings were outside the social norm. "'I can't talk about my feelings in this relationship to ANYONE; for who would understand me? It sometimes feels like a puzzle even to me, to which my understanding lacks the key and only my heart can find the solution,'" Sibylle confides to her diary, writing about her feelings for the young widow she worshipped when she was in Italy before reconciling with Adele (157). Yet these early "lesbians" were also clear about what they wanted and needed, namely "'the deep conformity of basic feelings, that harmony in all major views, the constant, definite, almost instinctive understanding, and that clear consciousness of being understood; that unconditional devotion and that unshakeable certainty of being comprehended in every act, every word, even, I almost want to say, every unspoken thought'" (142). The fact that Adele and Sibylle shared a bed and wrote of finding happiness in each other's arms (90) may not have been considered unusual in their day, but does speak to the likelihood of some form of physical, as well as emotional, intimacy, given the intensity of their feelings for each other.
The book's focus on women's relationships sheds new light on Annette von Droste-Hülshoff, traditionally considered by literary historians to be chastely infused with unfulfilled love for the much younger male poet, Levin Schücking. Steidele argues that Droste's intense intimate friendships with women were equally, if not more important, including (at different times) with both Sibylle and Adele; at one point Annette considered forming a writers' community together with Adele, Schücking and the poet Ferdinand Freiligrath, a bold dream which never materialized (184-5). Moreover, Steidele finds, camouflaged tales of same-sex passion are important elements of Droste's poetic oeuvre (165ff, 183f).
Details from the daily lives and affairs of the women give the book something of the fascination of an early gossip column. If one of the friends were taken ill, as happened all-too often, another came to stay with and care for her – and enjoy the opportunity to nurture affection and intimacy as well as the ailing friend. Annette nursed Sibylle, Sibylle Annette and Adele. With the successful Scottish proto-feminist and woman-loving author Anna Jameson a further complication entered the erotic and romantic sphere of the friends. Jameson, who made the practical choice to remain legally married despite separation from her husband, replicated Adele Schopenhauer's obsession with the irresistible yet decidedly heterosexual Ottilie von Goethe. And when Ottilie became pregnant four years into her widowhood – "she bore the most famous name in Germany and was in a real jam" – Anna Jameson and Sibylle Mertens forged a scheme to protect her from scandal: the baby would be born secretly in the relative anonymity of Vienna, with Anna in attendance and financial support flowing from Sibylle (120).
An indication of modernizing roles was the invocation of George Sand to refer to a new type of independent woman who appeared to possess androgynous or "masculine" qualities. Sibylle Mertens, with her commanding presence and unconventional appearance, was associated with Sand (200f); and Adele Schopenhauer used Sand as a figure of reference when writing about the French sculptor Félicie de Fauveau (224), who adopted elements of masculine attire and was notorious for her emancipatory views. Steidele characterizes her two main subjects as they deviated from the still prevailing norms of femininity: "Whereas Adele Schopenhauer offended against the feminine ideal as an ugly bluestocking, Sibylle Mertens challenged it with an attitude that would perhaps have identified her in the Weimar Republic as a Kesser Vater or a butch today" (94). The innocent era of socially approved female "romantic friendships" was beginning to show cracks, as women like Jameson, Mertens, Droste and Adele Schopenhauer claimed traditional male social and intellectual prerogatives and furthermore refused to subordinate their love for each other to love for a man. Angela Steidele has made an important contribution to the social history of women by discovering and so engagingly narrating their stories of attraction and longing, betrayal and loyalty, fulfillment and loss.
(English translations of the German quotations from the book are my own.)
---
---
Kommentieren für diesen Channel-Eintrag nicht möglich
No comments
---
Next entry: "I Am Love" with Tilda Swinton: The Way to a Woman's Heart ...
Previous entry: Lesbian potpourri: Law and Order SVU's latest caper