Biographies Ruth Bader Ginsburg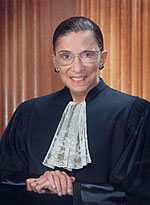 Born March 15, 1933 in Brooklyn, New York
US-American lawyer and jurist, Associate Justice of the US Supreme Court since 1993

80th Birthday on March 15, 2013
Biography • Literature & Sources
Biography
Biography Long before 1993, when she was named by President Bill Clinton to serve as the second woman on the U.S. Supreme Court, Ruth Bader Ginsburg had made her mark as a highly effective advocate for women's legal rights. During the 1970's she successfully argued a series of cases before the nation's highest court that changed the legal landscape for women, bringing the category of gender into focus as an area of rampant and unconstitutional discrimination along with race. After Sandra Day O'Connor's resignation in 2006 Ginsburg was the only woman on the 9-member court until President Obama nominated Sonia Sotomayor and Elena Kagan as Associate Justices in 2009 and 2010, respectively. Ginsburg belongs to the liberal wing of the Court, which has mostly been in the minority since George W. Bush appointed two new conservative members (Justices Roberts and Alito).
Ginsburg has written important dissenting opinions such as in Gore v. Bush (2000) and against conservative majority decisions on women's rights in 2007: Gonzales v. Carhart, which upheld a federal ban on certain late-term abortions, and Ledbetter v. Goodyear Tire and Rubber Co., which denied Lily Ledbetter's claim of discrimination in pay based on her gender. In the latter two cases Ginsburg took the unusual step of reading her sharply worded dissent orally from the bench, signalling her frustration at the whittling away of rights she had earlier litigated and won before the court. Her opinion in Gonzales v. Carhart stressed that the right to abortion enshrined in Roe v. Wade (1973) was based "on a woman's autonomy to determine her life's course, and thus to enjoy equal citizenship stature." She criticized the majority opinion written by Justice Kennedy: "This way of thinking reflects ancient notions about women's place in the family and under the Constitution—ideas that have long since been discredited." In Ledbetter v. Goodyear Ginsburg's clear rebuttal of the pay discrimination judgment spurred the Congress to pass the Lily Ledbetter Fair Pay Act signed by President Obama in January 2009 as the first legislation of his administration.
Joan Ruth Bader grew up in a Brooklyn working-class neighborhood of Jewish, Italian and Irish immigrant families. Her parents were Jewish-Americans whose families had immigrated from Europe. Her father Nathan Bader had arrived at age 13 from Odessa in Russia, while her mother Celia Amster was born in America four months after her parents had emigrated from Austria. Ruth's father was a small shopkeeper. Her older sister Marilyn died when she was eight, and her mother suffered from cancer during Ruth's high school years, dying the day before her daughter's graduation. Celia, "one of the smartest people I ever knew," according to Ginsburg, had taught her daughter to strive for excellence in her studies and to be independent in her thinking. These teachings paid off: Ruth graduated first in her class at the highly respected Cornell University. She married her fellow student Martin Ginsburg, and when she began her law studies at Harvard in 1956, their daughter Jane was 14 months old. The couple later had a son, James.
In spite of the misogynist attitudes of her professors and fellow students – she was one of only nine female students at Harvard Law School – Ruth Ginsburg performed at an outstanding level and won a coveted spot on the Harvard Law Review. When the family moved to New York for Marty's work (he became a highly successful tax lawyer and later a professor at Georgetown University Law Center) she continued her studies at Columbia. As at Cornell and Harvard she was first in her class (this time tied with a male student), and again she was selected for the Law Review, thereby becoming the first person to achieve this honor at the two elite law schools.
Despite her outstanding record the young woman was rejected by all 14 law firms to which she applied; like Sandra Day O'Connor before her she was told flatly: "We don't hire women." Finally she obtained a position as law clerk with Judge Palmieri on the U.S. District Court for the southern district of New York State (1959-61). During the 1960's she worked for the Columbia Law School Project on International Procedure; she learned Swedish to co-author a book on Swedish judicial procedure and also translated the Swedish law code into English. While in Sweden she observed that women had advanced far beyond American women in the field of law: 25% of Swedish law students were female, compared to only 4-5% in the United States. During this time Ginsburg also read and was influenced by Beauvoir's The Second Sex.
Ginsburg continued her academic career as Professor of Law at Rutgers University School of Law (1963-72), where she had to fight along with other women professors against pay discrimination. From 1972 to 1980 she was on the faculty at Columbia Law School, the first woman to receive tenure in this position. She co-founded the first law review on women's issues, Women's Rights Law Reporter, and co-authored the first law school case book on sex discrimination.
During the 1970's Ginsburg was active as the co-founder and director of the Women's Rights Project of the American Civil Liberties Union (ACLU), since 1920 the primary non-governmental organization defending fundamental civil rights in the U.S. As its chief litigator for women's rights lawsuits, Ruth Ginsburg argued several landmark cases of sex discrimination before the U.S. Supreme Court. Her strategy was to oppose individual laws, case by case, including a case in which a male was the victim of discriminatory law; she succeeded in changing traditional assumptions of "woman's place" and established gender as a category of illegal discrimination under Civil Rights legislation along with race and religion. As a result, laws throughout America began to change in favor of equal rights for women.
President Carter named Ginsburg to the Federal Appeals Court for Washington, D.C. in 1980, where she served until called to the U.S. Supreme Court. In addition to women's rights she has advocated especially for consideration of other nations' jurisprudence when deciding questions of U.S. law. In this she departs sharply from the the views of her fellow Justice Antonin Scalia, who holds such consideration to be superfluous. In contrast to her politically liberal views, Ginsburg's approach as a justice is more cautious, favoring narrowly formulated legal decisions which leave broader social questions to the legislative branch. Her reservations about the sweeping provisions of Roe v. Wade (1973), laid out in a 1992 lecture, were criticized by feminists. Ginsburg argued that a more narrowly drawn ruling limited to the Texas law alone would have encouraged national debate and more lasting, gradual legislative progress, rather than provoking a social movement in opposition.
In 2012 Ginsburg wrote "what was probably the most powerful opinion of her career" in support of the majority decision on the Affordable Care Act, sometimes termed "Obamacare": "Her endorsement of the bill's constitutionality as a valid exercise of Congress's power ... gave a ringing, modern defense of the government's authority to enact social-welfare legislation" (Toobin 40).
Justice Ginsburg is a passionate opera lover – she once even appeared in costume and wig, together with fellow justice and opera buff Scalia, as an extra on a D.C. opera stage. In 1999 Ginsburg was successfully treated for colon cancer; in 2009 she had surgery for pancreatic cancer, which had been detected early. In neither case did she miss a single day of oral argument at the court. Her husband died in 2010. When asked about her thoughts on retiring, she avoids a definite answer: "As long as I think I have the candlepower, I will do it" (Toomer 47).
In May, 2015. Ginsburg was awarded the Radcliffe Medal, presented annually by the Radcliffe Institute of Harvard University to "an individual who has had a transformative impact on society."
Author: Joey Horsley
Literature & Sources
Literature:
Ginsburg, Ruth Bader. 2006. "Advocating the Elimination of Gender-Based Discrimination: The 1970s New Look at the Equality Principle." Lecture, University of Cape Town, South Africa. 10 Februar 2006.
Ginsburg, Ruth Bader. 2005. "'A decent Respect to the Opinions of [Human]kind': The Value of a Comparative Perspective in Constitutional Adjudication." (Address) The American Society of International Law Annual Meeting. 1 April 2005.
Ginsburg, Ruth Bader. Speeches and Lectures 2000-2007.
Interview with Ruth Bader Ginsburg. "Voices on Anti-Semitism". United States Holocaust Memorial Museum. 9 November 2006.
"Ruth Bader Ginsburg." Oyez Project. U. S. Supreme Court Media. Northwestern University.
"Ruth Bader Ginsburg." Legal Information Institute. Supreme Court Collection. Cornell Law School.
"Ruth Bader Ginsburg" The Supreme Court Historical Society.
"Ruth Bader Ginsburg." FindLaw: For Legal Professionals.
"Ruth Bader Ginsburg." Wikipedia (Englisch).
"Tribute: The Legacy of Ruth Bader Ginsburg and WRP Staff." 2006. American Civil Liberties Union. Women's Rights Project. (3/7/2006).
Lewis, Neil A. "Rejected as a Clerk, Chosen as a Justice." 1993. The New York Times. June 15, 1993.
"In Her Own Words: Ruth Bader Ginsburg." The New York Times on the Web. June 15, 1993.
Rosen, Jeffrey. "The New Look of Liberalism on the Court." New York Times Magazine: Ruth Bader Ginsburg. October 5, 1997.
"Ginsburg, Ruth Bader." Encyclopædia Britannica. 2007. Encyclopædia Britannica Online.
Toobin, Jeffrey. 2013. "Heavyweight: How Ruth Bader Ginsburg has moved the Supreme Court." The New Yorker, 11. März 2013.
Radcliffe.Harvard News: Honoring Ruth Bader Ginsburg Letzte Linkprüfung durchgeführt am 19.06.2008 20:37:09 (AN)
If you hold the rights to one or more of the images on this page and object to its/their appearance here, please contact Fembio.
---