(Leonie Sachs [real name])
born on December 10, 1891 in Berlin
died May 12, 1970 in Stockholm
German poet; winner of the Nobel Prize for Literature (1966)
130th birthday on December 10, 2021
Biography
She was almost murdered by the Nazis like her friends Gertrud Kolmar and Helene Herrmann, and we would not even know her name. For the later "poet of Jewish fate" and Nobel Prize winner for literature received the order for deportation and the visa to Sweden on the same day.
Leonie ("Nelly") Sachs was the only child of wealthy Jewish parents. Her greatest desire was to become a dancer, but she also began writing at an early age. At the age of 17, she experienced a deep but hopeless love that decisively influenced her life and work; many of her later poems revolve around the "dead bridegroom" who (according to Hilde Domin) was arrested by the Gestapo in 1940 and later murdered. Nelly Sachs never spoke about the beloved.
On May 16, 1940, Nelly and Margarete Sachs arrived in Stockholm on the last plane from Berlin (their father had died in 1930). In addition to the hard work of survival (Sachs worked for a time as a laundress) and the exhausting care of her ailing mother, she began writing poetry cycles and scenic poems. Despite her great productivity, Sachs was ignored in West Germany until the late 1950s. In 1960 she was awarded the Meersburg Droste Prize, in 1965 she was the first woman to receive the Peace Prize of the German Book Trade, and in 1966 she was the first and until 2009 (Herta Müller) the only German poet/writer to receive the Nobel Prize. Along with her success, however, came severe suffering - the horrors of the past once again haunted the almost septuagenarian, she collapsed in 1960 and had to spend a long time in a sanatorium.
Despite her illness and the torture of electroshock therapy, she continued to write; she produced her last great cycles of poems, Fahrt ins Staublose, Noch feiert Tod das Leben, Die Suchende, and Glühende Rätsel.
You spectators
Under whose gaze they killed.
As one may feel a look in the back,
So you feel in your body
The looks of the dead.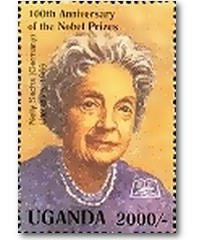 Nelly Sachs died on May 12, 1970 in Stockholm.
In Dortmund and Stockholm there are Nelly Sachs archives with materials from her estate. A traveling exhibition, accompanied by a pictorial biography by Aris Fioretos, was shown in Berlin, Stockholm, Zurich and Dortmund.
(Text from 1990, updated in 2021; translated with www.DeepL.com/Translator (free version), translation edited by Luise F. Pusch.)
Numerous pictures, links, and detailed literature references can be found on the German Nelly Sachs page (click top right).
Author: Marianne Brentzel; Joey Horsley (Kurzbiografie)
If you hold the rights to one or more of the images on this page and object to its/their appearance here, please contact Fembio.
---