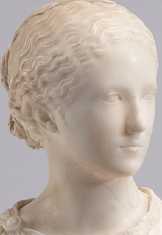 (Susette Gontard, née Borkenstein)
born on February 7, 1769 in Hamburg
died June 22, 1802 in Frankfurt/M.
German letter writer; Hölderlin's "Diotima"
220th anniversary of death on June 22, 2022
Biography
Susette Gontard, who became immortal as Hölderlin's "Diotima" and author of 17 wonderful and moving love letters to the unhappy poet, was born in Hamburg in 1769 as the daughter of the wealthy merchant family Borkenstein. At 17, she married the wealthy Frankfurt merchant Jacob Friedrich Gontard. The two had four children.
In the spring of 1796, the 26-year-old Hölderlin took up a position as tutor with the Gontards. A close relationship quickly developed between him and the children's mother, the nature of which is still puzzled over today. The Hölderlin biographer Bertaux writes, after considering certain documents: "Whoever still wants to believe in a 'platonic love' ... let him feel free." Irma Hildebrand, on the other hand, "This delightful togetherness is ... not of this world, two souls, not two bodies, have found each other."
Be that as it may, the two lovers were granted only a single summer of perfect happiness, in Bad Driburg in Westphalia, where Susette's husband, who remained in Frankfurt, had sought to keep her safe from Napoleon's troops. But back in Frankfurt, Hölderlin had to play the servant and the lady of the house had to fulfill her family and representational duties. Hölderlin could not bear this tension; in the fall of 1798 there was a rift between him and Gontard, and Hölderlin was more or less banished from the house.
A desperate and humiliating struggle for contact began between the two lovers. Hölderlin had moved to the neighboring town of Homburg. At first a few clandestine meetings were still possible, after that only the anxious exchange of letters through a hedge – Susette was under constant observation and could not afford any irregularities. She did not want to lose her children – and Hölderlin could barely support himself.
The situation was unbearable. Two years later came the final separation, and it too was unbearable. Susette, who had long suffered from a lung ailment, died in the summer of 1802 at the age of only 33 from rubella, which her children had survived well.
Hölderlin failed in various positions as a tutor; his hopes of otherwise earning a living and simultaneously existing as a poet failed as well. He spent the second half of his life, from 1807 to 1843, as incurably mentally ill in the care of the Tübingen master carpenter Zimmer and his famiy.
Text from 2001. Translated with www.DeepL.com/Translator (free version), edited by Almut Nitzsche and Joey Horsley, June 2022. – For additional information please consult the German version.
Author: Luise F. Pusch
Quotes
Diotima! Blessed being!
Glorious one, through whom my spirit,
From life's anguish recovered,
Youth of the gods is promised!
Our heaven will endure,
Unfathomably related,
Before we had seen each other,
Our innermost selves were known.
(Friedrich Hölderlin)
If you hold the rights to one or more of the images on this page and object to its/their appearance here, please contact Fembio.
---