Fembio Specials Famous Women from Heidelberg Marie Baum
Fembio Special: Famous Women from Heidelberg
Marie Baum
(Dr. Marie Baum)
Born on March 23, 1874 in Danzig, West Prussia (Gdansk)
Died on August 8, 1964 in Heidelberg
German politician, author, and pioneer of social work and welfare policy
Biography • Quotes • Literature & Sources
Biography
In Marie Baum's family, despite its relatively modest circumstances, the daughters as well as the sons were encouraged to study and enter a profession. Marie studied chemistry at the public research university ETH Zurich and – as a 22-year-old – soon supervised 60 men in the laboratory. She spent a happy time there in the company of other women students, meeting among others the author Ricarda Huch, with whom she would share a lifelong friendship.
After obtaining her doctorate, Baum worked in a chemical factory in Berlin; she soon shifted her focus, however, from scientific work to social work. Marie Baum: "My path to the social profession was clarified and broadened through contact with people who were engaged in lively debate on the issue of workers and women." Social work would become the center of her life and make her one of the most important shapers and champions of social welfare policy of the Weimar Republic.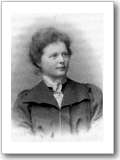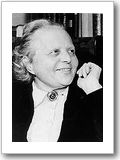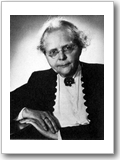 In 1902 Baum became the first woman factory inspector in the Grand Duchy of Baden. She oversaw factories throughout Baden that employed women and youths, encountering child labor and women who were completely overburdened with factory work and housework. She tried to secure improved working conditions.
In 1907 she became director of the Verein für Säuglingsfürsorge und Wohlfahrtspflege, an infant care and social welfare association in Düsseldorf, where her responsibilities included advising mothers, supporting families and setting up children's clinics. Her close cooperation with the Bund deutscher Frauenvereine (Federation of German Women's Associations) began here. In 1916 Gertrud Bäumer invited her to teach social policy at the Soziale Frauenschule in Hamburg.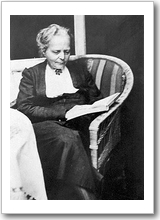 Although Baum was pleased to accept a teaching position, practical social work remained her calling. She became a social welfare advisor at the ministry in Baden, a post she held until 1926, and founded a large rest and recreation home for children and teens called "Heuberg," which was universally praised as exemplary. From 1919-20 Baum was a delegate to the National Assembly, which designed the constitution of the Weimar Republic; she subsequently served in the Reichstag (parliament) until 1921. In 1928 she accepted a teaching appointment for social issues at the University of Heidelberg – a post which was stripped from her in 1933, because her maternal grandmother was of Jewish descent. Under Hitler she joined those who attempted to aid Jews and others persecuted by the Nazis. After the war she continued her activism, her teaching and writing well into the 1950's. Marie Baum died in Hamburg in 1964 at the age of 90.
(Text from 1988, update Joey Horsley 2020, transl. Julie Niederhauser 2020)
Author: Hiltrud Schroeder
Quotes
Even if I measure her abilities and achievements against the most stringent standards, which I generally apply to students of the male gender, I can issue her a brilliant evaluation in every respect, which I am rarely in a position to bestow.

(Eugen Bamberger, academic advisor to Marie Baum, cited here)
Literature & Sources
For additional information please consult the German version.
If you hold the rights to one or more of the images on this page and object to its/their appearance here, please contact Fembio.
---