Biographies Alexandra Feodorowna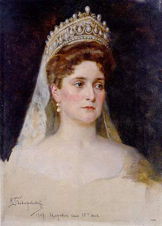 (née Alix, Princess of Hesse-Darmstadt)
born on June 6, 1872 in Darmstadt, Germany
died (murdered) on 17 July 1918 in Yekaterinburg
last Russian tsarina; murder victim
150th birthday on June 6, 2022
Biography
The death of her mother (1878) turned the cheerful six-year-old Alix, called "Sunny", into a disturbed, shy child. She sought consolation in religion and mysticism.
At the wedding of her sister Ella, Alix met and fell in love with the Tsarevich Nicholas (Niki). The unexpected death of Tsar Alexander III required a hasty wedding. Two completely unprepared young people had to take responsibility for this huge, difficult-to-rule empire.
For Alix, it was the beginning of dreaded social obligations. The initial popularity her beauty and modesty had given her soon faded. Shyness was interpreted as arrogance, reserve as pride. The "Russian soul" remained alien to her; the Petersburg aristocracy did not accept her. Many decisions that the tsar made against the advice of his ministers were attributed to Alexandra. The fact that her first four children were daughters was also held against her. In 1904 she finally gave birth to an heir to the throne, Alexei. He was soon diagnosed with hemophilia. His parents could hardly accept this, and the disease was concealed from the outside world. The struggle for her son's life led to the fateful meeting with Rasputin. He cleverly used his magical influence on the tsarina to gain power. Alexandra immersed herself in the religious world and lost sight of reality. She became obsessed with the idea of preserving for Alexei the "crown unscathed" by parliamentary co-determination. She regarded Rasputin as a "holy man and divine advisor".
His assassination by Prince Yussupov in December 1916 could not deter the fate of the tsar's family. In March 1917 the tsar abdicated. He was placed under degrading house arrest in Tsarskoye Selo with his family and some loyal servants. King George V, the tsarina's cousin, refused asylum in England, and the family was exiled to Tobolsk and later to Ekaterinburg, where the entire family was shot on the night of June 17, 1918.
(Text from 1997, translated with www.DeepL.com/Translator (free version) and edited by Almut Nitzsche and Joey Horsley, June 2022)
Author: Adelheid Steinfeldt
If you hold the rights to one or more of the images on this page and object to its/their appearance here, please contact Fembio.
---