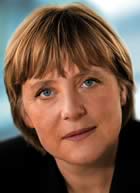 (Angela Dorothea Kasner [Geburtsname]; Dr. Angela Merkel)
Biography
Author: Almut Nitzsche
Literature & Sources
Andert, Reinhold. 1993. Unsere Besten: Die VIPs der Wendezeit. Berlin. Elefanten Press.
Boysen, Jacqueline. 2001. Angela Merkel: Eine deutsch-deutsche Biographie. München. Ullstein.
Gaus, Günter. 1992. Neue Porträts in Frage und Antwort: Günter Gaus im Gespräch mit Heinrich Fink, Wolfgang Thierse, Volker Braun, Hans-Jochen Vogel, Wolfgang Ullmann, Steffi Spira, Regine Hildebrandt, Angela Merkel, Joachim Gauck, Hans Bentzien. Berlin. Verlag Volk und Welt.
Koelbl, Herlinde. 1999. Spuren der Macht: Die Verwandlung des Menschen durch das Amt. Eine Langzeitstudie. München. Knesebeck.
Krockow, Christian Graf von. 2001. Porträts berühmter deutscher Frauen: Von Königin Luise bis zur Gegenwart. München. List.
Kürschners Volkshandbuch Deutscher Bundestag. 2003. Hg. Klaus-J. Holzapfel. Linz/Rhein. NDV Neue Darmstädter Verlagsanstalt.Merkel, Angela & Hugo Müller-Vogg. 2004.
Mein Weg: Angela Merkel im Gespräch mit Hugo Müller-Vogg. Hamburg. Hoffmann und Campe.
Osang, Alexander. 2000. "Das eiserne Mädchen", SPIEGELreporter 3/2000, S. 18–30.
Roll, Evelyn. 2001. Das Mädchen und die Macht: Angela Merkels demokratischer Aufbruch. Berlin. Rowohlt.
Stock, Wolfgang. 2000. Angela Merkel: Eine politische Biographie. München. Olzog.
If you hold the rights to one or more of the images on this page and object to its/their appearance here, please contact Fembio.
---