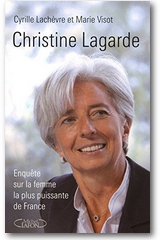 (Christine Madeleine Odette Lallouette [maiden name])
born Jan. 1, 1956
French lawyer, politician, head of the IMF (2011-2019), president of the European Central Bank (since Nov. 2019)


Biography

Christine Lagarde is a star. In the male-dominated world of international finance, the tall, elegant and assertive head of the International Monetary Fund (IMF) has proven to be self-confident and impressive from the start.
She is accustomed to being the first woman in a position of power.
"More powerful, more critical, more active" is how the German business newspaper Handelsblatt has described the IMF under Lagarde's leadership. The article said that she steers the IMF with charm, but also has the courage to take risks. Lagarde is reputed to be an attentive listener and to make good use of the advice of her international financial experts. Whether speaking at the World Economic Forum in Davos or in conversations with journalists, Lagarde shows that she is well informed and articulate about complex financial policy problems. She doesn't mince words nor does she mind taking on someone like Angela Merkel if necessary, as she did in the case of the Greek government debt crisis.
On international trips on behalf of the IMF, Lagarde is often received like a head of state. Around the world, she knows ministers and heads of government personally, and they listen to her. She has women-only meetings arranged in each place she visits, because she believes that women speak more honestly when they talk among themselves. Sometimes she is accompanied by her partner, the Marseille business man Xavier Giocanti, a university friend whom she re encountered in 2006.
Raised in an educated, middle-class Catholic home in Le Havre, Lagarde learned how to face challenges early on. Her youth was marked by the rigorous discipline of synchronized swimming, which earned her a bronze medal in the French National Championships. "To grit your teeth and smile" is what this sport taught her, she says. Those years were also overshadowed by the long illness and early death of her beloved father, a professor of English literature, who had close ties to the United States. As the eldest, she helped her mother, a Latin teacher, with her three younger brothers and also worked part-time. The strength of her mother, who at 38 was solely responsible for four children, has been an example for her all her life. First steps towards her later international career included one year at an exclusive private preparatory school near Washington, D.C. and an internship in the U.S. Congress during the Watergate Era. In her first career Lagarde became a highly successful lawyer specializing in labor and anti-trust law. She was the first woman to head Baker & McKenzie, the world's second-largest international business law firm with revenues exceeding $1bn, where more than 3,000 lawyers reported to her. She had joined the U.S. firm's Paris office in 1981 after turning down a position at a prestigious Paris law firm, because it offered only subordinate positions to women.
At Baker & McKenzie, her boss was a highly competent woman who became a role model while supporting her discreetly from behind the scenes - promoting women was not yet commonplace at that time. Lagarde's abilities and negotiating skills contributed to her rapid rise. Within six years, she was made a partner, then headed the European offices until she finally came to Chicago as chair in 1999.
Christine Lagarde: You Have to Pick Your Fights and Really Persist |
Fortune
As the mother of two sons, Pierre-Henri and Thomas, born in 1986 and 1988 respectively, Lagarde knows the situation of a working mother firsthand, including the guilt that comes with it. She worked until shortly before the birth of each child - during that time she was in the process of becoming a partner at Baker & McKenzie - and returned to the law firm after taking off a few summer months for breastfeeding. The supportive childcare system in France made this possible. During her years in Chicago, her sons stayed in Paris with their father, from whom she had since gotten divorced. She kept her Paris apartment and jetted off to see her children as often as possible.
In politics, Lagarde is a career changer. She did not study at the Ecole National d'Administration (ENA), France's elite university for the civil service and politicians. In fact she failed to pass its entrance exam twice. She gained her first government experience as Minister for Foreign Trade and later briefly as Minister for Agriculture under President Chirac.
In 2007, the newly elected President Sarkozy appointed her Finance and Economy Minister. This made Lagarde the first woman to head a G-8 Finance Ministry.
A supporter of President Mitterand and left-wing politics as a young woman, she was a member of Sarkozy's center-right UMP party as a Minister. She is considered a free market liberal "with a heart for regulation." Her term in office coincided with the international financial crisis involving intense negotiations about the controversial euro bailout fund and the heavily criticized austerity programs for countries such as Spain and Greece. Her international experience, cool head, and persistence paid off in the long days and nights of negotiations. In 2009, the Financial Times named her "Europe's best finance minister" for her successful crisis management. More than once she said that the male- dominated, testosterone-driven culture in major international banks was one of the causes of the severe financial crisis.
Addendum in 2023:
In November 2019, Lagarde returned to Europe after eight years at the helm of the IMF to take over as President of the European Central Bank at a difficult time.
To stabilize the economy during the Covid 19 pandemic, Lagarde continued her predecessor Mario Draghi's controversial low-interest-rate policy. She also pushed for as much money as possible from the EU's multibillion-dollar reconstruction fund to be paid as grants, not loans, to provide solidarity support to the countries hardest hit by Covid, such as Spain and Italy.
As a mother and grandmother, Lagarde considers the fight against climate change a key task for everyone, including the European Central Bank. Pointing out the effect that climate change has on price stability, the central mandate of the ECB, she is calling for the purchase of green bonds by the Bank.
Source:
Khalaf, Roula. 7/7/2020 Video interview with Christine Lagarde. Financial Times.
https://www.youtube.com/watch?v=-bZy-2GO67Y

Translation: Gabriele Koch
For additional information (pictures, sources, videos, bibliography) please consult the German version.
Author: Gabriele Koch
Quotes

I used to believe that hard work and competence were enough for women to succeed in society and in companies. I no longer believe that today. Success, however, is never final. Every day you have to prove yourself anew."
Lagarde in Sichtermann & Rose. 2013.
Rising inequality is also a barrier to growth and could undermine democracy and human rights.
Lagarde 2014, The Guardian
Poverty is sexist. We need to make sure women are not forgotten.
Lagarde 2015, IMF
If you hold the rights to one or more of the images on this page and object to its/their appearance here, please contact Fembio.
---