Born on February 19, 1877 in Berlin
died May 19, 1962 in Murnau
German painter
60th anniversary of death on May 19, 2022
Biography
Her upbringing was marked by the pioneering spirit and desire for freedom of her wealthy German-American parents, who supported her training as a painter. After the early death of her parents, her first private drawing lessons in Düsseldorf and a two-year stay in America, Gabriele Münter moved to Munich in 1901. Because women had no chance of studying at an art academy at that time, the emancipated young woman entered the "Phalanx" school of Kandinsky, who soon became not only her teacher but also her lover. "A lot depends on you. You can't do everything, but only through you can I achieve truly great things," the otherwise married man wrote her in October 1905, by which time he had long since promised her marriage.
Between 1904 and 1908, the artist couple took long trips to Tunis, the Riviera, and Paris, where Münter, under the influence of Matisse and the other Fauves, found a completely new way of painting clear forms. In 1909 Münter bought a house in Murnau, where she spent the summer months with Kandinsky. It quickly developed into a meeting place for the Munich avant-garde: Marianne Werefkin, Alexej Jawlensky and the later "Blue Riders" Franz Marc and August Macke were among the regular residents of the "Russen-Villa". In 1911 she exhibited together with Kandinsky and Franz Marc: her artistic breakthrough.
Between 1915 and 1920 Münter lived in Scandinavia to be closer to Kandinsky, who had moved to Russia before the war began. In 1917, Kandinsky disappeared from her life without comment. Münter learned years later that he had married for the second time in 1917. "With me it is as if sand had been scattered - ashes - and a thick layer was lying on my life and my feelings ... Someone has to come and scrape it up and shovel it away ..."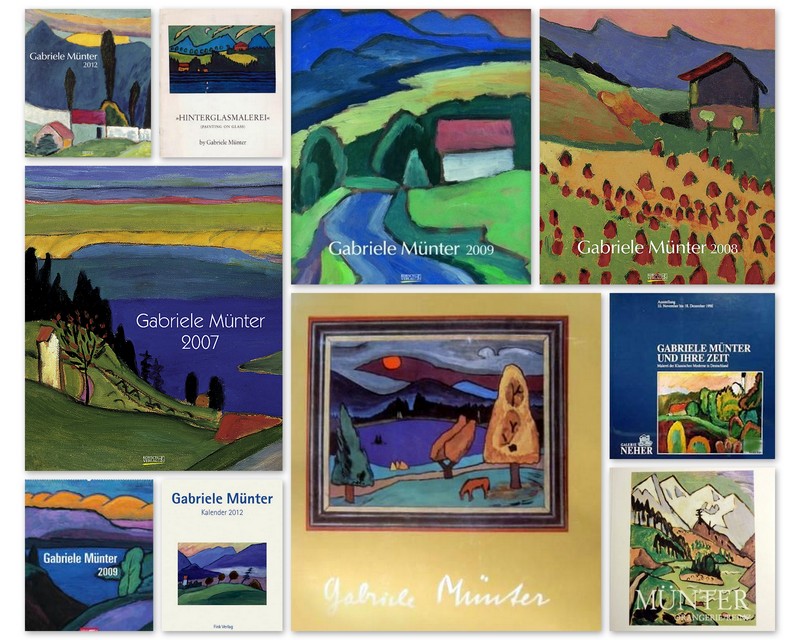 Münter lived with the art historian Johannes Eichner from 1929. During the National Socialist era, she was banned from exhibiting. The former avant-gardist and pioneer of the new art was only able to present herself to the public again in 1949 - at the age of 72 - with the memorial exhibition "Der Blaue Reiter in München" (The Blue Rider in Munich), and with the following exhibitions she was able to free herself from Kandinsky's shadow. In 1926, she had still stated with disappointment: "In many people's eyes, I was only an unnecessary addition to Kandinsky. The fact that a woman can have an original, genuine talent and be a creative person is often forgotten."
Translated with www.DeepL.com/Translator (free version), edited by Almut Nitzsche, May 2022
For additional information please consult the German version.
Author: Susanne Gretter
Quotes
Real art is stubborn.
My thing is the seeing, the painting and drawing, not the talking.
I have made a great leap there after a short time of agony - from painting nature - more or less impressionistic - to feeling the content, to abstracting - to giving the extract.
If you hold the rights to one or more of the images on this page and object to its/their appearance here, please contact Fembio.
---