Biographies Madeleine Albright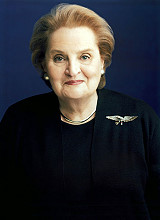 (Marie Jana Korbel Albright)
born May 15, 1937 in Prague, Czechoslovakia
died March 23, 2022 in Washington, DC

Czech-American political scientist and politician,
first woman to serve as United States Secretary of State
85th birthday May 15, 2022
Biography • Quotes • Literature & Sources
Biography
Madeleine Albright, an immigrant and mother of three daughters, was chosen by President Clinton in 1997 to become the first woman to serve as United States Secretary of State. The daughter of Czech diplomat Josef Körbel had lost her homeland twice - first to Hitler and then to the Communists - before coming to the US in 1948 at the age of eleven, where the family was granted political asylum.
Her cosmopolitan background and extensive knowledge of Eastern European countries - her area of expertise as a professor at the prestigious School of Foreign Service at Georgetown University in Washington - made her particularly well suited as Secretary of State for the 1990s. She successfully pursued NATO's eastward expansion, which included her former homeland, the Czech Republic. However, her role in the Rambouillet negotiations that led to NATO's bombing of Serbia to stop the ethnic cleansing in Kosovo is controversial. What she considered a successful humanitarian intervention others saw as warmongering bypassing the UN.
With her direct manner, her hats against "bad hair days" and her collection of pins - she wore a missile-shaped pin when she met the Russian foreign minister to discuss the Anti-Ballistic Missile Treaty - Albright became a media star. Some ten biographies have been written about her and translated into many languages - including several for young people. In her lively 2003 autobiography, Madam Secretary: A Memoir, she is remarkably candid about the pain of her divorce - her husband had left her for a younger woman after 23 years of marriage - and her regret about policy mistakes, such as claiming that sanctions against Iraq were worth the price paid for them, i.e. the deaths of more than half a million children.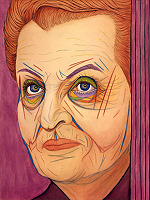 Albright realized early on the importance of a network of women. Already as UN ambassador during President Clinton's first term, she created alliances with her few women colleagues and succeeded in getting more women appointed to high positions at the UN. Following the 1995 U.N. Women's Conference in Beijing, she visited Burmese opposition politician Aung San Suu Kyi and used strong words to lobby the repressive military government on behalf of her and her pro-democracy movement. Later, she arranged official meetings of the world's women foreign ministers, knowing that women can only advance their interests by working together. She worked closely with Hillary Clinton to make improving the situation of women a foreign policy goal - be it violence against women, microcredit for women, or family planning. During her official visits, Albright also insisted on speaking with women activists where possible. Albright continued to advocate for women's rights, as she did in 2004 by participating in the Women's March for reproductive rights on Washington. She actively supported Hillary Clinton in her bid for the U.S. presidency. Her 2003 autobiography ends with the hope that she "helped teach a generation of older women to stand tall and young women not to be afraid to interrupt". (2006)
Madeleine Albright died of cancer on March 23, 2022, in Washington, DC. She was 84 years old.
———
Translated with www.DeepL.com/Translator (free version), edited and updated by Gabriele Koch (2022)


Author: Gabriele Koch
Quotes
"According to Dean Acheson, 'The first requirement of a statesman is to be dull.' Acheson said nothing about stateswomen, however, so I didn't feel bound by his prescription… I could have shunned informal settings, dressed conservatively, and reined in my penchant for blunt speaking. But the job would not have been as enjoyable, and I would not have been able to accomplish as much as I did." (Madame Secretary 341)
"I soon found that managing foreign policy and baby-sitting grandchildren require many of the same diplomatic skills." (510)
"The purpose of foreign policy is to influence the policies and actions of other nations in a way that serves your interests and values. The tools available include everything from kind words to cruise missiles." (319)
"My biggest regret came while I was still at the UN, when we failed to comprehend rapidly enough the evolving genocide in Rwanda." (506-7)
"Trump is the first anti-democratic president in modern U.S. history."
(Madeleine Albright. 2019. Fascism: A Warning)
Literature & Sources
New York Times obituary
https://www.nytimes.com/2022/03/23/us/madeleine-albright-dead.html
https://en.wikipedia.org/wiki/Madeleine_Albright
Fresh Air with Terry Gross. Remembering Madeleine Albright
https://www.npr.org/programs/fresh-air/2022/03/25/1088615868/fresh-air-for-march-25-2022-remembering-madeleine-albright?showDate=2022-03-25

Albright, Madeleine with Bill Woodward. 2003. Madame Secretary: A Memoir. New York. Miramax Books.
Albright, Madeleine. 2012. Prague Winter: A Personal Story of Remembrance and War, 1937–1948. New York. Harper.
Albright, Madeleine. 2019. Facism: A Warning. New York. Harper Collins.
Albright, Madeleine. 2020. Hell and Other Destinations: A 21st-Century Memoir. New York. Harper.
If you hold the rights to one or more of the images on this page and object to its/their appearance here, please contact Fembio.
---