Biographies Marie von Ebner-Eschenbach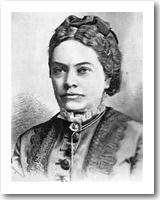 (Marie Freifrau von Ebner-Eschenbach, geb. Freiin von (seit 1843 Gräfin) Dubsky)
born on September 13, 1830 at Zdislawitz Castle in Moravia
died on March 12, 1916 in Vienna
Austrian writer
Biography • Quotes • Literature & Sources
Biography
When little Marie von Dubsky discovered her love for poetry, memorized poems, wrote some herself and recited them to her grandmother (her mother had died in childbirth), she was harshly expelled from the room. The intention to become a poet was something wrong and sinful in the eyes of her family. Her sister Friederike advised her, "Don't talk about it. Maybe it will pass." Fortunately, it did not pass, and so German-language literature has a number of poignant and harrowing testimonies to the most subtle observation of human nature.
Ebner-Eschenbach is certainly no revolutionary, but in her description of unkindness, stupidity, thoughtlessness, arrogance, and ignorance, but also of goodness, renunciation, of the ability to love, and happiness, she possesses such critical radicalism that readers of her works are placed in unusual suspense. In her portrayal of human strengths and weaknesses, she does not stop at nobility and clergy, bourgeois and peasant classes, but, filled with a liberal spirit, shows the fragility of estates society.
At the age of 18 she married her cousin Moritz. Franz Grillparzer recognized her talent and supported her. It was not until she was about 40 that she suddenly became famous for her stories and novels, having previously written only plays, rather unsuccessfully.In 1900 she was the first woman in Austria to receive an honorary doctorate from the Faculty of Philosophy at the University of Vienna. She loved watches, learned the watchmaker's trade and became an honorary member of the Vienna Watchmakers' Guild. Her literary work was honored with many high awards. She was very open to the women's movement.
(Text from 1990; translated 2021 with www.DeepL.com/Translator (free version))
Author: Sibylle Duda
Quotes
She is for herself of the rarest unpretentiousness and the pride and model of the female sex, whose legitimate demands for recognition and equality she fully supports. (Louise von François)
APHORISMS BY MARIE VON EBNER-ESCHENBACH
A clever woman has millions of born enemies: - all stupid men.
When a woman learned to read, the woman question entered the world.
Most people need more love than they deserve.
Translated with www.DeepL.com/Translator (free version)
Literature & Sources
Numerous pictures, links, and detailed literature references can be found on the German Ebner-Eschenbach page (click top right).
If you hold the rights to one or more of the images on this page and object to its/their appearance here, please contact Fembio.
---