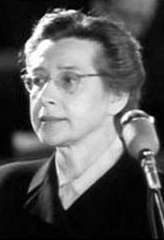 (Dr. Milada Horáková)
born on December 25, 1901 in Prague
executed on June 27, 1950 in Prague
Czechoslovak resistance fighter, politician, feminist
120th birthday on December 25, 2021
Biography • Quotes • Literature & Sources
Biography
Milada Horáková is said to have been an absolutely admirable woman: highly intelligent, guided by high principles and very conscientious. Her attitude, her humanity and her advocacy of democracy came to be her undoing. In 1950, she was sentenced to death and executed by the Communist Party in a Stalinist-style show trial.
Milada grew up in an enlightened home, enjoyed an excellent school education, graduated in law and received a doctorate in law. She then worked in the Prague city administration, in the departments of social welfare, housing and labor. In 1927 she married the agricultural engineer Bohuslav Horák, and in 1933 her daughter Jana was born.
Early on Milada became involved in the Czech women's movement; in the 1930s she was one of the most important activists of the National Women's Council. She demanded equal rights for men and women and advocated the right of women to work. Nice Bohuslav fully supported her in her endeavors. She traveled half of Europe to learn about the women's issue. She was a member of the Socialist Party. Her acquaintance with President Masaryk strengthened her interest in politics.
The Czechoslovak Republic had to fight against communist attacks as well as against National Socialism, which was spreading under Henlein. Milada Horáková watched Hitler's aggressive policies with growing horror, and after the Munich Agreement, in which Czechoslovakia was effectively handed over to Hitler, Milada joined the resistance. She helped emigrants to escape, hid politically persecuted people, worked for political enlightenment with the help of leaflets. Soon she and her husband were arrested by the Gestapo, subjected to hours of interrogation, cruelty and torture, without her betraying her companions.
She was incarcerated for two years in the Terezín prison fortress, then she had to do forced labor in an underground munitions factory in Leipzig, finally she was sent to the women's prison in Aichach near Munich, sentenced to death, pardoned to eight years in prison and freed by the Americans in 1945.
Back in Prague, she immediately resumed her political work. In her opinion, only political pluralism could guarantee the freedom of the whole, of minorities and of individuals. In the spirit of Masaryk and Benes, she worked again in the Socialist Party, was active in the women's movement, and became a member of the Prague Parliament. All efforts to reestablish democracy in Czechoslovakia were thwarted by Soviet communism.
And again Horáková went into resistance against an unjust regime. The arrest by the communists was not long in coming. She was accused of anti-Soviet conspiracy and tried and sentenced to death for treason, espionage and subversive behavior. Protest telegrams from all over the world, including those from Einstein, Bertrand Russell, Churchill and Eleanor Roosevelt, had no effect. The death sentence was carried out in Prague on June 27, 1950.
(Text from 2000, translated in 2021 with www.DeepL.com/Translator (free version); translation edited by Luise F. Pusch)
Author: Sibylle Duda
Quotes

Do not feel sorry for me! I had a wonderful life. I accept my condemnation with resignation and submit with humility. My consciousness is clear and I hope, believe and pray to be able to stand before the High Court of God.

(Last letter of Milada Horáková to her family)
Literature & Sources
Dvoráková, Zora. 1991. Milada Horáková. Prag.
Iggers, Wilma A. 1995. Women of Prague: Ethnic Diversity and Social Change from the Eighteenth Century to the Present. Providence, RI. Berghahn.
If you hold the rights to one or more of the images on this page and object to its/their appearance here, please contact Fembio.
---