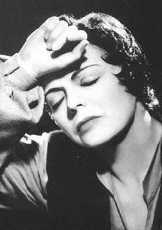 Born March 22, 1912 in Nuremberg
died December 17, 2001 in Stuttgart
German singer
20th anniversary of death on December 17, 2021
Biography
60 years of stage presence in the truest sense of the word, and what a career! Famous as a great interpreter of female roles, especially in operas by Wagner (Kundry, all three Brünnhilden, Isolde, Waltraute, etc.) and Richard Strauss (Klytemnästra, Herodias, Nurse ...), Martha Mödl was and remains admired for her incomparable, naturally expressive and never calculated or even prima donna-like performance power, revered as a modest personality of integrity.
A "very bad" childhood, few school years, jobs in offices and as a saleswoman, and only a few months of singing or piano lessons on the side, but gifted with a large, calm, warm natural voice, she finds her place in life, the stage, only late: in the midst of the chaos of war and bombing raids, her singing career begins in 1942 in Remscheid as Azucena - a demanding Verdi role for a (30-year-old!) beginner who had never worked with an orchestra. She entered repertory work - with a long "break" from work in a munitions factory - then additionally as a mezzo and from 1945 to 1949 entirely at the Düsseldorf Opera, then in Hamburg. Soon she sang dramatic soprano parts under the most famous conductors in Berlin, Düsseldorf, Munich, Salzburg, Stuttgart and Vienna, at La Scala and the Met, among others. And, since Wolfgang Wagner invited her as Kundry for Parsifal at the reopening of the Festival in 1951, in Bayreuth. Years of working together, turning away from the "frippery" of set opera to a reduction to the depiction of personal fates in "sparse" scenes as "images of internalization," intensified her stage instincts: individual body expression rather than costume.
[RARE video] Martha Modl as Leonore (1955 live excerpts)
No data is submitted to YouTube unless you playback this video. By clicking on the play-button you give your consent for YouTube to set cookies on the device you are using. Further information about cookie-usage by Youtube can be found here.
She was also like-minded with the old Wilhelm Furtwängler, whose conducting encouraged her to create a role entirely out of her devotion to the music. For her, this means "I don't know ... what I'm doing on stage" and that one has to be "a little stupid" in order to (also) grab the audience and make them happily feel something "of which they have no idea what it actually is."
For Mödl, for whom "singing as vocal artistry" was never enough - who also could not name how she did it, the singing - to become aware of the gradual failure of her singing possibilities was a shock - possibilities which she had used up recklessly and without the basis of a nurturing technique in the service of her art. "The theater is my life. I have nothing else…" She knew what she was saying. And now?
A conscious, fascinated and impressive transition to the character field, to modern works (from 1971 to 1995 about 20 premieres) and increasingly to speaking roles often specially designed for her, with or without singing (works by Britten, Einem, Henze, Klebe, Menotti, Cerha, B.A. and Walter Zimmermann, Yun, but also Sartre and Euripides), to poetry readings until the last year of her life. In 1999 she still embodied "her" Countess in Pique Dame, in 2000 in Berlin she once again gave an agonizing performance as the Mummy in Reimann's Gespenstersonate, and in April 2001 she was celebrated there for the last time as the Nurse in Boris Godunov. Her autobiography is called "So war mein Weg." (Thus was my path)
Numerous pictures, links, and detailed literature references can be found on the German Martha Mödl page (click top right).
(Text from 2005, translated in 2021 with www.DeepL.com/Translator (free version), edited by Luise F. Pusch)
Martha Moedl - Pique Dame - Countess' aria
No data is submitted to YouTube unless you playback this video. By clicking on the play-button you give your consent for YouTube to set cookies on the device you are using. Further information about cookie-usage by Youtube can be found here.
Author: Swantje Koch–Kanz
Quotes
The truthfulness and beauty of Martha Mödl's classy mezzo with contra-alto sound and heroic high notes reminds one of soundscapes of granite, forest and water in Bohemian twilight. It reveals itself only to those who engage in the experience impartially and unconditionally. I confess, there are easier and simpler voices to "consume". The intoxicating, yet incredibly centered acting out on stage makes one think more of Jimi Hendrix or Janis Joplin than of other opera singer colleagues.

(Dr. Ingobert Waltenberger, source)
Martha Mödl, 35, a soprano who recently toured England with the Stuttgart State Opera, asked the management of her London hotel for a decidedly "noisy" room because a quiet room made her nervous. The management of the hotel, which had only recently been soundproofed at great expense, had the new windows replaced with old ones in the German guest's room so that the singer could enjoy the full benefit of the street noise.

(Der Spiegel 38/1955)
Martha Mödl, 44, internationally renowned opera singer (born in Nuremberg), spontaneously began bowling in the "Walliser Stuben" (Munich) and beat all the male participants in a bowling round, although she had never practiced this sport before.

(Der Spiegel 50/1957)
If you hold the rights to one or more of the images on this page and object to its/their appearance here, please contact Fembio.
---