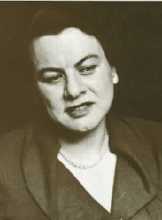 (Muriel Rukeyser)
Born December 15, 1913 in New York
Died February 12, 1980 in New York
US-American poet and author
Biography • Quotes • Literature & Sources
Biography
Muriel Rukeyser inspired many readers and writers of our time with her passionate, life-affirming poems and courageous, lifelong advocacy for social justice. Two important anthologies of the U.S. women's movement have lines from her work as their titles: No More Masks! (1973 ed. by Ellen Bass and Florence Howe) and The World Split Open (1974, ed. by Louise Bernikow). In her 50-year career, this enormously prolific woman published 16 volumes of poetry, three biographies, two novels, a volume of essays, translations, and six children's books. Rukeyser saw her mission as transforming herself and others through the poetic struggle to communicate, thereby making new realities possible.
Muriel Rukeyser was the first daughter of a wealthy Jewish-American family and experienced a privileged, sheltered childhood. She studied at Vassar College for two years, but quit when her father went bankrupt during the Great Depression and began writing. Because of her reporting and poetry on sociopolitical issues, Rukeyser is associated with the proletarian writers of the 1930s. She wrote about injustice against blacks in the South (in the trial of the "Scottsboro Boys"), lung disease among miners in West Virginia, and the Spanish Civil War.
In 1947, she gave birth to a son and raised him alone. During the next 15 years Rukeyser published little but continued to teach, for example, at Sarah Lawrence College for Women. Here she had to stand up to conservative moralists who saw the "single mother" and political radical as a questionable role model for their daughters.
In the last 15 years of her life, Rukeyser became fully active again, both literarily and politically. In 1972, she undertook an unofficial peace mission to Hanoi with poet Denise Levertov. Then, at 60, she traveled to South Korea as president of the American PEN Center to speak out on behalf of Kim-Chi Ha, a dissident poet sentenced to death.
From the beginning, Rukeyser's poems often had women-centered themes, criticizing the silencing of women in society, celebrating their strength, and breaking taboos – she wrote unsentimental poems about pregnancy and childbirth, menstruation, and the sexual feelings of older women. She sang about love relationships with men and with women, and in the poem "Käthe Kollwitz" cites androgyny as an important element of artistic productivity.
(Text from 2000 on the 20th anniversary of her death)
Translated with www.DeepL.com/Translator (free version), edited by Joey Horsley
Author: Joey Horsley
Quotes
What would happen if one woman told the truth about her life? The world would split open.
If we look long enough and hard enough ... we will begin to see the connections that bind us together, and when we recognize those connections, we will begin to change the world.
Literature & Sources
Herzog, Anne F. & Janet E. Kaufman. 1999. How Shall We Tell Each Other of the Poet? The Life and Writing of Muriel Rukeyser. New York. St. Martin's Press.
Kaufman, Janet. 1994. "Muriel Rukeyser (1913-1980)". Jewish American Writers: A Bio-bibliographical and Critical Sourcebook. Hg. Ann R. Shapiro. Westport, CT Greenwood. S. 358-67.
Kertesz, Louise. 1980. The Poetic Vision of Muriel Rukeyser. Vorwort von Kenneth Rexroth. Baton Rouge. Louisiana State UP.
Levi, Jan Heller. Hg. 1994. A Muriel Rukeyser Reader. New York etc. Norton.
Rukeyser, Muriel. 1979. The Collected Poems of Muriel Rukeyser. New York. McGraw-Hill.
Rukeyser, Muriel. 1992. Out of Silence: Selected Poems. Hg. u. Einltg. Kate Daniels. Evanston, IL. Triquarterly Books.
Turner, Alberta. 1986. "Muriel Rukeyser", Dictionary of Literary Biography. Vol. 48. American Poets, 1880-1945, second series. Ann Arbor, MI. Gale. S. 369-75.
If you hold the rights to one or more of the images on this page and object to its/their appearance here, please contact Fembio.
---