Fembio Specials Famous Women from Heidelberg Liselotte von der Pfalz
Fembio Special: Famous Women from Heidelberg
Liselotte von der Pfalz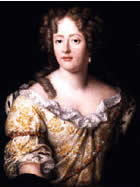 (Elisabeth Charlotte von der Pfalz, Herzogin von Orléans)
Liselotte v. d. Pfalz (Elisabeth Charlotte of Orléans)
born on May 27, 1652 in Heidelberg
died December 8, 1722 in Saint Cloud
German-French author of correspondences; sister-in-law of Louis XIV. of France
Biography • Literature & Sources
Biography
For years the letters of Liselotte von der Pfalz have held a place of honor on the bookshelves of upper middle-class German families. Her drastic style and critical assessments, but also her genuine empathy for persons she loved make for pure reading pleasure to this day and moreover are an inexhaustible resource for the study of her time.
Liselotte von der Pfalz, daughter of the Palatinate Prince Elector Karl Ludwig and his first wife Charlotte von Hessen-Kassel, was a lively, unruly child, happy and impudent, with a penchant for for practical jokes. In order to protect her from family arguments about his mistress Karl Ludwig sent his seven-year-old daughter to live with his sister Sophie of Hanover. There she experienced the happiest years of her life and was exposed to intellectual stimuli that awakened a lifelong thirst for knowledge and passion for reading. "I never had no better time than in Hanover," she recalled fifty years later. Back in the Palatinate after four years, she continued her rather free way of life, was raised in the reformed Calvinist faith and tolerably tamed by a governess. In 1671, after a compulsory conversion to Roman Catholicism, Liselotte was wed to Philipp of Orléans, who bore the title "Monsieur" and was the younger brother of Louis XIV.
For 51 years she lived at the French royal court, after 1701 as a widow and later as mother of Prince Regent. She never reconciled herself to the manners of the court, its countless festivities, or passion for bejewelled splendor. She suffered at the intrigues of the courtiers and the wasteful extravagance of Monsieur, whose homosexual inclination, on the other hand, she tolerated, so long as his protégés did not invent malicious gossip about her. Once the couple had, with some effort, performed its dynastic duty—Liselotte bore three children—they slept apart. Madame was quite happy about this: "I never liked the business of making babies." And: "Happy is she who is not wed."
The affection of the king, who valued her cheerful naturalness and honesty and often took her along to the theater or the hunt, made her first years easier. Only when Louis withdrew his favor—influenced she assumed by his mistress Mme. de Maintenon—did her time of suffering begin: "If one can attain salvation through grief and suffering then I need have no doubts about my eternal bliss."
Her relationship with the king was severely strained when he invaded the Palatinate on the pretext of defending the inheritance of his sister-in-law and devastated the land. She never forgave him for this. In the end she lived in complete isolation, finding consolation only in the daily habit of writing lengthy letters.
Liselotte had most likely never been a beauty; her face had been disfigured by smallpox and with age she became extremely overweight—in Hanover she had also learned to enjoy hearty fare. She died at the age of seventy and was buried as she had wished without pomp. Her letters—most of them to her beloved Aunt Sophie in Hanover—revise the image of the naïve, unrefined German princess at an elegant French court. They testify to a wide-ranging, highly cultivated intellect and independent thought.
(edited for FemBio by Luise F. Pusch translated by Joey Horsley)
Author: Ursula Schweers
Literature & Sources
Briefe von Liselotte von der Pfalz. Hg. Annedore Haberl. München. Hanser. 1996.
Cruysse, Dirk van der. 1995 [1988].
"Madame sein ist ein ellendes Handwerck": Liselotte von der Pfalz - Eine deutsche Prinzessin am Hof des Sonnenkönigs. Aus d. Frz. von Inge Leipold. München; Zürich. Serie Piper, Bd. 2141.
Lebrige, Arlette. 1991 [1986]. Liselotte von der Pfalz. Aus dem Frz. von Andrea Spingler. München. Heyne TB 12/202.
Pathos, Klatsch und Ehrlichkeit: Liselotte von der Pfalz am Hofe des Sonnenkönigs. Romanica et Comparatistica, hg. von Klaus J. Mattheier & Paul Valentin. Tübingen. Stauffenberg. 1990.
Universität Heidelberg: Virtuelle Fachbibliothek Geschichte
If you hold the rights to one or more of the images on this page and object to its/their appearance here, please contact Fembio.
---