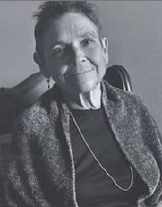 (Adrienne Cecile Rich)
born May 16, 1929 in Baltimore, Maryland
died on March 27, 2012 in Santa Cruz, California
U.S. poet and essayist
Biography • Weblinks • Literature & Sources
Biography
Adrienne Rich is one of the most renowned US-American poets of our time. She was awarded countless honors such as the prestigious National Book Award, an honorary doctorate from Harvard, and the half a million-dollar McArthur Fellowship.


Raised in Baltimore in a culturally refined Southern home, she was encouraged to write poetry at an early age by her father, a pathology professor. Her very first book of poems, A Change of World (1951), was chosen by W.H. Auden for the Yale Younger Poets Prize.

It was motherhood - Rich gave birth to three sons between 1955 and 1959 - that radically changed her life and writing, as she later described in the book Of Woman Born: Motherhood as Experience and Institution (1976). The exhausting daily grind of having three young children, whom she loved but who prevented her from writing, meant she felt torn apart. Apart from the decision to have herself sterilized after the birth of her third son it was getting involved in left-wing politics that opened up new possibilities for her. The breakthrough came with the new women's movement, which allowed her to radically question the world and place her experience as a woman at the center of her poems.
After conflict-ridden final years of marriage and the suicide of her husband in 1970, women and the love of women became increasingly important in her life. Jamaican-born writer Michelle Cliff was her partner for 35 years until her death in 2012. Her essay "Compulsory Heterosexuality and Lesbian Existence" (1980) and her multifaceted love poems to women made her an identifying figure in the lesbian movement.
Early on race and class were important issues for Rich. Friendships and activism connected her to major African American writers. In 1974 she declined the National Book Award for herself individually and instead shared it with Audre Lorde and Alice Walker - who had also been nominated for the prize - in the name of all women who had been silenced.
Starting in the 1960s, Rich taught at various universities - including Cornell and Stanford - and also published literary essays. Her poems became more political and open in form. Many express the tension between intense personal experience and a precarious political situation. The title of her sixth book of poems, The Will to Change (1971), is programmatic. Again and again it is change that Rich seeks in her poems: Exposing taboos and lies, making connections between the personal and political, and "inventing what we long for."
At nearly 80, she was still politically active, passionately critical of President Bush's policies and the war in Iraq. The scope of her thinking had become more international. In this endangered world, Rich stressed the special significance of poetry: "Poetry keeps the underground aquifers flowing; it is the liquid voice that can wear through stone."

(Text from 2008, updated 2012 and 2021; translated 2021 with www.DeepL.com/Translator (free version); computer translation edited by Luise F. Pusch and Gabriele Koch)

Author: Gabriele Koch
Links
Obituary:
The Adrienne Rich Literary Trust offers comprehensive information on Adrienne Rich on its website, including a chronology, bibliography and audio sources of poetry readings
https://adriennerich.net/bibliography/
Poetry Foundation website with in-depth articles about Rich and poems by Rich published by Poetry Magazine
https://www.poetryfoundation.org/poets/adrienne-rich
Literature & Sources
Poems by Adrienne Rich online, with short biography and interpretations
Chiasson, Don. 2016. "Adrienne Rich's 'Collected Poems'", The New Yorker 2016.06.20 pp. 78-81.
Holladay, Hilary. 2020. The Power of Adrienne Rich: A Biography. New York. Nan E. Talese / Doubleday.
Rich, Adrienne.1976. Of Woman Born: Motherhood as Experience and Institution.
Rich, Adrienne. 1979. On Lies, Secrets, and Silence: Selected Prose 1966-1987. New York / London. W.W. Norton / Virago.
Rich, Adrienne. 1993. What Is Found There: Notebooks on Poetry and Politics. New York; London. Norton.
Rich, Adrienne. 2001. Arts of the Possible: Essays and Conversations. New York. Norton.
Sickels, Amy. 2005. Adrienne Rich. Philadelphia. Chelsea House.
If you hold the rights to one or more of the images on this page and object to its/their appearance here, please contact Fembio.
---