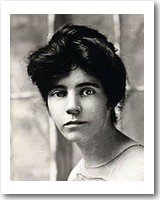 (Alice Stokes Paul)
Born 11 January 1885 in Moorestown, New Jersey
Died 9 July 1977 in Moorestown, New Jersey
U. S. American Women's Rights Activist
40th Anniversary of Death 9 July 2017
Biography • Quotes • Weblinks • Literature & Sources
Biography
At first a shy girl, this daughter of a well-to-do liberal Quaker family from Pennsylvania apprenticed herself to the English suffragists Emmeline and Christabel Pankhurst and evolved to become the "only truly charismatic" leader of the U.S. women's suffrage movement in the 20th-century. With the Woman's Party, which she founded in 1916, she brought new life to a somewhat weary women's movement; and through her radical methods the bold and brilliant strategist, who dedicated her entire life to the woman's cause, also became a pioneer of civil disobedience.
Alice Paul enjoyed an education unusually impressive for its time: in 1905 she obtained her bachelor's degree from Swarthmore College, then continued on at Columbia and the University of Birmingham (England), earning a doctorate from the University of Pennsylvania. After this she began the study of law, which she completed with a second doctorate in 1928 from the American University. During these years she also worked as a social worker and was active in the militant wing of the women's movement, in which she soon advanced to a leadership role.
In England Paul was arrested seven times for her public demonstrations in support of women's suffrage; three times she was sent to jail, where she continued her protest by means of hunger strikes.
After she returned to the U.S. in 1910 Paul joined the National American Woman Suffrage Association (NAWSA), but from the very beginning she experienced clashes with the leadership. Whereas NAWSA employed moderate methods in an attempt to change laws within individual states, Paul argued for a militant strategy to amend the U.S. federal constitution.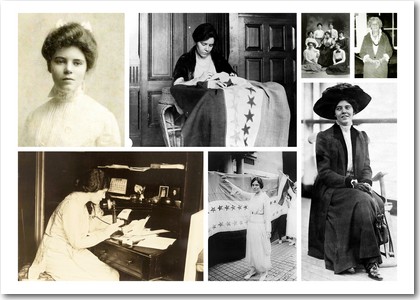 She transformed her ideas into action in 1913 by organizing a gigantic parade viewed by some 500,000 onlookers: there were ten brass bands, five mounted patrols, 26 floats with suffragists in costume, and over 8000 marching women from all social classes. Violence perpetrated by numerous opponents in the crowd coupled with a lack of response by the police caused a welcome scandal which gave the suffrage campaign tremendous publicity. Later Paul and her followers demonstrated daily bearing placards in front of the White House and were arrested repeatedly.
After the vote was finally won in 1920 Alice Paul mobilized her Woman's Party to fight for a constitutional amendment to guarantee the right to complete equality before the law (the "Equal Rights Amendment," or ERA). She dedicated the rest of her long life to this one goal. She never married, for most important to her were the women with whom she shared her political work, in particular her closest friend and colleague Elsie Hill, with whom she lived for many years. The ERA was in fact approved by Congress in 1972 but (given a campaign by reactionary forces) was unable to gain approval by the requisite number of states before the final deadline of 1982. Fortunately, Alice Paul, who died in 1977, did not have to witness this defeat.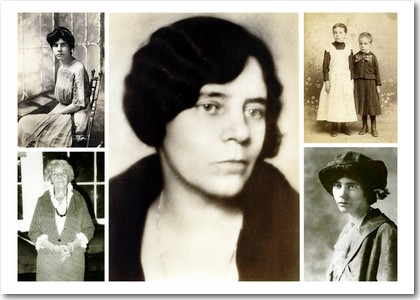 Author: Joey Horsley
Quotes
I think if we get freedom for women, then they are probably going to do a lot of things that I wish they wouldn't do; but it seems to me that isn't our business to say wat they should do with it. It is our business to see that they get it.
(Alice Paul)
——-
ERA – Two Versions:
Men and women shall have equal rights throughout the United States and every place subject to its jurisdiction - (Equal Rights Amendment, as written and introduced by Alice Paul, 1923.)
Equality of rights under the law shall not be denied or abridged by the United States or by any State on account of sex. - (Equal Rights Amendment in the version that Alice Paul wrote and presented to the Judiciary Committee of the U. S. Senate in 1943.)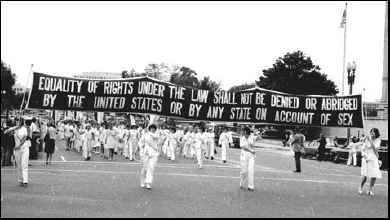 Links
Alice Paul biography. (Link)
Equal Rights Amendment (Link)

Sewall-Belmont House and Museum. The museum is the headquarters of the historic National Woman's Party and was the Washington home of its founder and Equal Rights Amendment author Alice Paul. (Link)
Conversations with Alice Paul. Woman Suffrage and the Equal Rights Amendment. An Interview Conducted by Amelia R. Fry (1976)Suffragists Oral History Project. (Link)

The Alice Paul Memorial March, Washington, D.C. 1977 (Link)

Votes for Women: Selections from the National American Woman Suffrage Association Collection, 1848-1921 (Link)

Women in History: Alice Paul biography (Link)
Literature & Sources
For additional information please consult the German version.
If you hold the rights to one or more of the images on this page and object to its/their appearance here, please contact Fembio.
---