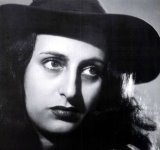 (La Magnani; Nannarella (nickname))
born on March 7, 1908 in Rome/ Italy
died on September 26, 1973 in Rome/ Italy
Italian actor
50th anniversary of her death on September 26, 2023
Biography
Anna Magnani embodied Italy's soul and the essence of its dolce vita like no other actor. Uninterested in glamorous roles, she played earthy, working-class women who grappled with setbacks while fighting fiercely for their love, their happiness and their children.
Her life was inextricably linked to Rome. Born out of wedlock, she was raised in poverty by her grandmother in the poor Roman neighborhood of Trastevere. Anna did not meet her very young mother, who had left Italy to seek her fortune in Egypt, until she was nine years old, and she never met her father. At the age of eighteen, she began her training as an actor at the Royal Academy of Dramatic Art, which she financed by performing traditional Roman folk songs in nightclubs and music halls. She acquired extensive theatrical experience even before graduation through her work with several of the most famous travelling repertory companies of the time.
Magnani was extremely versatile: her repertoire included comedies, musicals, and tragedies ranging from the classical to the modern. The first small roles in films followed starting in 1934.
Her son Luca was born in 1942. Magnani raised him alone, prioritizing his needs especially after he contracted polio when 18 months old. A milestone in Anna's career was the film Roma città aperta (Rome, Open City) directed by Roberto Rossellini in 1945 under extremely adverse conditions in post-war Rome. Capturing everyday life under German occupation, this sober film masterfully addresses the resistance of Romans as well as the betrayal and torture they suffered.
Rossellini and Magnani experienced a stormy love affair. Other joint film projects followed until Rossellini began a relationship with Ingrid Bergman. Deeply hurt, Magnani threw herself into work. Her performance in films directed by Luchino Visconti and by Jean Renoir brought greater international attention, and Hollywood took notice of her. Tennessee Williams, who had written the screenplay for his The Rose Tattoo, travelled to Rome personally with his agent to persuade Magnani, the actor of his dreams, to accept the leading role. In 1955 Anna became the first Italian to be awarded the Oscar for Best Actress in a Leading Role for her convincing performance as Serafina in this film.
She is unforgettable as Mamma Roma in the 1962 film of the same name by Pier Paolo Pasolini. But despite her numerous successful performances on film, it was the theater that remained her greatest love and in the 1960s she began appearing on stage more often. Her last film appearance was in Fellini's Roma in 1972 where she played herself in a short sequence at the end; this became her legacy. At the age of only 65, Magnani died of cancer. All of Italy dressed in black in mourning and thousands accompanied her to her final resting place.
(Text from 2007; translated with DeepL.com; edited by Ramona Fararo, 2023)
Please consult the German version for additional information (pictures, sources, videos, bibliography).
Author: Adriane von Hoop
Quotes
Tennessee Williams on Anna Magnani:
I never saw a more beautiful woman, enormous eyes, skin the color of Devonshire cream.

Anna Magnani:
Men want a woman with whom they can steal horses. Women wish for a man with whom they can buy a car.
When men engage their head, it's called thinking. When women do the same, it's called doing hair.
The ideal man: the man all women dream of and none know.
A divorcee is a woman who got married so she didn't have to work, but now works so she doesn't have to get married.
The daily life of most people is silent heroism in installments.
Maybe it would be good if the world were ruled by cats. Then there would finally be enough cleverness, instinct, empathy, perseverance and energy in the highest offices.
A man at the wheel of a car is a peacock holding his wheel in his hand.
The imagination of a man is far too limited to comprehend a woman.
In love, the modern man combines the emotional warmth of a computer with the cautiousness of a jumbo jet.
Online sources available on August, 31, 2023 for some of Anna Magnani's quotes (in German) listed above: zitate.net/anna-magnani-zitate; for Tennessee Williams on Anna Magnani imdb.com/name/nm0536167/bio/
If you hold the rights to one or more of the images on this page and object to its/their appearance here, please contact Fembio.
---