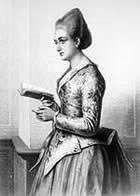 Born on December 7, 1750 in Frankfurt
died on June 8, 1777 in Emmendingen
German letter writer; sister of J. W. Goethe
245th death anniversary on June 8, 2022
Biography
The siblings were like twins, inseparable. Cornelia received – unusual for a girl of her time – the same careful education as her brother. She learned Latin and English, Italian and above all French, received singing and piano lessons, and was instructed in drawing and dancing. Her strict, pedantic father supervised the lessons, which were given by tutors.

But while Johann Wolfgang Goethe could begin his studies in Leipzig in 1765, Cornelia remained alone in the confines of her home and was completely at the mercy of her father's didactic passion. Wolfgang's letters were no consolation either. They were schoolmasterly and admonished his sister to attend to her female duties, namely: "to study housekeeping, as well as the art of cooking".
From 1767 to 1769 Cornelia Goethe kept a secret letter diary in French. This "Correspondance Secrète" to her friend Katharina Fabricius has been preserved (Goethe burned his sister's letters). In these reports, descriptions, and scenes, Cornelia takes a close, even scathing look at "better" Frankfurt society. Her texts are like an autobiographical novel, reflecting desperate suffering in the female role. Cornelia could see no alternative to marriage:
It's obvious that I can't remain a girl forever; moreover, it would be very ridiculous to presume to do so.
At the age of 23 – quite old for the time - she married Johann Georg Schlosser, a friend of her brother. "If God loves someone let Him give them such a husband," she wrote to Caroline Herder. But the marriage was not a happy one. In the parable "A Marriage Scene," Schlosser blames her brother for this. Cornelia became increasingly isolated in the small town of Emmendingen, where Schlosser, as the highest-paid civil servant in the Grand Duchy of Baden, aimed at pushing through his reformist and religious ideas. The birth of her first daughter almost took Cornelia's life, and left her long convalescent:
... what it means to lie in bed as a wife and mother for two years without being able to put on a stocking …
When she finally did recover, she became pregnant again and died after giving birth to her second daughter.
In 1772, she gave her teacher Philipp Seidel a silver signet as a farewell gift. It shows an open cage from which a bird is flying, with the signature: "La liberté fait mon bonheur." She was not allowed to live that freedom.
Translated with deepl.com (free version), edited by Almut Nitzsche and Joey Horsley, June 2022
Author: Birgit Rühe-Freist
Quotes
Today is my birthday, on which I complete the 18th year of my life. Time has passed like a dream, and the future will pass in the same way, with the difference that I will have more sufferings to endure than I have known so far. I have a presentiment of them.

(Cornelia Goethe, Correspondance Secrète)
If you hold the rights to one or more of the images on this page and object to its/their appearance here, please contact Fembio.
---