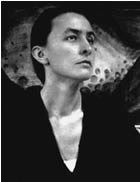 (Georgia Totto O'Keeffe)
born on November 15th, 1887, near Sun Prairie, Wisconsin
died on March 6th, 1986, in Santa Fe, New Mexico
American artist
135. birthday November 15th, 2022
Biography • Literature & Sources
Biography
Although she had wanted to live until she was 125, she "only" made it to 98. However, she did help prepare the large exhibition of her works at the New York Metropolitan Museum to commemorate her 100th birthday.
Georgia O'Keeffe is the best known and most successful American woman painter; her larger-than-life, almost abstract paintings of flowers are world famous. But it was not only as an artist that she drew attention to herself. Her tremendous personal magnetism fascinated people, for she was "exceptionally beautiful and spontaneous, combined with spiritual and emotional clarity and a wonderful intensity with which she enjoyed every moment of her life to the full." (Stieglitz). She was quick-witted and could be staggeringly direct. For the younger generation she was the epitome of an independent, creative woman who single-mindedly went her own way, never willing to make compromises which might hinder her in her painting.
She grew up as a farmer's daughter with a large number of siblings in a family dominated by strong women and energetically pursued her goal to become an artist from an early age. She studied in Chicago and New York and earned a living by working as a design draftswoman and art teacher. Her life took a decisive turn when Alfred Stieglitz, well-known photographer and owner of the avant-garde New York gallery "291," became passionately interested in her art and organised her first exhibition in 1917. He was her sponsor and manager, while she inspired him to take hundreds of unusual, sensitive portraits and nude photographs of her. In spite of this intensive collaboration, she always remained independent, even after her marriage to the dominating Stieglitz, who was 23 years older than she.
In 1929, after a successful decade in New York, O'Keeffe discovered what she felt to be the perfect landscape for her: New Mexico. Here she began to paint her great mythical images of nature, uninhabited by humans. For years she divided her time between New Mexico and New York, where Stieglitz exhibited what she had produced each year and successfully marketed her works. After his death, she moved to Abiqiui permanently, a remote village in New Mexico where she had bought an old farmhouse. She was fascinated by the barrenness and expanse of this unspoiled landscape, which she painted until her eyesight began to fail.
Now, in an age when the earth is being destroyed, these paintings have taken on a visionary character.
(Text from 1995; Transl. Jo Hopper and Joey Horsley)
For additional information please consult the German version.
Author: Renate Rochner
Literature & Sources
Castro, Jan Garden.1985. The Art and Life of Georgia O'Keeffe. New York. Crown.
Lisle, Laurie. 1986. Portrait of an Artist: A Biography of Georgia O'Keeffe. Albuquerque, NM. University of New Mexico Press.
Messinger, Lisa Mintz. 1988. Georgia O'Keeffe. New York. Thames & Hudson.
O'Keeffe, Georgia. 1976. Georgia O'Keeffe. New York. Viking Press.
Pollitzer, Anita. 1988. A Woman on Paper: Georgia O'Keeffe. Introduction by Kay Boyle. New York, etc. Simon & Schuster.
Robinson, Roxana. 1989. Georgia O'Keeffe: A Life. New York. Edward Burlingame / Harper & Row.
This FemBiography was sponsored by Joey Horsley and Christie Jacobs in memory of their mother, the painter Hallie B. Stiegman (1906-1998)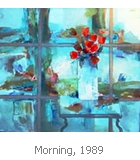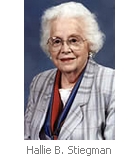 If you hold the rights to one or more of the images on this page and object to its/their appearance here, please contact Fembio.
---