Biographies Marie Heim-Vögtlin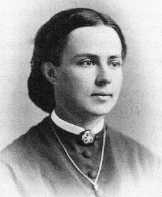 (Marie Heim-Vögtlin, née Vögtlin)
Born October 7, 1845 in Bözen, canton of Aargau
Died November 7, 1916 in Zurich
First female Swiss physician
Biography • Quotes • Literature & Sources
Biography
Her life and her struggles are a piece of women's history.
When the 23-year-old pastor's daughter Marie Vögtlin asked her father in 1868 to be allowed to study medicine in order to become a doctor, a storm of indignation ensued not only among her relatives, but also in her home town of Bözen and ultimately throughout the entire Swiss nation. It may have been barely acceptable for a few shameless foreign women to study in Zurich, but now a Swiss woman, too?! But after much hesitation, her father reluctantly agreed. He knew that refusing permission would have plunged his open-minded and headstrong daughter into despair.
She required approval from the authorities at each additional step of the way, including for admission to the examination at the University of Zurich (1873) and to receive her license to practice medicine (1874). Before Marie Vögtlin opened her practice in Zurich, she spent several months in Leipzig completing medical specialization studies. Her professors were only able to shield her from the whistles and boos of the male students by having her wait in an anteroom and then accompanying her into the lecture hall.
In Zurich it was predominantly women – from all walks of life – who sought out her practice. Within just a few months she was among the city's most popular doctors, not only because of her skills but also because of her great willingness to help – a reputation that extended far beyond the borders of the city and of the country.
During her studies she had met Albert Heim, who later became a professor of geography; the pair married in 1875, a year after she opened her medical practice. Marie Heim-Vögtlin did not give up her career when her son Arnold was born after seven years of marriage, nor did she do so after the birth of her daughter Helene four years later. Her children and everyone around her called her "Munti," which sounds like "Mutti," or mama: an apt sobriquet in light of the loving, motherly care she provided to the sick and needy.
Her wish to establish a women's hospital run by women with an attached school of nursing came true. Its foundation stone was laid on July 11, 1899, 25 years to the day after Marie Vögtlin successfully passed her doctoral examination.
Johanna Spyri, the world-famous author of the Heidi book series, didn't think much of women attending university. But when she was diagnosed with cancer in 1901, she allowed Marie Heim-Vögtlin to care for her.
Marie Heim-Vögtlin died of lung disease on November 7, 1916.
(Text from 1991. Transl. Julie Niederhauser 2020)
Author: Hiltrud Schroeder
Quotes
"We German women have a lot to thank Switzerland for. I would like to include this woman's life." (Helene Lange)
"I would truly like to be sick myself once for a few days, so that my wife could look after me and I could see her and have her around me!" (Albert Heim)
Literature & Sources
Lange, Helene. 1924/5. "Dr. Marie Heim-Vögtlin - die erste Schweizer Ärztin", Die Frau, 32. Jg. 1924/25, S. 197-204.
Siebel, Johanna. 1929. "Dr. Marie Heim-Vögtlin - die erste Schweizer Ärztin", in: Schweizer Frauen der Tat: 1831-1854. 1929. Bd. 2 von 3 Bden. Zürich; Leipzig; Stuttgart. Rascher. S. 235-253.
Siebel, Johanna. 1933. Das Leben von Frau Dr. Marie Heim-Vögtlin, der ersten Schweizer Ärztin, 1845-1916. Zürich. Rascher.
If you hold the rights to one or more of the images on this page and object to its/their appearance here, please contact Fembio.
---