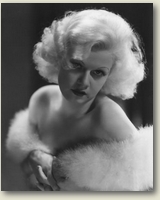 (Harlean Harlow Carpenter [Geburtsname])
born March 3, 1911 in Kansas City
died on June 7, 1937 in Los Angeles
American film star
85th anniversary of death on June 7, 2022
Biography
In the 1930s, during the dark days of the Depression after the stock market crash, blond actresses took over the movie screen in the United States. Mae West, Ginger Rogers and Carole Lombard were blond, and fifty-five blond corkscrew curls bobbed over Shirley Temple's big wide eyes.
They were all outshone by Jean Harlow. With her bleached silver hair, shining coldly like neon light, her porcelain doll face, with her revealing décolleté white satin and silk gowns, she was "the super blonde, the magnificent specimen who polishes off three classy gangsters and then marries a couple of millionaires, for a million a head, and ends up with a bright pink villa on the Cap d'Antibes."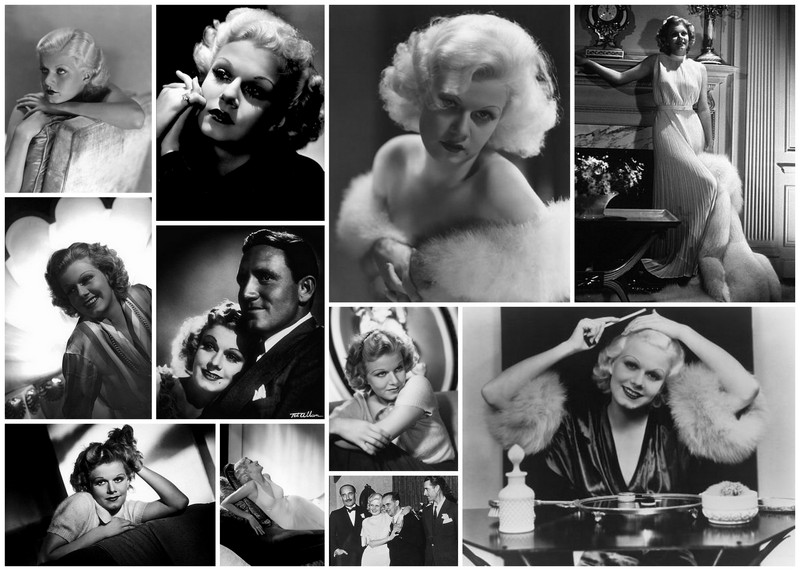 The fur cape slides to the floor, a long look over a blindingly white bare shoulder, and then the question to her visitor: "Do you mind if I put on something more comfortable?" - Even her first major role as a woman between three men (Hell's Angels, 1930) foreshadowed that Hollywood studio bosses would certainly not let this blonde play the nice little girl next door in a neat little cotton dress. She played the woman who straightforwardly asked a man for his phone number (Public Enemy, 1931), the woman who bought a dress because it was see-through (Read-Headed Woman, 1932), or the woman who, when things didn't work out with the millionaire, went after his son (The Girl from Missouri, 1934).
Jean Harlow died of kidney failure at the age of 26. In many of her films she played the "Golddigger Girl", who wants to climb the ladder energetically, with vitality and outspoken sex appeal and not always in the genteel way. And in the end, at least in Hollywood movies, blondes end up owning the bright pink mansion.
Translated with deepL.com (free version), edited by Almut Nitzsche and Joey Horsley, June 2022
Author: Brigitte Warkus
If you hold the rights to one or more of the images on this page and object to its/their appearance here, please contact Fembio.
---