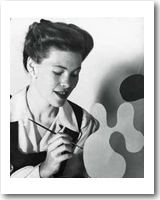 (Bernice Alexandra Kaiser, verh. Eames)
(Bernice Alexandra Eames, née Kaiser)
born 15. December 1912 in Sacramento
died 21. August 1988 in Los Angeles
US-American Designer
Biography • Quotes • Weblinks • Literature & Sources
Biography
Ray-Ray was the nickname given to Bernice Alexandra Kaiser by her family. Beyond that, little is known of her childhood in Sacramento, although Ray's artistic talent was evidently recognized early on. After high school she left California with her widowed mother for New York City, where she studied with the German Abstract Expressionist Hans Hofmann and exhibited her paintings. After her mother's death, Ray left New York for further training at the Art Academy in Cranbrook, Michigan, where Charles Eames was one of her teachers and mentors. After divorcing his first wife, Charles married Ray in 1941 in Chicago. The couple left immediately for Southern California, where they opened a design office.
An extraordinary personal and artistic collaboration began with this move, an unusually creative partnership that resulted in innovative designs for furniture, houses, monuments, exhibitions - even toys. Their aim was to utilize new materials and technology, so that everyday objects of high quality in both form and function could be produced at reasonable cost. Many of their furniture designs have become contemporary classics. Moreover, they altered our way of viewing the world by their use of multi-media presentations as they developed multi-screen slideshows for schools and corporations that presented everyday objects in startling new ways. Together they designed countless exhibitions and directed over 80 experimental films.
Ray and Charles Eames developed several new production processes. At first they supplied the American Navy with leg splints and stretchers during World War II. But it was the chairs they designed from this molded plywood that brought a break-through after the war. In the first years, Ray was still painting and designing textiles and title illustrations for the journal "Art and Architecture," but after 1947 she devoted herself entirely to the teamwork needed to run and expand their design studio. Before long Eames Design, especially the furniture of molded plywood, fiberglass–reinforced plastic, bent and welded wire mesh, and cast aluminum—distributed by the manufacturer, Herman Miller—brought them an international following. Already in 1949 the couple was able to build their dream house on a beautiful meadow overlooking the ocean in Pacific Palisades.
Charles was the more charismatic partner that gave the firm its public face, but the photographic record of their work—there are few written documents—makes clear that this diminutive, energetic, witty woman was an equal partner in their projects. Ray was co-director of almost all of the films, for example. Every project was in fact a team effort, and by the 1960s the couple had over 50 co-workers in their employ. By the 1970s Ray was taking an increasingly public role and feminist art critics were drawing attention to her contributions to Eames Design, but there is a great deal of difficulty in isolating her "oeuvre" within the complicated design process. The so-called "Time-Life chair," for example, is often attributed specifically to her. But asked about any specific piece of furniture, Ray herself maintained that she had contributed to details of the design in a "million ways" and to the overall form by looking at the whole critically, but that was something that everyone in the office did.
It is said that Ray had an exceptional visual acuity and memory. Although it was sometimes hard for her to make a choice, it was often her obsessive attention to every last detail in the choice of color, material or even the basic form of a piece of furniture that led to the pleasing overall result. Ray adored found objects of all kinds, and she lovingly collected items for display, arranging them in a room or an exhibition in such a way that they created a special visual effect.
After Charles' sudden death in 1978 the office was disbanded, although Ray finished several large projects that were already underway, for example the German version of "Mathematica," an exhibition originally designed for the California Museum of Science and Industry in Los Angeles. In her later years Ray also functioned as the chief archivist of their legacy and collaborated on a number of books about Eames Design. Her creativity and productivity were so intertwined with that of her partner, it hardly seems a coincidence that she passed away on the same day as Charles exactly ten years later. Always a stickler for detail, even a decade had not been enough for Ray to order the archives to her meticulous standard.
Bevor Sie dieses Video wiedergeben, werden keinerlei Daten an YouTube übermittelt.Mit Klick auf den Wiedergabe-Button erteilen Sie Ihre Einwilligung darin, dass Youtube auf dem von Ihnen verwendeten Endgerät Cookies setzt. Näheres zur Cookie-Verwendung durch Youtube finden Sie hier.
Author: Margaret E. Ward
Quotes
"What works is better than what looks good. The looks good can change, but what works, works."
Links
Griffith Winton, Alexandra. "Charles Eames (1907–78) and Ray Eames (1912–88)". In Heilbrunn Timeline of Art History. New York: The Metropolitan Museum of Art, 2000. http://www.metmuseum.org/toah/hd/eame/hd_eame.htm
The Work of Charles and Ray Eames: A Legacy of Invention online exhibition at Library of Congress http://www.loc.gov/exhibits/eames/eameshome.html
http://www.designmuseum.org/design/charles-ray-eames
http://www.eamesgallery.com/
http://www.smow.de – Designermöbel - Charles & Ray Eames
Literature & Sources
Albrecht, Donald, Ed. 2005 [1997]. The Work of Charles and Ray Eames: A Legacy of Invention. Exhibition catalogue. New York: Abrams.
Caplan, Ralph, John Neuhart & Marilyn Neuhart. 1976. Connections: The Work of Charles and Ray Eames. Los Angeles. UCLA Art Council.
Eames, Demetrios. 2001. An Eames Primer. New York: Universe Publishing.
Eames, Demetrios and Rolf Fehlbaum. 2007. The Furniture of Charles & Ray Eames. Bedford, UK: Ram Distribution.
The Films of Charles and Ray Eames. 2 Videocassetten. Santa Monica, CA. Pyramid Film: Voyager. 1989.
Frauen im Design: Berufsbilder und Lebenswege seit 1900 / Women in Design: Careers and Life Histories since 1900. 1989. Ausstellungskatalog, 2 Bde. Hg. Angela Oedekoven-Gerischer, Andrea Scholtz, Edith Medek & Petra Kurz. Stuttgart. Landesgewerbeamt Baden-Württemberg. Design Center Stuttgart.
Kirkham, Pat. 1995. Charles and Ray Eames: Designers of the Twentieth Century. Cambridge MA. MIT Press.
Koenig, Gloria. 2005. Charles & Ray Eames: 1907-1978, 1912-1988: Pioneers of Mid-Century Modernism. Cologne: Taschen.
Neuhart, John, Marilyn Neuhart & Ray Eames. Hg. 1989. Eames Design: The Work of the Office of Charles and Ray Eames. New York. Harry N. Abrams.
Rubino, Luciano. 1981. Ray & Charles Eames: Il collettivo della fantasia. Roma. Kappa.
Steele, James. 1994. Eames House: Charles and Ray Eames. London. Phaidon.
Stungo, Naomi. 2000. Charles and Ray Eames. London: Carlton.
If you hold the rights to one or more of the images on this page and object to its/their appearance here, please contact Fembio.
---