Fembio Specials FemBiographies by Brigitte Warkus (1944-2005) Alma Mahler-Werfel
Fembio Special: FemBiographies by Brigitte Warkus (1944-2005)
Alma Mahler-Werfel
(Alma Mahler-Werfel, geb. Schindler, verh. Gropius (2. Ehe))
Austrian composer, author and companion of famous men
born August 31, 1879 in Vienna
died December 11, 1964 in New York City
Biography • Quotes • Literature & Sources
Biography
Alma Schindler began composition studies with Alexander von Zemlinsky in 1897, composing Lieder and instrumental pieces as well as starting work on an opera. She married the composer Gustav Mahler, who was 20 years her senior. Mahler wrote: "The role of composer falls to me, yours is that of loving companion…!" She obeyed him, reluctantly. By the time Mahler, after a crisis in their marriage, suddenly took an interest in her composition (he had five of her Lieder printed), she had long given up. "Ten years of wasted development cannot be made up anymore. It was a galvanized corpse that he wanted to resurrect."
This woman who had wanted to achieve fame by virtue of her own work now prepared to surround herself with famous men, "geniuses." But the energetic, ambitious Alma, often described as power-hungry, was never the gentle, devoted muse. After Mahler's death (1911) she had a passionate affair with the painter Oskar Kokoschka, who painted her as The Tempest (Windsbraut). He courted her with a possessive love that she enjoyed and feared at the same time. She left him in 1915 and escaped into a marriage with the architect Walter Gropius, who she hoped would provide peace and calm.
She was happy at the birth of her daughter Manon - she had already had a daughter with Mahler, a second had died as a toddler, and Manon was to die too, at 18 - but gave up the security of that marriage for the young poet Franz Werfel. She influenced and inspired him, organized his life and his fame, and in 1940 emigrated with him - Werfel was a Jew - to the USA. She writes in her memoirs: "God granted me the privilege of knowing the brilliant works of our time before they left the hands of their creators. And if I was allowed to assist these knights for a while, then my existence is justified and blessed!"
Translation by Julie Niederhauser.
——-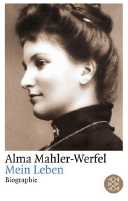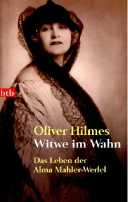 Author: Brigitte Warkus
Quotes
"You must only devote yourself to me unconditionally, design your future life entirely according to me…" Gustav Mahler
"The three years with him were a single, intense battle of love. Never before have I tasted so much strain, so much hell, so much paradise." Alma Mahler-Werfel on Oskar Kokoschka
Literature & Sources
Alma Mahler-Werfel in the Deutsche Nationalbibliothek
If you hold the rights to one or more of the images on this page and object to its/their appearance here, please contact Fembio.
---