Biographies Antoinette Brown Blackwell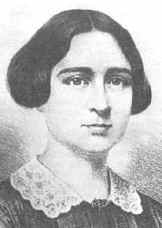 (Antoinette Louisa Brown Blackwell)
born 20 May 1825 in Henrietta, New York
died 5 November 1921 in Elizabeth, New Jersey
American women's rights advocate; abolitionist: pastor, lecturer and writer
Biography • Literature & Sources
Biography
Brown Blackwell is recognized as the first woman to be ordained by an established protestant denomination in the United States (1853), after first being denied a divinity degree and a permit to preach, but she left her pastorate in South Butler, New York a year after the ordination struggle had finally been won because of theological differences with the Congregationalists. She preached in a variety of liberal pulpits over the years and after 1870 became a Unitarian, delivering her last sermon at the age of ninety.
Brown had given a speech at the first national women's rights convention in Worcester, Massachusetts in 1850, and her rhetorical talent was immediately recognized. After leaving her pastorate she embarked on the lecture circuit as an advocate of women's suffrage, the abolition of slavery, and temperance. She participated in many organizations on behalf of women's rights and helped found the American Woman Suffrage Association in 1869 with Lucy Stone. She also wrote many philosophical, scientific and literary works. When the movement split into two she tried to reconcile the factions and welcomed their reunification in the 1890s.
Born the seventh of ten children to a religious farm family in upstate New York, Nette Brown felt called to ministry at a young age. Her mother, Abigail Morse Brown, secretly offered her moral support. At sixteen the girl was hired as a teacher at the Monroe Academy in Henrietta where she herself had been educated, but she sought higher education. She set out for Ohio in 1846, where Oberlin College was the first to open its doors to women, although in its non-degree "Course for Ladies" they were not permitted to speak. There she met the older Lucy Stone, with whom she protested such inequalities. Brown insisted on continuing in theology at Oberlin, but she was not awarded the degree when she completed the course of advanced study in 1850. The college gave her an honorary Masters in 1878 and belatedly awarded the Doctor of Divinity degree in 1908, the same year she was already named minister emeritus of the Unitarian Society in Elizabeth, New Jersey that she helped organize and had served for five years!
When Brown married Samuel Blackwell in 1856 she became sister-in-law to her friend Stone who had earlier married Henry Blackwell. These were the emancipated brothers of the noted medical doctors, Elizabeth and Emily Blackwell. The couple consciously tried to live out a model of equality within their marriage: "We will be governed very much by circumstances and what seems best as the years go by, but I think, Sam we can be self sovereigns, we can bend everything within and without to our wills, and our wills to our intellects." A businessman, Samuel shared household chores and childcare, and Antoinette continued to lecture after having given birth to seven children. The couple raised five daughters to adulthood, two of whom became medical doctors, another an artist.
Brown Blackwell argued that in addition to the franchise, the right of women to education and employment outside the home was an equally important goal. She firmly believed that not just political, but also economic and social roles of both men and women needed to be radically transformed and emphasized that it was not sufficient to allow women to enter the world of work, but that men needed to become equal partners in the home. She split with others on the issue of liberalization of divorce laws, however, as she held a traditional view of marriage as a lifelong commitment.
Brown Blackwell had worked in the 1850s in the slums and prisons of New York City and published a collection of articles on the subject in 1856, Shadows of Our Social System, but in her later works she paid less attention to class.
Brown Blackwell was deeply concerned with reconciling her belief system with science. In addition to her Studies in General Science (1869) she published The Sexes Throughout Nature in 1875, in which she explored both physiological and psychological aspects of sexuality, and in her late eighties, she wrote The Making of the Universe. She argued repeatedly that Darwin had not paid sufficient attention to issues of gender. The American Association for the Advancement of Science recognized her contributions in 1881 by electing her to its membership. But Brown Blackwell also published philosophical works, The Philosophy of Individuality (1893), The Social Side of Mind and Action (1915), for example, as well as a novel, The Island Neighbors (1871), and a collection of poetry, Sea Drift (1902).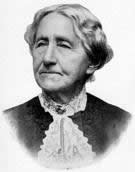 Brown Blackwell remained active in the women's movement well into the twentieth century, and she was the only one of the first generation of suffragists who witnessed the passage of the Nineteenth Amendment to the Constitution, a right she exercised on November 2, 1920 at age ninety-five, just a year before her death.
Quotes:
"I have grown very happy lately & do not feel half so sad for the good cause is prospering though we have hard struggles & if they think Public Opinion will prevent us from studying Theology very long, they don't know us yet."
"Women are needed in the pulpit as imperatively and for the same reason that they are needed in the world—because they are women. Women have become—or when the ingrained habit of unconscious imitation has been superseded, they will become—indispensable to the religious evolution of the human race."
"One thing is certain. I am not afraid to act as my conscience dictates, no matter what the world may think …"
"Woman must become a broader and more rational worker; more self-forgetting, remembering the well-being of the whole community, while man must equally learn that charity begins with the necessary, unending, small details of home and its inmates. ... We need a general reconstruction in the division of labor."
"Mr. Darwin ... has failed to hold definitely before his mind the principle that the difference of sex, whatever it may consist in, must itself be subject to natural selection and evolution."
"Every nursing mother, in the midst of her little dependent brood, has far more right to whine, sulk or scold, as temperament dictates, because beefsteak and coffee are not prepared for her and exactly to her taste, than any man ever had or ever can have during the present stage of human evolution."
"Work, alternated with needful rest, is the salvation of man or woman."
"If woman's sole responsibility is of the domestic type, one class will be crushed by it, and the other throw it off as a badge of poverty. The poor man's motto, 'Women's work is never done,' leads inevitably to its antithesis—ladies' work is never begun."
"My grandmother taught me to spin, but the men have relieved womankind from that task and as they have taken so many industrial burdens off our hands, it is our duty to relieve them of some of their burdens of State."
Author: Margaret E. Ward
Literature & Sources
Cazden, Elizabeth. 1983. Antoinette Brown Blackwell: A Biography. Old Westbury, NY. Feminist Press.
Lasser, Carol and Marlene Deahl Merrill. Eds. 1987. Friends and Sisters: Letters between Lucy Stone and Antoinette Brown Blackwell, 1846-93. Urbana and Chicago, IL. University of Illinois Press.
Dictionary of Unitarian & Universalist Biography Brown Blackwell biography, Western New York Suffragists Brown Blackwell biography, Oberlin College
Brown Blackwell biography, answers.com
If you hold the rights to one or more of the images on this page and object to its/their appearance here, please contact Fembio.
---