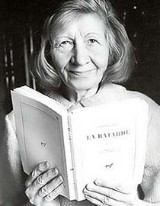 born on April 7, 1907 in Arras
died May 28, 1972 in Faucon
French writer
50th anniversary of death on May 28, 2022
Biography
Hardly any other writer has described her sexual longings and humiliations with such unsparing candor as Violette Leduc. In an idiosyncratic mixture of lyrical passages of abundant ornate imagery and meticulously realistic descriptions, she laid bare the abysses of her nature - the restless (and almost always futile) search for sexual fulfillment, the inability to love as an equal, her pursuit of money and luxury, her suffering because of her ugliness, the lifelong feeling of a profound loneliness.
The illegitimate daughter of a servant girl, never recognized by her father - a wealthy bourgeois from Arras - Leduc grew up in poor circumstances. She had her first tempestuous sexual relationship with a fellow student at boarding school (described in Therese and Isabelle) - and was expelled from school. She then lived with a young woman music teacher for nine years. During the war, she wrote for various women's magazines and fashion houses. In her love life, one drama followed the last - years of unrequited passion for Simone de Beauvoir and quite a few homosexual men compared to whom, disappointed, she felt she was a "neutral sex".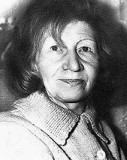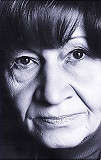 A brief unhappy marriage to a photographer ended in divorce and an abortion, which she later described in detail - at a time when it was still completely illegal - in her novel Ravages.
She had already published five books and received unqualified praise from the most important literary figures of her time - Beauvoir, Camus, Jean Genet, Nathalie Sarraute - when she achieved her breakthrough in 1964 with her autobiography The Bastard. In it, she was able to publish the passages that had previously fallen victim to publishing censorship (especially about her relationship with Isabelle). The book was a great success, and she herself became a well-known personality. Her fashionable extravagance and provocative behavior amused the public.
She spent the last years of her life in a small Provençal village, writing daily and by no means reconciled to her fate: "I am a desert talking to myself."
Translated with www.DeepL.com/Translator (free version), edited by Almut Nitzsche and Joey Horsley, May/June 2022
Author: Andrea Schweers
Quotes
Love is serious work. We never know if it will cost us our skin.
If you hold the rights to one or more of the images on this page and object to its/their appearance here, please contact Fembio.
---