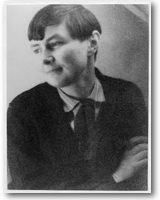 (Benita Otte [Geburtsname])
Born May 23, 1892 in Stuttgart
died on April 26, 1976 in Bielefeld
German-Czech textile artist
130th birthday on May 23, 2022
Biography
First highly praised, then forgotten, finally misinterpreted and, more recently, controversially discussed because of two, long unknown carpets with Nazi insignia. - The reception history of Bauhaus-, Burg-, and Bethel artist Benita Koch-Otte reflects two well-known desiderata: On the one hand, research on the female half of the art school is still incomplete more than 80 years after the Bauhaus closed. Even for exposed female artists such as Koch-Otte, a relevant catalog of works is lacking. On the other hand, in the discussion about avant-garde artists who carried out Nazi-serving tasks after 1933, a profound revision of widespread Bauhaus myths is more than overdue.
"Obsessed with weaving": student in Weimar.
Eastern 1920, at the age of 27, Benita Koch-Otte* enrolled as a student at the Bauhaus in Weimar; "incomprehensibly stupid" (cited in Schenk zu Schweinsberg, 2012, p. 43) was how her father Rudolf Otte, a chemist with a doctorate, called this step: his self-critical daughter, constantly thirsting for new sources of inspiration, had already passed three exams - as a drawing teacher in Düsseldorf, as a gymnastics teacher in Frankfurt/Main, and as a needlework teacher in Berlin. And now, to his upper-middle-class horror, she hung up her permanent position as a teacher at the Städtische Höhere Mädchenschule in Uerdingen, Rhineland, for her renewed studies in Weimar.
It is true that the Bauhaus, which was true to gender-political tradition, forced almost every female student to take up weaving after passing the preliminary course. Unlike some of her fellow students, however, Koch-Otte visibly enjoyed the work there: for the "groping, weighing, choosing" (unless otherwise noted, all of Koch-Otte's following quotations from: Koch-Otte, 1972), experimenting with ever new materials and motifs - "I first made animals that didn't exist" - she was still enthusiastic about decades later. Together with friend [url=https://www.fembio.org/biographie.php/frau/biographie/gunta-stoelzl]Gunta Stölzl[/url], Koch-Otte was instrumental in building up the Bauhaus weaving and dyeing workshop, first as a student, then, from 1923/24, as a journeywoman. "Obsessed with weaving" they were at that time, Stölzl noted. Koch-Otte's most important Bauhaus teacher was Paul Klee. "I thank him the most" (quoted in Schenk zu Schweinsberg, 2012, p. 45). His work gripped her "like a sound from a very great depth".
"Textile formations of great beauty": early works
At the Bauhaus, Koch-Otte displayed a remarkable versatility: in addition to many, as master Georg Muche put it, "textile structures of great beauty," among them her well-known children's room carpet for the Weimar "Musterhaus am Horn" (1923), which can be used multifunctionally as a learning and playing field, and the much-cited, gigantic 315 x 315 cm red-yellow-blue-violet-grey Smyrna carpet for Walter Gropius' director's room, she practiced watercolor painting. Many sheets indicate her great pleasure in the frank further development of the De Stijl body of ideas: "I love (Piet, A.B.) Mondrian so much," she affirmed, "but not like a law. At his sparseness the fullness becomes richer" (quoted in Schenk zu Schweinsberg, 2012, p. 45). In addition, Koch-Otte made headlines in 1923 with a brightly painted kitchen design hailed by contemporary critics as groundbreaking: Also conceived for the Bauhaus showpiece project of the day, the "Musterhaus am Horn," she conceived the sparsely designed cabinet ensemble together with Ernst Gebhardt and, strictly functionally arranged and equipped with the latest technical achievements, declared it to be the contrapposto of the lavishly overloaded, bourgeois residential kitchen of the penultimate turn of the century."I sometimes feel all confused": weaving mill manager at Burg Giebichenstein
"I sometimes feel all confused": weaving mill manager at Burg Giebichenstein
In October 1925, the Bauhaus had meanwhile moved from Weimar to Dessau, Benita Koch-Otte took over the management of the hand weaving workshop at the Burg Giebichenstein School of Arts and Crafts in Halle/Saale. She was by no means the only Bauhäusler on site: the later Burg director Gerhard Marcks had already been drawn to the moderately modern school, which was courted throughout the Reich. In November, the ceramics artist [url=https://www.fembio.org/biographie.php/frau/biographie/marguerite-friedlaender-wildenhain]Marguerite Friedlaender-Wildenhain[/url] followed, who, together with Marcks, had meanwhile distanced herself from the Bauhaus and denigrated its planned intensified alliance with industry as one-sided and hostile to art and crafts.
Since Gerhard Marcks mistakenly mentioned Benita Koch-Otte in 1971/72 in her first exhibition catalog in the same breath as those avant-garde skeptical ex-Bauhaus artists, she has often been similarly labeled, artistically inaccurately. However, Koch-Otte did not end up in Halle because of differences in art theory, but because of the tempting offer of a management position. In contrast to Friedlaender-Wildenhain, Koch-Otte never saw the castle as an "improvement of the Bauhaus idea". On the contrary: up to the last lesson, Koch-Otte was semi-satisfied with many of the Burg's ideals and colleagues, rubbing up against the "bourgeoisie" there. In 1926, for example, she wrote: "I sometimes feel quite confused that I don't know where I am when I look at my Hall kitsch" (quoted in Stölzl, 1997, p. 38). Essential artistic differences were confirmed not least by Friedlaender-Wildenhain: "Benita Otte in her weaving and I in my pottery may have had quite different opinions, but what did that matter? We all have the right to our idea of art".
"Knotting became my special joy": Artistic focus in Halle.
"It was nice to work in the castle," Koch-Otte nevertheless summed up conciliatory as an 80-year-old. Unlike her predecessor Hanne Schütz-Wolff, who caused a sensation with monumental figural tapestries, representational motifs were passé since Koch-Otte. Basically, she continued her Bauhaus focus, led the apprentices to the journeyman's examination with a specially created training concept, coined New Fabrics for the New Living, upholstery fabrics, plain and patterned, curtains, opaque and transparent, woolen blankets, small checks and stripes, stretch fabrics, smooth and rough, in short: "Raumstoffe", as the art world called these fabrics at the time. In addition to the traditional standards, Koch-Otte let her students, again completely Bauhaus, use unusual materials: wood chips, cellophane, grass, metal scraps, feathers, barks, supplemented by novel achievements of the chemical industry.
Students were extensively involved in the design process of the utilitarian textiles. But Koch-Otte made her beloved geometric knotted rugs single-handedly. "Knotting became my special joy," she explained. Twice a year, the hand weaver presented her creations, marketed as emphatically innovative in both style and function, at the Leipzig Fair. "The new space demands fabrics from new points of view," an advertising brochure from 1930/31 stated. Refuting an old modernist prejudice, Koch-Otte focused on noble individual pieces and refused to enter into an alliance with industry that would serve mass production, while interestingly enough, her colleague Friedlaender-Wildenhain, of all people, who was far more traditional in style, fervently sought contact with industry. At least initially.
"Both of us are outlawed": Prague.
According to Koch-Otte in 1972, soon after Hitler's chancellorship, two SA men who were inspecting the weaving mill announced to her: "This must change now, we want to start again with the craft here. Shortly thereafter, several Burg teachers received letters of dismissal. Among them: Benita Koch-Otte, like her husband, the interior designer and photographer Heinrich Koch, a few months earlier. She had known him since the Bauhaus days, called him simply "the Koch", and herself "the Otte". In 1927, "the Koch" followed her to the castle, and they married in 1929. As was typical of the generation, Koch-Otte did not consider renouncing her profession as a result of her marriage: "I don't want to be judged and evaluated according to my husband" (quoted in Below, 2012, p. 75), she announced in 1926.
In 1933, under the sign of the NSDAP, the situation changed abruptly: As a "double earner" and "foreigner" (since her marriage she had Koch's Czechoslovakian citizenship) she pondered: "Both of us are outlaws, whether we will find work in Germany again is significantly questionable" (quoted in Below, 2013, p. 92). The dismissal from the castle was not inconvenient for her - there was "too much going against the grain" (1933, quoted in Schenk zu Schweinsberg, 2012, p. 47). But there was no alternative in sight. - Not even in Prague, where she went with her husband in 1933 to assist him, in view of the desolate job situation, in setting up a picture documentation center based on the "Foto Marburg" model.
"Two very different lives": Bethel
On September 1, 1934, after Heinrich Koch's early accidental death, Benita Koch-Otte, by then 42 years old, took a position in Bethel near Bielefeld as economic and artistic advisor to the Weaving School of the von Bodelschwingh Institutions Bethel (today: von Bodelschwinghsche Stiftungen Bethel). The first step toward "two very different lives" (cited in Below, 2012, p. 69), as she called it, had been taken: the weaving school had existed since 1913 and - with an integrative design - also held jobs for people with physical and mental handicaps as well as chronic illnesses.
Koch was initially hesitant to accept the position - "for our kind again complicated by too much Christianity (without which it is perhaps not possible)" (quoted in Below, 2013, p. 92). On the other hand, Julia von Bodelschwingh, a trained painter and founder of the weaving mill, impressed her - "two lovers for the same cause" they were. Until Koch-Otte affirmed that she was "infinitely happy" to be in Bethel, because there she had "a beautiful large work, a workshop with more than 100 people, of whom almost ¾ are fosterlings - sick people - plus many healthy apprentices and a very close circle of co-workers" (1947, cited in Below, 2012, p. 35), tough phases of struggling passed. In weaving, many things were great, but also "an infinite number of things were awful". Two years after taking up her job, she noted that one had to "slowly find an approach" "to make it better" (quoted in Degen, 2014, p. 185). On top of that, Westphalia was "a land unto itself ... something so conservative is unimaginable for our poor minds" (ibid.).
But: the sense of community in Bethel, which reminded her of the Bauhaus, appealed to her. It was "not about money or ambition" but "about sounding out the stable point in all the infinite lability of life" (ibid.). Not "business - not an end in itself - not 'art'" (cited in Below, 2014, p. 93) was at the center, but the human being. Increasingly impressed by Julia von Bodelschwingh and her pastor consort Fritz, she tentatively approached some protestant guiding principles and charged herself with a whole range of divergent tasks until her retirement in 1957: In addition to artistic product development, she initiated an operational restructuring - conducive to higher economic profitability. She took over advertising and sales. At the same time, she had to develop a high degree of pedagogical sensitivity; after all, it was necessary to reconcile the exhaustingly different needs of people with a wide variety of mental and physical handicaps.
"I don't remember how we got through the war": Koch-Otte under National Socialism
Around 1937, Benita Koch-Otte created a now-lost wall hanging with the Reich eagle, swastika, and oak wreath for the wedding and meeting room of the Gadderbaum district municipality near Bethel, as well as at least one other wall hanging with Nazi insignia. While Koch-Otte researcher Irene Below emphasized that in both cases it was presumably a matter of mayoral commissioned works, which Koch-Otte had hardly been able to evade (Bethel residents had been subject to the "direct police instructions" of the mayor), Stefan Lüddemann asked in 2013 in the Neue Osnabrücker Zeitung in view of the textile-historical exhibition "To open Eyes. Art and Textile from the Bauhaus to Today," which presented works by Benita Koch-Otte, among others: "What is to be thought of an artist who brings together Nazi symbols and the Bauhaus, which was closed by the Nazis, in her work?"
At first view, this question does not seem unjustified, but it falsely stamps Koch-Otte as an inglorious exception. In fact, however, the Bauhaus and National Socialism harmonized far more often and more aptly than many ex-Bauhaus members (and art historians) were willing to admit in their retrospectives after 1945. At least in the first years after 1933, some of the most visible art school personalities easily, willingly, and successfully created designs for the Nazi regime, among them directors Walter Gropius and Ludwig Mies van der Rohe, as well as Herbert Bayer and [url=https://www.fembio.org/biographie.php/frau/biographie/lilly-reich]Lilly Reich[/url]. Although they have been known for a long time, the Mies and Gropius reception nevertheless generously overlooks these "missteps" most of the time - if not always. Basically, Koch-Otte's Nazi-serving contributions substantiate what Ute Brüning already stated in 1993 after reviewing several Bauhaus vitae, but which has since been awaiting more in-depth research: "For Bauhäusler, what is also true for others applies: Wherever possible, work continued (under National Socialism, A.B.)" (Nerdinger/Brüning, 1993, p. 62).
It should also be noted that - as far as is known - Koch-Otte, in significant contrast to Gropius and Mies, did not actively apply for Nazi projects, but was - probably - coerced into making the carpets. How politically ignorant, helpless or powerless Koch-Otte actually was in this regard is difficult to answer conclusively on the basis of the sources published so far. At least in autumn 1934, to which Below already referred several times, Koch-Otte made a negative statement about Hitler: In Bethel, there was "a positive that Bobby (i.e. Adolf Hitler, A.B.) does not rule, at least no more than is at all possible" (quoted in Below, 2013, p. 93).
Later, in the first exhibition catalog from 1972, Koch-Otte - her motivation remains to be seen - focused primarily on wartime privations when looking at the Nazi years: "I don't know anymore how we got through the war" - and on the Protestant-triggered defensive attitude of the von Bodelschwinghs, who were clearly German-national, but not National Socialist/anti-Semitic, towards the so-called "Nazi euthanasia program." Thus, she recalled at length the "evening of the day on which Pastor v. Bodelschwingh had fought in his study with the notorious euthanasia commission for the lives of his sick".
"It is of course a bit of a pity not to be there": Forgetting after 1945.
"... uselessly puffed up" (quoted in Below, 2013, p. 88, note 2), Benita Koch-Otte found the small exhibition of works that was shown in Bielefeld in 1972 on the occasion of her 80th birthday. Her sympathetic frugality belies her deep hurt at being among those left out of Bauhaus history after the end of the war. "It is, of course, a bit of a shame not to be there because you once belonged so much" (quoted in Schenk zu Schweinsberg, 2012, p. 44). Especially at the Bauhaus show in Stuttgart in 1968, she could not and did not want to deliver artworks: In Bethel, she would not have "the strength and time for something like that" and "below my own level I don't like to show anything" (quoted in Schenk zu Schweinsberg, 2012, p. 44).
That in 2012, a remarkable 44 years later, the Neue Zürcher Zeitung celebrated the approximately 170 exhibits presented in the first comprehensive Koch-Otte retrospective as a "feast for the eyes", she was unfortunately not allowed to experience. But, at least, a first step towards rehabilitation seems to have been taken at last.
___
* A special thank to Irene Below for central references to the reception history of Benita Koch-Otte.
Translated with www.DeepL.com/Translator (free version), edited by Almut Nitzsche, May 2022. For mor information please consult the German version.
Author: Annette Bußmann
Quotes
It wasn't just about teaching - it was simply life itself. Conversations, discussions, exchange, joy in each other's work.
(Benita Koch-Otte on the Bauhaus Weimar, 1972, quoted in Koch-Otte, 1972, p. 13)
Benita (Koch-)Otte did not forget the goal (of the Bauhaus, A.B.). She has achieved it.
(Ex-Bauhaus teacher Georg Muche, 1971, quoted in Koch-Otte, 1972, p. 17)
With Benita Koch(-Otte) we often brushed better than we could.
(Student Lotte Peters, 1972, quoted in Koch-Otte, 1972, p. 31)
If you hold the rights to one or more of the images on this page and object to its/their appearance here, please contact Fembio.
---