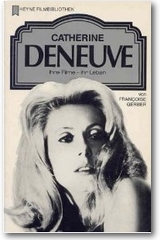 (Catherine Fabienne Dorleac)
born on October 22, 1943 in Paris
French film actor
80th birthday on October 22, 2023
Biography
Even after over sixty years in the film industry Catherine Deneve continues to captivate all who encounter her. Journalists and critics are almost reverent in their descriptions of Deneuve's elegance, charm, and charisma; her appeal has not diminished over the years. The high regard she commands is not a mere reflection of past glories: most actors of her generation have long since been sidelined by younger ones, but Catherine Deneuve is still very much at the center of public attention.
Originally, however, she had harbored no desire to become a movie star. For the third of four daughters born to an actor couple, her parents' profession had never seemed very attractive. She remained disinterested even after standing in front of the camera for the first time at the age of thirteen: "I liked the atmosphere on the set, I found the director's work interesting – but that was all. Making a movie felt strange, incompatible with my introspective nature ...." Catherine's passion for acting was not awakened until her older sister Françoise Dorleac persuaded her to appear together with her in Les portes claquent (1960). Her breakthrough came in 1964 with Les parapluies de Cherbourg (The Umbrellas of Cherbourg) directed by Jacques Demy. Soon afterwards Roman Polanski, Luis Bunuel and François Truffaut began casting Catherine Deneuve in leading roles.
What is remarkable is the mixture of intimacy and reserve that Catherine Deneuve brings to her characters. Behind a sentence she speaks there is a sense of something important that is left unsaid; her specialty is the portrayal of unacknowledged feelings and repressed passions. In Polanski's Repulsion (1965), the fears of the main character result in delusions; Bunuel's Belle de Jour (1966) was considered provocative not least because the distinguished Deneuve plays a well-situated wife who slips into the role of a high-class prostitute in the afternoon. Place Vendôme (1998) focuses on an escape into alcohol; Thieves (1996) by André Techiné shows Deneuve as a philosophy professor who throws herself into a relationship with one of her students with self-destructive passion.
Catherine Deneuve believes her private life does not belong in the public eye and she shares as little as possible. Details concerning her two adult children, Christian Vadim and Chiara Mastroianni, remain private. A rare exception was the TV documentary Elle s'appelait Françoise (1996), a tribute to her beloved sister, who died in a car accident in 1967.
(Text from 2002; translated with DeepL.com; updated and edited by Ramona Fararo, 2023)
Please consult the German version for additional information (pictures, sources, videos, bibliography).
Author: Annette Lutz
Quotes
Being an actor means being an instrument for someone else. I want to give myself completely.
If you hold the rights to one or more of the images on this page and object to its/their appearance here, please contact Fembio.
---