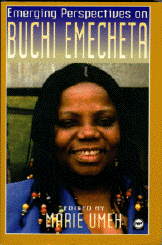 (Florence Onye Buchi Emecheta)
Buchi Emecheta
born on July 21, 1944 in Yaba near Lagos, Nigeria
Nigerian-British writer
60th birthday on July 21, 2004
Biography • Quotes • Weblinks • Literature & Sources
Biography
Many say that Buchi Emecheta is to date the most important female African writer. She is certainly Nigeria's best known woman writer, and is respected for her imaginative and documentary writing about African women's experiences in Africa and in Great Britain.
Emecheta was born with the full name Florence Onye Buchi Emecheta, in Yaba near Lagos, Nigeria on July 21, 1944. Her mother was Alice Ogbanje Okwuekwu Emecheta, and her father was Jeremy Nwabudike Emecheta, who worked as a molder on the railways. Buchi dreamed of being a writer from an early age, influenced by an older aunt who told stories to the children after dinner. After her father was killed as a soldier in the British army in Burma, Buchi was sent to a Methodist Girls' High School in Lagos.
In 1960, Emecheta married Sylvester Onwordi, a student to whom she had been engaged since the age of eleven. After bearing two children in Nigeria, Buchi followed her husband to London where he was a student. The young family struggled with poor living conditions to help finance Onwordi's education. Emecheta worked as a library officer at the British Museum and bore three more children, and at the same time began writing. Sylvester was not supportive of Buchi's efforts, and was sometimes abusive. She separated from her husband in 1966 when he burned the manuscript to her first book, The Bride Price. According to Emecheta, "I was the typical African woman, I'd done this privately, I wanted him to look at it, approve it and he said he wouldn't read it. And later he burnt the book ... and that was the day I said I'm going to leave this marriage and he said 'what for, that stupid book' and I said 'I just feel you just burn my child'" (BBC website).
So at the age of 22, Buchi set out on her own. She struggled to support her children and continue writing. From 1970 to 1974, Emecheta studied and received an honors degree in sociology at the University of London. At the same time, the British left wing magazine The New Statesman published passages subsquently gathered into her later novel In the Ditch (1972). Thus Emecheta began her dual career, working as a social worker with youth and other communities, while writing in the early mornings at the kitchen table with her children playing around her.
Struggling against reluctant publishers and male-dominated audiences, Emecheta has published nine novels to date. Her first two published novels, In the Ditch (1972) and Second-Class Citizen (1974) are largely autobiographical, describing a woman's struggles against sexual discrimination in Nigeria and racism, classism, and sexism as an immigrant to Britain. Other novels including The Slave Girl (1977) and The Joys of Motherhood (1979) address the harmful potential of rigid gender structures amidst otherwise changing Nigerian culture. The allegorical novel The Rape of Shavi (1983) details the clash of Western and traditional African cultures. She has also written four works of teenage fiction, two works of children's fiction, and an autobiography entitled Head Above Water (1986). She has written numerous plays for the BBC and won several awards, including being selected as one of the Best British Young Writers in 1983.
From 1972 to 1982, Emecheta served as a visiting lecturer and professor at universities in the United States, England and Nigeria. Shortly thereafter, she and her journalist son founded a publishing company in London and Nigeria, named Ogwugwu Afor. Since 1979 Emecheta has also served on numerous British committees as a respected voice for arts, integrationist, and women's issues, although she rejects the feminist label. She achieved a PhD in social education in 1991. (Text from 2003)
Author: Sarah K. Horsley
Quotes
What I am trying to do is get our profession back. Women are born storytellers. We keep the history. We are the true conservatives – we conserve things and we never forget. What I do is not clever or unusual. It is what my aunt and my grandmother did, and their mothers before them. (Malinkowski 188, from interview with Rosemary Bray, Voice Literary Supplement)
Links
Interview with Emecheta done by Julie Holmes, from The Voice July 9, 1996, on Philip Emeagwali's website
Literature & Sources
Malinowski, Sharon. "Emecheta, Buchi," in Black Writers: A Selection of Sketches from Contemporary Authors. Linda Metzger, senior editor, Hal May, Deborah A. Straub, and Susan M. Trosky, editors. Detroit: Gale Research Inc., 1989, pp. 185-188.
Smith, Christopher. "Buchi Emecheta," in African Writers, volume 1. C. Brian Cox, editor. New York: Charles Scribner's Sons/Simon & Schuster Macmillan, 1997, pp. 235-239, 246-247.
Petersen, Kirsten Holst. "Buchi Emecheta," in Twentieth-Century Caribbean and Black African Writers, from Dictionary of Literary Biography, volume 117. Bernth Lindfors and Reinhard Sander, editors. Detroit: Gale Research Inc., 1992, pp.159-166.
If you hold the rights to one or more of the images on this page and object to its/their appearance here, please contact Fembio.
---