(Edith Wilson née Bolling, formerly married Galt)
born October 15, 1872 in Wytheville, Virginia
died December 28, 1961 in Washington, D.C.

Married to President Woodrow Wilson;
as first lady managed affairs of state 1919-21 following Wilson's stroke
150. birthday on October 15, 2022
Biography • Quotes • Weblinks • Literature & Sources
Biography
Edith Bolling was born in 1872 to a wealthy southern family in Virginia. Growing up in the Jim Crow South, she absorbed prejudices against African Americans and Jewish people. Edith's grandmother relied on her granddaughter to take care of her during frequent bouts of illness, and together with her father oversaw Edith's education at home until she briefly attended Martha Washington College, a finishing school for girls in Abingdon, Virginia, at age fifteen, and Powell's School for Girls in Richmond. Her father declined to spend more on Edith's schooling, having decided that educating her three brothers was more important.
Edith Bolling married the prominent jeweler Norman Galt in 1896 and moved to Washington D.C. with him. They had one child who died only a few days after his birth. Several years later, in 1908, Norman Galt died, leaving his silver business to his wife. She decided to continue in his place with the help of two friends, and became a successful business woman.
The wealthy, elegant widow met recent widower President Woodrow Wilson in 1915 while visiting the White House with her close friend Helen Bones, a cousin of the President. The two formed an immediate attachment and a courtship of letters commenced. During their correspondence, they spoke about their devotion to one another as well as the politics of the day. The president often called on her for advice relating to his speeches and the war in Europe. President Wilson proposed to her only a few months into their relationship; they were married in December of 1915.
President Wilson was re-elected in 1916, and Edith Wilson became the first first lady to stand behind her husband during his inauguration. The first lady insisted on being involved in her husband's work. She attended his meetings and believed that she was a better adviser than Secretary of State Lansing or Wilson's long time friend Colonel House. Edith Wilson was also concerned with maintaining the president's health. She took it upon herself to take daily walks, go on horseback rides, or play games of golf with him.
After the United States joined World War I, Edith Wilson set precedents for wartime behavior in America. She took a pledge to reduce her lifestyle during the war, rationing and refraining from holding White House parties. She turned part of her office into a sewing room where she and other White House women worked to sew socks and pajamas for the Red Cross, and she encouraged the women of America to do the same.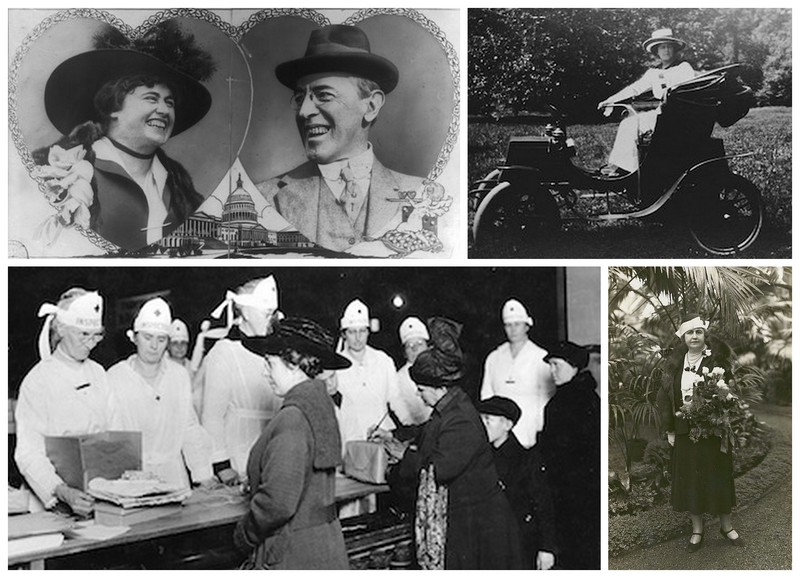 In 1919, while traveling the country to promote the Versailles Treaty, Woodrow Wilson had a severe stroke. He was incapacitated for several days and remained too weak to leave his bed for several months afterwards. Edith Wilson feared that the stress of resignation would only intensify his illness, so she did whatever she could to keep him in office. She became Wilson's steward – and the only connection between the president and the rest of the world. She met with everyone who wanted to see him and decided which information would be relayed to him and which would not, based on what interested her. She wrote all correspondence for him and signed documents using a rubber stamp imprinted with his signature. The president's isolation, combined with other issues, led to the failure of the Versailles Treaty in the Senate and the dismissal of Colonel House. Given her extreme involvement and influence, it has been said that Edith Wilson acted as the de-facto president from 1919 to the end of President Wilson's term in 1921.
Woodrow Wilson died in 1924, and Edith Wilson dedicated the rest of her life to maintaining his legacy. In 1939 she published her autobiography, My Memoir, which detailed her early life and her time in the White House. She died on December 28th, 1961, on what would have been Woodrow Wilson's 105th birthday.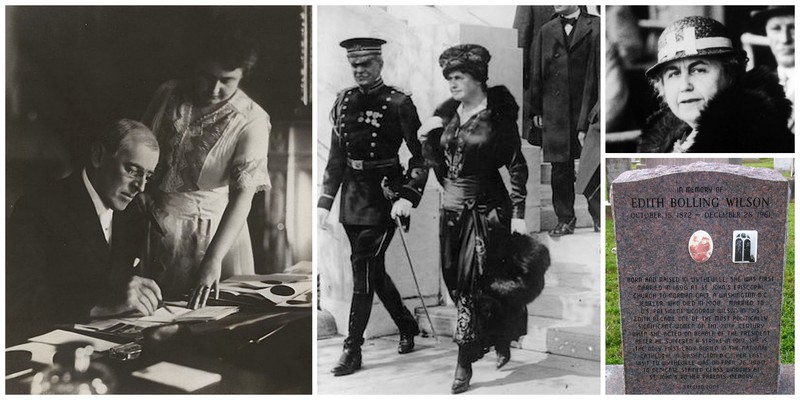 Because of the immense political impact she had during her husband's illness Edith Wilson is often hailed – or condemned – as the first female president of the United States. Political control was not her intention, but she left an undeniable mark on the nation.
Author: Elizabeth N. Roy
Quotes
I studied every paper sent from the different Secretaries or Senators and tried to digest and present in tabloid form the things that, despite my vigilance, had to go to the President. I, myself, never made a single decision regarding the disposition of public affairs. The only decision that was mine was what was important and what was not, and the very important decision of when to present matters to my husband.
Links
The National First Ladies' Library, Ohio. First Lady Biography: Edith Wilson.
Online: http://www.firstladies.org/curriculum/educational-biography.aspx?biography=29 (last downloaded 2019-03-12)
Betty Boyd Caroli. Encyclopaedia Britannica. Edith Wilson, American First Lady.
Online: https://www.britannica.com/biography/Edith-Wilson (last downloaded 2019-03-12)
America's Secret President: Edith Wilson. NHD 2018. AnnaKate Murphy. 10.06.2018
No data is submitted to YouTube unless you playback this video. By clicking on the play-button you give your consent for YouTube to set cookies on the device you are using. Further information about cookie-usage by Youtube can be found here.
First Lady Biography: Edith Wilson. Emma C. 18.02.2015.
Online:
https://youtu.be/LgQODP3cUuw
(last downloaded 2019-03-12)
Literature & Sources
Ashby, Ruth. 2005. Woodrow & Edith Wilson (Presidents and First Ladies). Gareth Stevens Pub Secondary Lib.
Brands, H. W. 2003. Woodrow Wilson. New York, NY: Times Books.
Giblin, James Cross. 1992. Edith Wilson: The Woman Who Ran the United States (Women of Our Time). Viking Juvenile.
Gitting Reid, Edith. 2007. Woodrow Wilson: The Caricature, The Myth And The Man. Kessinger Publishing, LLC.
Flanagan, Alice K. 1999. Edith Bolling Galt Wilson: 1872-1961 (Encyclopedia of First Ladies). Childrens Pr.
Hatch, Alden. 1961. Edith Bolling Wilson: First Lady Extraordinary. Dodd, Mead.
Hazelgrove, William. 2016. Madam President: The Secret Presidency of Edith Wilson. Washington, Regnery History.
Levin, Phyllis Lee. 2001. Edith and Woodrow. Lisa Drew Book.
Link, Arthur Stanley. 1962. Edith Bolling Wilson: Tributes given at a memorial service at the Woodrow Wilson birthplce, Staunton, Virginia, January 28, 1962.
Loh-Hagan, Virginia. 2019. The Real Edith Wilson (History Uncut). 45th Parallel Pr.
McCallops, James S. 2011. Edith Bolling Galt Wilson: The Unintended President (Presidential Wives). Nova Science Publishers, Inc.
Miller, Kristie. 2010. Ellen and Edith: Woodrow Wilson's First Ladies. University Press of Kansas.
"Edith Wilson."1996. In The Smithsonian Book of the First Ladies: Their Lives, Times, and Issues, edited by Edith P. Mayo, 169-74. New York, NY: Henry Holt.
"Edith Wilson: The First Lady in Charge."2016. In A Companion to First Ladies, edited by Katherine A.S. Silbey. N.p., 2016. Excerpt from A Companion to First Ladies. N.p. https://search.credoreference.com/content/entry/wileyfirst/edith_wilson_the_first_lady_in_charge/0#bib_800.
Shachtman, Tom. 1981. Edith & Woodrow: A Presidential Romance. Putram Pub Group.
Smith, Gene. 1964. When the Cheering Stopped: The Last Years of Woodrow Wilson. Morrow.
Tribble, Edwin. 1981. President in Love: The Courtship Letters of Woodrow Wilson & Edith Bolling Galt. Houghton Mifflin.
Wells, Peggysue. 1851. Edith Wilson (First Ladies: Second to None). Purple Toad Publishing.
Wheeler, Jill C. 2009. Edith Wilson (First Ladies). Checkerboard Library.
Wilson, Edith Bolling.1939. My Memoir. Bridgeport, CT: Braunworth & Company.
If you hold the rights to one or more of the images on this page and object to its/their appearance here, please contact Fembio.
---