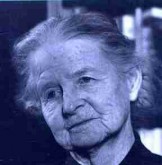 Born September 21, 1885 in Langnau in Emmental
died June 22, 1977 in Hüniberg (today known as Hilterfingen/Canton Bern)
Swiss author
125th birthday September 21, 2010
Biography • Literature & Sources
Biography
During the last century, few Swiss women have received as much public recognition in their home country, where women did not get the vote until 1971, as the children's author, poet and adult educator Elisabeth Müller (1885 – 1977). She was awarded numerous prizes for her work, among them an honorary doctorate from the University of Bern.
Her books for young adults and children accompanied generations of Swiss children on the road to adulthood, providing them with unforgettable reading adventures. In particular, the strong emotional content of her stories made an impression on a child's mind. I was one of those children. When later, as a mother, I wanted to read these stories to my sons, I made a startling discovery: I found the stories too pious, too sentimental, and too edifying. However, I was still captivated by the strong role the author attributed to girls and the unusual influence displayed by old, unmarried women. My curiosity was awakened. What kind of woman was the author? I decided to write a biography of her.
The young teacher Elisabeth Müller had a hard time freeing herself from the shadow of her overpowering father, a powerfully eloquent pastor from Langnau in Emmental. Her years of suffering from tuberculosis renewed her dependence on her family. She wrote her first books, Vreneli (1913) and Theresli (1918), both of which became great successes, in Leysin (a spa for respiratory ailments). Throughout her life she had to endure illness and pain. Being forced into society's predefined femine roles made it difficult for her to develop her creativity. Later in life, she resisted with quiet rebellion. She also countered such limitations with wit and humour that were deeply rooted in her religious beliefs. I knew I would have to confront her piety if I were to do this writer justice. It was not always an easy task.
Not until her fiftieth birthday, when she finally stopped working as a teacher, was she able to completely take up the life of a writer. For children she always wrote in high German – because they were supposed to learn 'written German'. For adults, however, she wrote in Bernese German. During World War II she travelled through Switzerland, which was hermetically sealed off from the rest of the world, as a teacher for adults. During this time she was much in demand as a speaker. In the last decade of her life she became a great media presence, at the time something quite unusual for an older, unmarried woman.
While I was doing my research, I regretted that Elisabeth Müller, in spite of her exceptional literary talent and vibrant storytelling, rarely strayed outside her metier of young adult and devotional literature. In spite of these limitations, which were to some extent of her own making, she embodies for me a part of women's history that has not previously been studied in Switzerland.
In her autobiographical book Die Quelle (The Spring) Elisabeth Müller describes how as a child she would sleep in her wooden crib, the sides of which were gated with bars. Her imagination turned these bars into living people, into an entire universe whose confident creator she was. The poet had to deal with many similar bars and barriers throughout her life, not least of which were presented by the 'Bernese and Swiss Spirit', which in turn became the basis of her work. Since she could not always find a way around such barriers, she succeeded in breathing life into them as a creator of worlds.
(Transl. Ute Methner and Joey Horsley)
Author: Renata Egli-Gerber
Literature & Sources
Egli-Gerber, Renata. 2005. Elisabeth Müller - Leben und Werk: Eine Annäherung. Stämpfli Verlag
If you hold the rights to one or more of the images on this page and object to its/their appearance here, please contact Fembio.
---