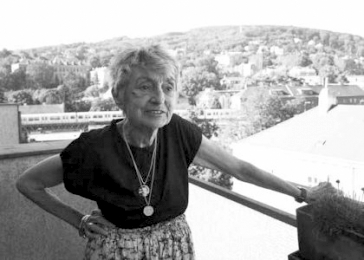 born on January 9, 1922 in Vienna
died on June 29, 2007 in Vienna
Austrian writer, psychoanalyst and peace activist
15th anniversary of death on June 29, 2022
Biography
Erika Danneberg's youth was shaped by her experiences during the Second World War in Vienna. She grew up in a German-nationalist home, but deeply rejected National Socialism. She was part of the circle of the Jewish welfare worker Franziska Löw and helped to provide Jewish prisoners in the collection camps in Vienna with the necessities of survival.
After 1945, Erika Danneberg sought orientation in the literary scene in Vienna. She finished her German studies, from which she had been excluded from 1943 on because of her lack of political commitment. She published numerous texts in magazines and was active in the group around Hans Weigel, an influential promoter of the post-war literary generation.
In 1949 Danneberg married the Jewish author Hermann Hakel and converted to Judaism. Together with him she edited, among other things, the magazine "Lynkeus," one of the rare literary magazines of the postwar years. During this time she also worked as a translator, editor and as the secretary of the author Berthold Viertel. In 1951, she received her doctorate in psychology with the dissertation "The Effects of War on Adolescents".
After the breakup of her marriage to Hakel, she underwent psychoanalysis with Tea Genner-Erdheim, who motivated her to become a psychoanalyst. In 1960, after a training analysis, Danneberg was admitted to training at the Vienna Psychoanalytic Association. She became a teaching analyst herself. Her specialties were child psychoanalysis and group psychotherapy. From the 1960s on she was a practicing psychoanalyst and group supervisor.
In the 1980s Erika Danneberg became increasingly involved in the liberation movements of Latin America, especially in Nicaragua. She experienced the good fortune of being politically active as part of a solidarity movement. Between 1984 and 1995, she traveled to Nicaragua several times and became involved in numerous support initiatives. In 1985 she worked as an internationalista for Salud Mental, a project of the Viennese psychoanalyst Marie Langer, who had emigrated to Argentina and Mexico in the 1930s. This project trained Nicaraguan professionals for the psychosocial service organization established by the Sandinista government in Managua.
In the late 1970s, Erika Danneberg returned to literature and became involved in the peace movement. In 1978 she became a member of the Austrian Communist Party. As a party member of the KPÖ and an active spokesperson for the Viennese peace movement, she took part in numerous demonstrations, among other things for a nuclear-free Europe and against racism and xenophobia, and she campaigned for socially just government policies. Until 2002, she was an author at the annual Volksstimme Festival and at resistance readings against the conservative/right-wing government.
Erika Danneberg's life was marked by resistance to violent, patriarchal life situations and by her passionate commitment to humanity, justice and political solidarity.
In 2022 Christine Riccabona published a historical-documentary biography of Erika Danneberg based on the papers held by the Brenner Archive Research Institute.
The writer Erika Wimmer Mazohl published the novel "Wolf's Daughter" in 2022, inspired by Danneberg's youth and life in the first post-war decade.
Text from 2022. Translated with www.DeepL.com/Translator (free version), edited by Almut Nitzsche and Joey Horsley, June 2022. For additional information please consult the German version.
Author: Christine Riccabona
Quotes
I will die before the trees die

I will die before the trees die
and acid rain ruins everything
that blossoms and turns green and becomes fertile.

What will the world be like that we pass on?
During my lifetime it will remain -
unless first the bomb really falls,
which will burn us up, along with our whole human world
with the atoms that split it apart.

The world of humans, not of
oppressors of humans -
we still hold its ending in abeyance ...

However long or short: as long as I live
I want to stand with those who prevent it.

from: "Sometimes verses too ... from six decades" (2001)
(...) that my heart, still rebellious,
is ready to love,
ready also to be indignant,
that doubt still exists,
the struggle, but also the hope,
the horizons that open wide
at the sound of our steps (...)

from: "Sometimes also verses ... from six decades" (2001)
I felt that we had to take courage and start over and over again.

(from: "The blade of grass, 1952)
The experiences of a long life have taught me that it is necessary to oppose the selling out of democracy before it is too late.

(City newspaper of the KPÖ Vienna, 4. 9. 1994)
I am as familiar with defiance as I am with grief.

(from: "How to resist" (1995)
If you hold the rights to one or more of the images on this page and object to its/their appearance here, please contact Fembio.
---