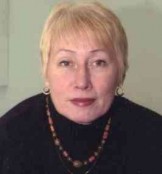 Born 5 March 1951 in Minsk
Belarussian (White Russian) composer
Biography • Quotes • Literature & Sources
Biography
"If you had come earlier – I picked lilies of the valley here – Now you won't find them in the snow"
Thus reads the translation of one of Galina Gorelova's favorite haiku. The Japanese poetic form inspired her desire, already present at age 13, to express herself in music using her own stylistic ideas. Condensed, short, expressive as a haiku—for Gorelova the quintessence of an idea, her credo regarding music.
Her father, by profession an economist, and her mother, a construction engineer, were both music-lovers, and Galina Gorelova and her two sisters grew up in a musical environment. She began piano lessons at an early age – it was assumed as a matter of course that the child would learn to play an instrument. Encouraged by her father, who taught her the alphabet and spent much time reading to her, Galina Gorelova was able to read by the time she was five. To be sure, this led to her later habit, strongly disapproved by her parents, of reading under the bed-covers till late at night.
Her love for literature left its mark in the numerous chamber musical song-cycles in which she set to music poems from various epochs and languages. Similarly, the titles of many of her instrumental chamber pieces are quotations from poetry. Gorelova's belief in the inexhaustible richness of lyrical themes is reflected in her compositions.
Galina Gorelova began her studies of composition in 1972 at the conservatory in Minsk with Professor Dimitry Smolsky, together with Ljudmilla Shleg and Larisa Muraschka. The three represented the first generation of women in Belarus to study composition after some 30 years of exclusively male students. And they remained the exception; after their generation it wasn't till the mid-1990's that women once again began to study composition at the Minsk Academy of Music.
Galina Gorelova completed her studies in 1979 with recognition as the top graduate and was sent to teach at a secondary school for music in Boranovichi. At the same time she took on the position of assistant to Prof. Anatol Bogatyrev at the Conservatory (later the state Academy of Music) in Minsk.
At the beginning of the 1980's Gorelova gave birth to a son. She did not marry, and it was only with the help of her family that she was able to continue earning a living and thereby secure her existence as a single mother. Between 1983 and 1990 she completed master courses with Juri Fortunatov in Moscow, taught at what is now the state Academy of Music in Minsk and composed many vocal and instrumental works.
Considered an important exponent of Neo-Romanticism in Belarussian music, Galina Gorelova founded in 1990, together with colleagues, the "Belarus Society for Modern Music." During the last two decades the carillon has played a particularly important role in her music: the bell-sound as medium of connection between past and present. While the sound of church-bells was a part of the early acoustic landscape of White Russia, they were completely silent during the Soviet era, only to resound once again beginning in the early 1990's. Gorelova also views the sound of bells more personally, as a source of positive energy with healing effects: it soothes the pain of her frequent migraines.
Since 1980 Galina Gorelova has taught composition, orchestra history and counterpoint at the Conservatory (now the state Academy of Music) in Minsk. Her own music is influenced by images from nature and the visual arts, as well as poetic sources, and many compositions are named after paintings.
Gorelova's music expresses the spiritual life of woman, her life and love. But commissioned compositions for radio, television and stage productions have also become a part of her work. In 1992 she was awarded the Belarus State Prize for her Anno mundi ardentis (In the Year of the Burning World). The title is taken from a poem by Maximilian Woloschin. In this cantata she treats the idea of resistance against war and preservation of peace. The text is based on poems of Aragon, Apollinaire und Arseni Tarkovsky. In 2001 Gorelova was honored with the Prize of the President of Belarus for her "Concerto" for two trumpets (1998).
Because of her many achievements and both national and international renown Galina Gorelova was promoted to the position of professor in 2005.
(Translated by Joey Horsley)
Author: Astrid Feja-Schwörer
Quotes
Gorelova, Concerto-for-guitar (excerpt)
Literature & Sources
COMPLETE LIST OF WORKS BY GALINA GORELOVA
ORCHESTRAL: Concerto, violin, large orchestra, 1979; Concerto, oboe, 19-20 strings, 1984; Concerto, balalaika, orchestra, 1991; Concerto, trumpet, orchestra, 1992; Concerto, guitar, tubular bells, 29/31 strings, 1994; Concerto, trombone, large orchestra, 1996; Concerto, 2 trumpets, 3 percussion, 33 strings, 1998; Concerto, viola, tubular bells, 22/26 strings, 2000; Allégresse (concerto), large orchestra, 2002
CHAMBER MUSIC: Scherzino, cello, piano, 1980; Two Belorussian Melodies, 3 violins, piano, 1981; Two Paintings of Henri Matisse, cello, 1981; The Frescoes of Snetogorsk, oboe, 1982; Little Suite, flute, bassoon, violin, cello, 1984; Round Dances, violin, cello, piano, 1984; Mir Castle, guitar, 1985, revised 1992; Thirteen Children's Pieces, balalaika, piano, 1985; Three Songs without Words, cello, piano, 1986; 25 Belorussian Songs and Dances, violin, piano, 1986; Ballad, cello, piano, 1987; Three Belorussian Melodies, oboe, violin, cello, 1987; Three Melodies, 3 violins, 1987; Seven Modal Pieces, tzimbaly (Belorussian dulcimer), 1987; Sonata, violin, piano, 1988; Konzertstück, 2 pianos, xylophone, 1989; Toccata, balalaika, piano, 1989; Legend, trombone, piano, 1990; Vocalise and Burlesque, trumpet, piano, 1990; Twelve Songs, trumpet, piano, 1991; Three Portraits of Radoslava, flute, piano, 1993; Pastorale, flute, piano, 1993; Two Views of the Ideal Woman, oboe, 1994; A Song of Pesnyakevich, flute, piano, 1994; Al fresco (sonata), double bass, piano, 1995; A Portrait of the Artist's Wife, violin, piano, 1995; Lonely Idyll, clarinet, piano, 1996; Touches (sonata), clarinet, 1996; A Day in the Beginning of November, flute, oboe, clarinet, 2 French horns, trumpet, string quartet, double bass, piano, 1997; A Sad Shadow of Barbara, 2 harps, 1997 (also version for 2 pianos); Little Triptych, 4 trumpets, 1997; Figures on a Greek Vase, 2 harps, 1998; Al Sereno, viola, piano, 1998; Sonatina, balalaika, piano, 1998; Fanfares and Toccatina, 3 trumpets, 1998; Two Pieces, piccolo trumpet, piano, 2000; From a German Album, piccolo trumpet, 4 trumpets, tuba, 2000; Reminiscence of Nesvige, guitar, virginal, 2000; Christmas Fantasy, flute, piano, 2001; Eine kleine Nachtmusik, viola, piano, 2001; Lucia perpetuo moto, viola, piano, 2001; A Day in the Life of Tatyana, guitar, cello, 2001; Introduction and Fantasy on a Ragtime Theme, viola, piano, 2003; Starling above a Church, flute, guitar, cello, 2004; My Heart Wishes to Return to Kraków, violin, cello, piano, 2004; Three Gobelin Tapestries from Vavel, violin, cello/double bass, piano, 2004; A Night's Snowfall, guitar, 2004; A New Year's Reflection, guitar, 2004; Hoarfrost on Bells, ensemble, 2005; She Played a Flute to a Pear in a Garden, flute, 2005
CHORAL: Lyrical Cantata (texts from Belorussian folksongs), female chorus, orchestra, 1977 (also version for female chorus, 6 or more folk players, 1977); Dazhinki – Harvest (text from ancient Belorussian folklore), mixed chorus, 1980; Three Songs (text by Walter Meer), children's chorus, piano, 1986; I want to speak in the language of flowers (text by Ovsey Driz), children's chorus, 1986 VOCAL: Song-Cycle on Texts of Leopold Staff, baritone, piano, 1974; Songs of the Girl (text by Maksim Bogdanovich), soprano, piccolo, piano, 1979; Sad Songs (text by Anna Akhmatova), mezzo-soprano, piano, 1980; In Praise of Poor Men (text by Pierre-Jean de Béranger), baritone, piano, 1983; Song-Cycle on Texts of Émile Verhaeren, tenor, 2 flutes, piano, 1984; Bondarovna (symphonic poem, texts by Yanka Kupala, Belorussian folksongs), folk soprano, folk alto, large orchestra, 1986; Song-Cycle on Latin-American Poetry (texts by César Vallejo, Carlos López Dzur), baritone, piano, 1986; Four Songs above a Cradle (texts by Evdokia Los, Larysa Geniyush, Nelly Tulupova), mezzo-soprano, tzimbaly, 1988; Anno mundi ardentis (texts by Louis Aragon, Arthur Rimbaud, Guillaume Apollinaire, Arseny Tarkovsky, Valery Bryusov, Semyon Kirsanov), mezzo-soprano, baritone, large orchestra, 1989; One Thousand Years of Hope (cantata, texts by Sor Juana Inés de la Cruz, Chin-i Hwang, Anna Akhmatova, Li Qing-zhao, Tisato Oe, anonymous 15th-century Chinese poet, anonymous 1st-century BC Egyptian poet), soprano, orchestra, 1990 PIANO: Four Portraits, 1982; Three Landscapes, 1982-85; Three Japanese Miniatures on Silk, 1985; The Old Castle, 1987; Alex's Corner, 1990; Picture Cards on Colored Paper (suite), 1991; Album of the Evening (suite), 1995; To a Soaring Bird (sonata), 1995; Four Sentimental Recollections, 1996; Antique Motif – Solar Bell Tower, 1996; A Sad Shadow of Barbara, 2 pianos, 1997 (version of work for 2 harps); Landscapes (suite), 1997; Sunday Music (suite), 2 pianos, 1997; Figures on a Greek Vase II (suite), 2001; Two Temptations of Adam, 1998; Four Seasons (suite), 1999; Landscape with a Blossoming Apple Tree (suite), 2004
(Last updated April 27, 2005)
If you hold the rights to one or more of the images on this page and object to its/their appearance here, please contact Fembio.
---