Biographies Elfriede Lohse-Wächtler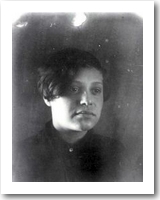 (Wächtler, Anna Frieda [Geburtsname]; Nikolaus Wächtler [Künstlername])
born 4 December 1899 in Dresden-Löbtau
murdered on 31 July 1940 in Sonnenstein mental institution in Pirna
German painter
80th anniversary of dearh on 31 July 2020
Biography • Literature & Sources
Biography
The tragedy of this great artist's life can hardly be imagined.
Given their narrow middle-class background, Elfriede Wächtler's parents were totally unprepared to cope with the brilliance and eccentricity of their daughter and tried—unsuccessfully—to block her career as an artist. Elfriede attended the Academy of Art in Dresden and left home at the age of sixteen, earning her living by making batik articles. She associated with the artistic bohème of Dresden, became a devotee of Dada, and attended events of the Spartacus League, educating herself politically and socially, as did many sensitive young people shocked by the horrors of World War I.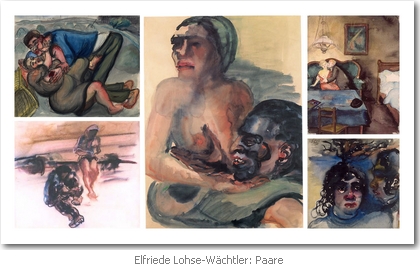 To the great astonishment of her friends she married a totally inappropriate man, the ruthless spendthrift and casual artist Kurt Lohse, who quickly ran through her money as well as his own. Endless poverty became the trademark of her life.
The couple separated, and Lohse moved to Hamburg, where he fell ill. Elfriede Wächtler took pity on him and decided to care for him in Hamburg. Soon, however, Lohse had a new lover, and Elfriede Wächtler was living and working in Hamburg under such pitiful emotional and financial conditions that she suffered a nervous breakdown. A stay in a mental health clinic provided the rest and regular meals she needed for recovery. During this stay of several weeks she painted portraits of her fellow patients, the "Friedrichsberger Köpfe" (Friedrichsberg Portraits), which earned enthusiastic praise from the art critics. Elfriede Wächtler had gained fame but would continue to live in poverty.
It is amazing that Elfriede Wächtler was able to create such magnificent works despite the acute everyday worries, emotional isolation and even occasional homelessness that plagued her. In the main, her paintings portray persons living on the margins of society—social outsiders, minorities and outcasts. She unmasks but never moralizes and is regarded by the critics as on a par with Otto Dix, Oskar Kokoschka, Jeanne Mammen and Egon Schiele.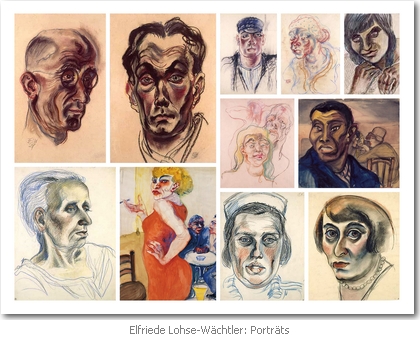 After the artistically very productive, but personally annihilating years in Hamburg she sought refuge with her parents in Dresden, who now experienced anew the disruption of their peaceful middle-class life. When her father had her committed in 1932 to the state mental institution in Arnsdorf near Dresden, however, it was certainly not out of malicious motivation. At a loss as to how else to meet the overwhelming human and financial demands of the situation, he had found a "warehouse" for the daughter who seemed so odd to him.
But now Elfriede Wächtler's fate had been permanently sealed—she was labeled "schizophrenic." Lohse divorced her in 1935 because of her "incurable mental illness;" in the meantime his lover had given birth to several children. Also in 1935, the National Socialist "Law of Congenital Health" led to her compulsory sterilization. This dehumanizing humiliation virtually extinguished Elfriede Wächtler's creative powers, for up to this point she had continued to paint and draw, preserving her survival instinct and creative impulse within the realm of art. Finally, in her 41st year, Elfriede Wächtler became a victim of "Aktion T 4," Hitler's program of mass annihilation of mentally and physically handicapped persons, or so-called "life unworthy of life."
trans. Joey Horsley.
For additional information and other pictures please consult the German Version.
Author: Sibylle Duda
Literature & Sources
Bock, Gisela. 1985. Zwangssterilisation im Nationalsozialismus. Studien zur Rassenpolitik und Frauenpolitik. Opladen. Westdeutscher Verlag.
Böhm, Boris. Hg. 2003. "Ich allein weiß, wer ich bin": Elfriede Lohse-Wächtler (1899-1940): Ein biografisches Porträt. Begleitband zur Gemeinschaftsausstellung des Stadtmuseums Pirna und der Stiftung Sächsische Gedenkstätten/Gedenkstätte Pirna-Sonnenstein; Stadtmuseum Pirna, 25. Januar – 21. April 2003. Pirna. Kuratorium Gedenkstätte Sonnenstein.
Duda, Sibylle. 1999. "Elfriede Lohse-Wächtler", in: Duda, Sibylle & Luise F. Pusch. Hg. 1999. WahnsinnsFrauen. Dritter Band. Frankfurt/M. suhrkamp TB 2493. S. 139-171.
Klee, Ernst. 1995. "Euthanasie" im NS-Staat. Die "Vernichtung lebensunwerten Lebens". Frankfurt/M. Fischer.
Küster, Bernd. Hg. 1995. Malerinnen des XX. Jahrhunderts: Dora Bromberger, Maria von Heider–Schweinitz, Elfriede Lohse–Wächtler, Erna Schmidt–Caroli, Ursula Schuh, Rose Sommer–Leypold. Bremen. Donat.
Peters, Anne & Adolf Smitmans. Hg. 1996. Paula Lauenstein, Elfriede Lohse-Wächtler, Alice Sommer: Drei Dresdener Künstlerinnen in den zwanziger Jahren. Städtische Galerie Albstadt, 24. November 1996 bis 19. Januar 1997. Albstadt. Städtische Galerie.
Lohse-Wächtler, Elfriede. 2000. "… das oft aufsteigende Gefühl des Verlassenseins": Arbeiten der Malerin Elfriede Lohse-Wächtler in den Psychiatrien von Hamburg-Friedrichsberg (1929) und Arnsdorf (1932 - 1940). Hg. von der Stiftung Sächsische Gedenkstätten zur Erinnerung an die Opfer Politischer Gewaltherrschaft. Dresden. Verlag der Kunst.
If you hold the rights to one or more of the images on this page and object to its/their appearance here, please contact Fembio.
---