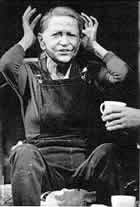 born 27 February 1903 in Hanover
died 2 October 1970 in Bad Tölz
German actress and entertainer
110th anniversary of birth on 27 February 2013
Biography • Quotes • Literature & Sources
Biography
"This small tough person does not need a monument. It already stands," wrote the critic Friedrich Luft after her death in 1970. Grethe Weiser was a highly talented comedian, whose greatest genius was her verbal eloquence. With her sassy, offhanded quick-wittedness, she was able to elicit thunderous applause from her audiences. Her film and stage partners praised her great discipline in the craft and her helpfulness in general. It was also very important to her personally not to steal anyone else's show.
Mathilde Ella Dorothea Nowka, the daughter of well-to-do entrepreneurs, was born in Hanover and raised in Dresden, where she attended secondary school for young ladies. At the age of eighteen she engaged in a hunger strike to win her parents' permission to marry the Jewish-Austrian sugar producer Josef Weiser. He was a wealthy man and was able to rent a mansion for his wife in Dresden, where she gave birth to their son Günther in 1922. In the course of the depression, however, Josef lost his fortune. He then tried to establish a new livelihood in Berlin through various projects, among them the management of the Cabaret Charlott, where Grethe rehearsed for her first performances.
By the time her marriage had deteriorated on account of Josef's many affairs, she had already found her calling as an actress and cabaret artist. From 1929 on, she played important supporting roles in movies, portraying cooks and other household personnel, and dazzled her fans with her cunningly sharp tongue. She experienced her greatest movie successes in 1937 with her roles in Die Göttliche Jette (The Divine Jette) and Mädchen für Alles (Maid-of-All-Work).
During the second world war, Weiser was not only commissioned for theater duty at the front, but also acted in over thirty movies. For more favorable career opportunities membership in the Theater Guild of the German Reich was required, and for this Grethe Weiser would have had to join the Nazi Party (NSDAP), which, in turn, would have meant renouncing her husband and child. She refused to do this, however, sent her son to boarding school in England (Josef had already fled to the Netherlands), and was miraculously left in peace. Her comedy, evidently, was indispensable in time of war.
In 1948 Grethe met Ida Ehre, proprietor of Hamburg's Studio Theatre Kammerspiele, who offered her the leading role in Das Kuckucksei (The Cuckoo's Egg). The premiere brought Weiser tremendous ovations, and she frequently went on tour with this piece. Cooperation with Ida Ehre on Hauptmann's Der Biberpelz (The Beaver Coat)where she played Mother Wolffen, deepened their contact, which eventually developed into a close friendship.
Author: Mechthild Winkler-Jordan
Quotes
For the first time in my life, I have acted in a play in which not a single word was from me…(Grethe Weiser after the premiere of Der Biberpelz (The Beaver Coat)
I'm not beautiful, but in my face something happens.
The laws of optics do not apply to men: if you examine them closely with a microscope they get smaller, not larger.
Marriage proposal- the greatest compliment that a man can make to a woman. Unfortunately, it is often the last.
The hardest job for a woman is to convince a man that he cannot live without her.
Where gossip is concerned you don't care about the main point; you care about the details.
A husband is raw material—not a finished product.
Literature & Sources
Borgelt, Hans. 1974. Grethe Weiser: Herz mit Schnauze. Hamburg. Rowohlt.
Beyer, Friedemann. 1992. Die Gesichter der Ufa – Starportraits einer Epoche. Heyne Filmbibliothek, München. Heyne.
Beyer, Friedemann. 1991. Die Ufa-Stars im Dritten Reich – Frauen für Deutschland. München. Heyne.
This Fem-Biography has been sponsored by the city of Hanover.
If you hold the rights to one or more of the images on this page and object to its/their appearance here, please contact Fembio.
---