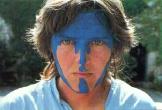 Born in Breslau on 23 April 1941
Died in Bourg-St-Andéol, France, on 8 November 2018
German painter, sculptor and poet; feminist cultural worker
Biography • Quotes • Literature & Sources
Biography
At an early age Lena Vandrey was described as "unusually gifted," "precocious" and "brilliant"— and left to deal with these labels on her own. The little "genius" began producing drawings and poems at age 2. Following happy years spent at a commercial school Lena left Germany and moved to France—the Vandreys were of Huguenot origin. Her path led her from Paris to Provence, to a lonesome house on a high plateau: 21 years without electricity, seven years without telephone, 35 years of water problems and very often long treks on foot with a heavy load.
Rebuilding: not only this ruin but also many others, and collecting. Vandrey's collection of women's household and religious art and artifacts now belongs to the state. Many films and books document this work.
Then came the Zyklus der Unverwesbaren Geliebten (Cycle of Incorruptible Lovers), a gift to the French women's movement, the MLF; only those who really desire it are meant to recognize themselves in this dream structure.
Next followed the "Ur"-Figures: the Matriarchs, the Angels, the Women of History, Doña Quixote and Sancha Panza for Monique Wittig; exhibitions in Paris, Berlin, Hamburg, Bremen, Geneva, Tübingen, Lyon, Grenoble—always images and texts; post cards, postage stamps for the women of Sarajevo; the Auschwitz-Zyklus, the Demeter-Paradiese, the Magma-Magna-Maria; many books, films, catalogues. Lena Vandrey's Amazon figures are the subject of a text by author Christa Reinig. Lena's partner, Mina Noubadji-Huttenlocher, has collaborated on all catalogue projects and is author of the 900-page doctoral dissertation, Die Exilsprachen der Lena Vandrey (The Exile-Languages of Lena Vandrey).
In 2002 Lena and Mina acquired and renovated a mansion overlooking the Rhône to create the Musée des Anges – Lena-Vandrey in Bourg-Saint-Andéol, Ardèche (16 Rue Jeanne d'Arc), as a little Villa Medici for culturally engaged women. A large park, four apartments, spring water and olive trees, grape vines, an herb garden and fine Provencial cooking based on Lena's Kochbilderbuch für weibliche Lebenskunst (Picture Cook Book for the Womanly Art of Life) all make for a unique atmosphere.
Lena Vandrey and Mina Noubadji-Huttenlocher are feminist cultural producers. Their work consists of texts, drawings, paintings, assemblages in boxes and cut-outs, sculptures, edifices, collections; always with a direct connection to a possible female culture in every impossible aspect, including humor—even unintentional.
(Mina Noubadji-Huttenlocher, based on information provided by Lena Vandrey. Edited for FemBio by Luise F. Pusch. Translated by Joey Horsley)
Musée Lena Vandrey 16 rue Jeanne d'Arc F-07700 Bourg St. Andéol, France Fon/Fax +334-755 451 49 Email: lena.vandrey@sfr.fr open Friday - Sunday 10-12 am and 2-6 pm and by arrangement guided tour with Dr. Mina Noubadji-Huttenlocher: 1 hour
Author: Mina Noubadji-Huttenlocher
Quotes
Literature & Sources
Selected Films: • 1981 Himmel als Exil (Heaven as Exile) ZDF/Lena Vandrey • 1982 Dichter unserer Zeit (Poets of our Time) ZDF/Lena Vandrey • 1992 L'Ange Amazonien (The Amazonian Angel) Paris/Klonaris-Thomadaki • 1995 Leçon de Choses (Lesson of Things) Marseille/Samuel Bester • 2005 Insomnia (Nevers, Paris)
Selected Books: • 1985 Paradigmen der unbequemen Schönheit (Paradigms of Uneasy Beauty) (Zeichen + Spuren, Bremen) • 1986 Die Kunst des Eingeschlossenseins (The Art of Being Enclosed) (Zeichen + Spuren, Bremen) • 2000 Chapitres (Chapters) (Angria, Paris, Lausanne) • 1985–2005 Catalogues of Nun-Boxes, Angels, Collections, Auschwitz, Paradiese (Musée d'Art Sacré de Pont-St.-Esprit, Gard) • 2004 Über allen Verstand (Beyond All Understanding)(Angria, Bourg-St.-Andéol) • 2005 Hätte und Wäre (Would Have and Would Be)(Angria, Bourg-St.-Andéol) • 2005 Sancta-Etcetera: Histoire d'une Toutessainte pour chaque usage (Saint Etcetera: Story of an All-Purpose All-Soul) (Bourg, Paris, St. Raphael) • 2005 Eden sur Rhône by Mina Noubadji-Huttenlocher (Angria, Bourg-St.-Andéol) • 2006 Das Lexikon der Amazonen (Angria, Editions des Femmes, Paris)
If you hold the rights to one or more of the images on this page and object to its/their appearance here, please contact Fembio.
---