Biographies Luise Adelgunde Victorie Gottsched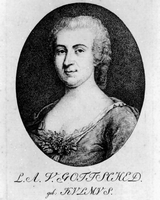 (Luise Adelgunde Victorie Gottsched, née Kulmus (also: Louise, Victoria, Viktorie, Viktoria, Culmus, Gottschedin))
born on April 11, 1713 in Gdansk (Danzig)
died on June 26, 1762 in Leipzig
German writer, translator and scholar
260th anniversary of death on June 26, 2022
Biography
Luise Adelgunde Gottsched was one of the most important German-language writers of the 18th century. The daughter of a repsected Danzig family, she had married the renowned Leipzig professor of poetry, logic and metaphysics Johan Christoph Gottsched when she was 22 following a six-year engagement. She is usually referred to using the feminine form of the name as "Gottschedin" because her husband, for whom she exhausted herself working on his learned projects, was known as "Gottsched." In the following, however, she is called Gottsched and her husband is referred to as Johann Christoph (I adopt this solution from the Gottsched expert Susanne Kord).
Gottsched was the first woman in Germany to write comedies and even a tragedy – a genre that had seemed, until then, too elevated and dignified for a female author. Gottsched's letters to her friend Dorothea von Runckel are the first published record of a correspondence between female friends, and thus mark the beginning of a genre that subsequently became central to women's literature.
The correspondence with Johann Christoph from their long engagement makes it clear that he had far-reaching plans for his very intelligent, educated and inquisitive fiancée: He wanted to "make a helpmate out of her" – she was to serve him not only as wife, housewife and mother, but above all as a scientific assistant and translator. To this end, he acted as her academic tutor and mentor from the beginning – and she gladly put up with it. His expectations of romantic or sexual favors, or "infatuated weaknesses," as she called them, however, were not granted, and the long engagement can be understood first and foremost as her effort to delay the marriage as long as possible. But after her parents died, she agreed to a marriage of convenience with Johann Christoph, 13 years her senior.
The couple remained childless, and so Gottsched developed under her husband's supervision into the epitome of the learned woman of the early Enlightenment. At Johann Christoph's request, she learned Latin and listened to his university lectures on rhetoric and poetry behind the open door of the lecture hall. Thus prepared, Gottsched toiled for decades in the service of her husband's literary and scientific projects until she died in 1762 at the age of only 49. Most of her own works appeared under his name in the journals and monumental literary projects he edited, Die deutsche Schaubühne (1741-45) and Die deutsche Sprachkunst (1748). "Gottsched felt exhausted and tired of life at the end of her life after 28 years under the yoke of labor and 6 years of the pains of war [she died toward the end of the Seven Years' War]." (Heuser 305).
Johann Christoph preached that writing poetry had to follow fixed rules and could therefore be learned, preferably by translating recognized works from French. Thus Gottsched translated eleven dramas for his Deutsche Schaubühne and also wrote five of her own: Die ungleiche Heyrath (1743), Die Hausfranzösin, oder die Mammsell (1744), Panthea (1744), Das Testament (1745), and Herr Witzling (1745). As Susanne Kord has shown, however, she adhered only formally to Johann Christoph's rules; in terms of content, she invented her own: For her, the happy ending is usually not that two finally find each other, but that the heroine at last escapes an unwanted marriage.
With her tragedy, which by the way she considered her best drama, she completely broke the mold of all male precepts since antiquity. The last words of the title heroine, shortly before her suicide: "But why should my pain denounce the gods' decree / Since, if I am steadfast, I can help myself." Panthea refuses even to consider the will of the gods; it is unimportant to her. This and much else about Panthea was so outrageous at the time that the play was misunderstood and dismissed as a complete failure.
Dorothea von Runckel published Gottsched's favorite drama Panthea and her letters in 1770-71. "After 28 years of producing literary works for her husband's projects, most of which were attributed to him, it was Runckel who finally published – under the author's name – the works Gottsched herself wanted to write – her tragedy and her letters." (Kord 1989:164)
Runckel, who lived nine miles away and was eleven years younger, was the center of Gottsched's life during her last ten years. She sent her love poems and a picture of herself (which she had refused Johann Christoph during their engagement), the "fieriest embrace" and "a thousand kisses." She wrote of "eternal love" and was jealous of other women in Runckel's life.
After Gottsched's death, Johann Christoph married a nineteen-year-old girl and wrote a biography of his "industrious helper" that cemented his image of her in literary history for the next 200 years. Only recent feminist research (especially Goodman, Heuser, and Kord) has begun to give this important author and scholar of the early Enlightenment a late justice and the recognition she deserves.
Text from 2012. Translated with www.DeepL.com/Translator (free version), edited by Almut Nitzsche and Joey Horsley, June 2022
For additional information please consult the German version.
Author: Luise F. Pusch
Quotes
No, best friend! You will never win me by gifts. If the advantages of mind and heart do nothing for me, then all the treasures of the world will be indifferent to me, however attractive this power may be to many.

(Luise Adelgunde Kulmus to Johann Christoph Gottsched, January 7, 1731)
If you hold the rights to one or more of the images on this page and object to its/their appearance here, please contact Fembio.
---