(Martha Elisabeth Rohde [Geburtsname]; Dr. jur. Elisabeth Selbert)
Born 22 September in Kassel
Died 9 June 1986 in Kassel
German lawmaker (Social Democratic Party) and jurist; one of the four "Mothers of the (German) Basic Law (constitution)"
30th Death Day / anniversary of death on 9 June 2016
Biography
"Men and women are equal before the law" – this sentence would not be part of the German Basic Law (constitution) today had not Social Democrat Elisabeth Selbert, one of the four mothers of the Basic Law, forced the so-called fathers of the Basic Law to their knees 57 years ago. Their formulation of the equal rights clause had read: "Men and women have the same rights and duties as citizens" (my emphasis). The discriminatory Marriage and Family Law of 1896, for example, against which our grandmothers had already campaigned in vain, was completely untouched by this version. Selbert writes: "I wanted to assure that equal rights would be understood as an imperative to action by the lawmakers in contrast to the constitution of the Weimar Republic. I had never thought that in 1948/49 equal rights would even have to be discussed or that substantial opposition would have to be overcome! But I got it through after all with the help of the protests of all the women's organizations. It was a hard struggle, as the records of the Parliamentary Council show."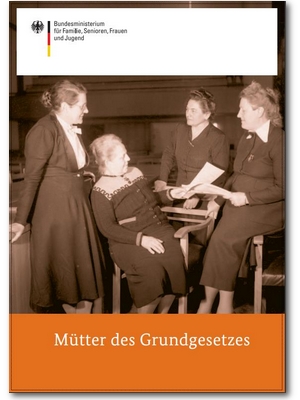 In its constitution a state lays down its good intentions and goals. The constitution is the theory; concrete laws are required for its practical implementation, and these laws must not contradict the constitution. If they do, they can be challenged by citizens before the Bundesverfassungsgericht (Federal Constitutional Court). Selbert's Equal Rights clause allowed most provisions relating to family law in the BGB (Bürgerliches Gesetzbuch; civil code) to be challenged as unconstitutional.
With the support of her husband and parents the mother of two sons began her studies in 1926 at age 30. Selbert was one of the first women admitted to law school in Germany: "In Göttingen … there were all of 4 to 6 women out of 300 students in the 'Audimax' [Auditorium maximum; main lecture hall]. In Marburg ... old Professor Hildebrandt would occasionally ask me … not to attend the next lecture because he intended to speak about sexual offenses. He probably had a problem doing that in front of his only female student."
In 1930 Selbert completed her doctoral dissertation on "Incompatibility as Grounds for Divorce" – 47 years before the liberal-socialist coalition finally abolished the law requiring a "guilty party" to be named in divorce proceedings.
What singled this woman out especially was her no less fearless than practical independent-mindedness. Thus it is not surprising that she loved her profession as a lawyer in particular because "[in it] one can maintain one's individuality and especially one's independence." She gave young women colleagues the advice: "Establish your own economic independence as quickly as possible!"
During her active years Elisabeth Selbert never received the recognition she deserved from the SPD, nor was she offered official positions worthy of her: "The office of Hessian Minister of Justice, a seat in the Federal Parliament, a judgeship on the newly established Constitutional Court, a judgeship on the Federal Social Court in Kassel – all these positions were denied her" (Politeia-Website). She never progressed beyond a seat in the Hessian State Parliament. Since the second Women's Movement rediscovered her as one of its leading German figures, however, Elisabeth Selbert's fame has grown all the more steadily; increasingly, German streets, squares and schools bear her name.
(translated by Joey Horsley)

Author: Luise F. Pusch
Quotes
The inadequate appointment of women to public office and their meager participation in our legislative bodies – why, that's a blatant, ongoing violation of the Constitution. (1981)
If you hold the rights to one or more of the images on this page and object to its/their appearance here, please contact Fembio.
---