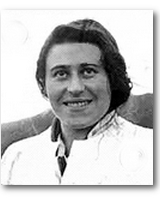 (Dr. phil. Salcia Landmann; Salcia Passweg [Geburtsname]; זלציה לנדמן (hebr.))
born on November 18, 1911 in Zolkiew (Galicia, today Ukraine)
died May 16, 2002 in St. Gallen (Switzerland)
German-Jewish writer, cookbook author
20th anniversary of death on May 16, 2022
Biography
When Salcia Landmann was born, her birthplace, Zolkiew in eastern Galicia, was still part of the Danube Monarchy. Her parents, Israel and Regina Passweg, came from wealthy Jewish families of rabbis, merchants and landowners.
At the outbreak of World War I, the girl lived on her grandparents' estate, where she remained until the age of six and attended a Polish nun's school for a year. During the war, her parents moved to St. Gallen - they did not believe that Old Austria would last much longer. Salcia Landmann herself appreciated the coexistence of different minorities in the k. u. k. Monarchy throughout her life, especially the freedom and legal equality of the Jews. Thus, among other things, she wrote of the "relatively tolerant air of Old Austria."
Finally, she was brought to Switzerland by her parents and attended the humanistic grammar school in St. Gallen. First she studied in Berlin and Basel, then also in Geneva, Paris and Zurich. Her subjects were law, philosophy, psychology and art history, at an art academy also fashion graphics. In addition to her degrees as Magistra artis and Doctor philosophiae, she later wrote a dissertation on phenomenology and ontology. In Basel she met her future husband, the philosopher Michael Landmann. Two years after their marriage, their son Valentin was born in 1950. The Landmann couple associated with intellectuals such as Jean Amery, Ernst Bloch, Max Horkheimer and Martin Buber.

Many of Landmann's relatives had been killed by Hitler's fascism, and the world of her childhood, Galician Jewry, no longer existed. Salcia Landmann felt a deep spiritual connection to this destroyed life of Eastern Europe and dedicated a large part of her own work to it. Her writings dealt with a wide variety of topics, including the Yiddish language, Jewish wit, and also the art of cooking from this cultural area. Her books reached an audience of millions, and they continued to be published even after her death in 2002. A non-believing Jew, she also worked on the figure of the historical Jesus. She translated several Yiddish works, including stories by Scholem Alejchem. In 1978, already a well-known author, she founded the PEN Club Liechtenstein.
Salcia Landmann was not undisputed: sometimes she was accused of an "orthodox-restaurative" attitude or of defusing Jewish wit. Her 1967 book "The Jews as a Race" found positive resonance among neo-fascist forces. Landmann was criticized when she wrote articles for the right-wing weekly Junge Freiheit in the mid-1990s. Landmann condemned Marxism in principle and always took Israel to task.
Her estate can be found in the Vadiana Cantonal Library in St. Gallen.
Translated with www.DeepL.com/Translator (free version), edited by Almut Nitzsche, May 2022
For additional information please consult the German version.
Author: Ulrike Henning
Quotes
The joke is the last weapon of the defenseless, and defenseless against a mostly hostile environment were the Jews in exile for 2000 years. In addition, there was the spirit-sharpening Talmud study of practically all tradition-bound Jewish men. Both together gave the Jewish folk joke its unique depth, bitterness, sharpness and formal perfection.

(Salcia Landmann in Memories of Galicia)
Today, all traditions are dying, even in the kitchen. Freedom triumphs. Everyone now feels called to invent something new, something never done before, as in art so in the kitchen. In addition, no one sits still at home anymore. If someone believes that he cannot afford a vacation trip to a foreign continent or a foreign country, then he will later have psychological complexes and will pay the psychoanalyst twice the amount of the saved travel expenses for their reduction. […] And on top of that there is modern dietetics, which promises and threatens from all sides: if you eat or avoid this or that, you will become healthy and strong like a breeding bull. In the other case cancer and disturbed circulation will kill you. [...] That's why today in the kitchen - as in art - you can sell most people any nonsense. Just try to suggest a mixture of milk with Mosel wine, cheese, celery, beefsteak, tartare and orange slices in any weekly newspaper under a new and attractive name - like Sanidrink or Lacti-quirl or whatever! It is ten to one to bet that not a single reader will complain to the editor. Rather, thousands will note the recipe, concoct the drink, and even gout it.

(Salcia Landmann in Gepfeffert und gesalzen)
My mother studied Judaism very intensively. She wrote a lot, also on politics. She was conservative in the Swiss sense. By the way, she wrote a bestseller: "The Jewish Joke". But she herself was never in the State of Israel [...] My mother was caring, partly engaging. I am an only child. She already treated me as an adult when I was three years old. I was expected to keep up in conversations.

(Valentin Landmann)
Cooking is not trivial!

(Salcia Landmann)
I have not only tried out several of these kosher delicacies, which are also easy to cook, but I have also learned a lot about the religious and social background of this cooking tradition from her books. And in the process, I also realized that the Talmud is very pleasure-friendly!

(Alfred Biolek)
If you hold the rights to one or more of the images on this page and object to its/their appearance here, please contact Fembio.
---