Biographien Anna Stainer-Knittel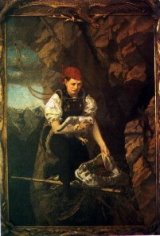 (Maria Anna Rosa Knittel [Geburtsname]; Anna Stainer; Anna Knittel)
28 luglio 1841, Elbigenalp nel Lechtal
28 febbraio 1915, Wattens
La "vera" Wally
Ciò che Andreas Hofer rappresenta per gli uomini tirolesi, la "Geierwally" lo è per le donne: una figura con cui identificarsi, una femmina con qualità pari a quelle dei migliori esemplari maschi del popolo alpino, un'indomabile che non si piega nemmeno di fronte agli spiriti della montagna, che si tratti del potente Murzoll e delle sue figlie o delle leggendarie "saligen Frauen". Una che non solo incute rispetto, ma che - essendo donna e non uomo - ad alcuni può sembrare persino pericolosa…
Alla creazione del mito dell'eroina tirolese contribuirono - come spesso accade - sia fatti veri che storie immaginarie, in un groviglio di sovrapposizioni che ormai è difficile dipanare. In realtà la "vera" Wally - al secolo Anna Stainer Knittel - era una donna che non aveva certo bisogno di essere mitizzata. Visse la sua vita in modo consapevole, indipendente e autodeterminato. Ma forse è proprio per questo che divenne un mito.
La natura, che così spesso mette in soggezione gli abitanti delle montagne, a lei non faceva alcuna paura. La sua leggenda scaturisce tutta da lì.

Anna Knittel nacque il 28 luglio 1841 a Elbigenalp nel Lechtal. Era figlia di un armaiolo e pronipote dell'allora noto pittore Joseph Anton Koch. Fin dalla scuola iniziò a fare caricature - spesso pungenti ma sempre azzeccate - delle sue compagne e dei suoi compagni di classe, evidenziando un talento innato per il disegno. La fama le giunse però inizialmente da tutt'altro, e cioè grazie ad una "prova di coraggio" che le riuscì talmente bene da farle concedere persino il bis. Le cose andarono così. Capitò che un giorno Anna si mise i pantaloni di cuoio di suo fratello, scese con una corda giù per una parete ripidissima fino ad un nido d'aquila, prese gli aquilotti e se li portò via. All'epoca in montagna succedeva spesso che ignari agnelli e caprette venissero sbranati da aquile affamate, tant'è che le aquile venivano chiamate in modo denigratorio "Geier" (avvoltoi). Anche a Elbigenalp parecchio bestiame aveva fatto una brutta fine, ma nessuno degli uomini del paese se l'era sentita di affrontare l'aquila. Il fratello di Anna - l'unico che fino ad allora ci aveva provato - non aveva alcuna intenzione di ripetere la poco piacevole e infruttuosa esperienza di stare appeso nel vuoto per quasi sette ore. Così Anna aveva deciso di occuparsi personalmente della faccenda. Gli aquilotti crebbero belli, sani e relativamente mansueti grazie alle sue cure, e poi li vendette ad una fiera paesana. Anna era riuscita in un'impresa di cui nel 1863 nessuno o quasi avrebbe ritenuto capace una donna. La vicenda era troppo ghiotta per passare inosservata. Infatti, di lì a poco suscitò l'interesse dello scrittore bavarese Ludwig von Steub, che ne trasse un racconto romanzato. Poi fu la volta del poeta Anton Renk, che nei suoi versi fece diventare Anna Knittel l'eroica e nobile "Brunhilde vom Lechtal". Quando infine - 12 anni dopo i fatti reali - l'autrice di bestseller Wilhelmine von Hillern pubblicò il romanzo cult "Die Geierwally", l'affabulazione divenne definitivamente storia, e nessun pezzo teatrale, nessun film, nessuna opera si azzardò a correggere il tiro o scalfire il mito. Il plot del romanzo divenne più vero del vero: da lì in poi la nostra eroina non si chiamerà più Anna, bensì Walburga (Wally), non sarà più figlia di un armaiolo, bensì di un contadino, e non vivrà più nel Lechtal, bensì nel leggendario Ötztal.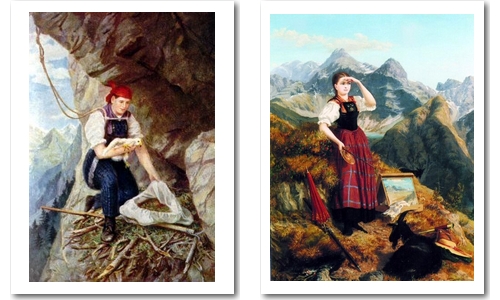 Bisogna ammettere che Anna Knittel non aveva fatto nulla per dissimulare la sua audace impresa. Anzi: Nella vetrina del suo negozio di souvenir aveva esposto un autoritratto che la mostrava proprio nell'atto di estrarre gli aquilotti dal nido sospeso sul dirupo. Quando un giorno Wilhelmine von Hillern si ritrovò a passare di lì, il quadro attirò subito la sua attenzione e fece divampare il suo entusiasmo. Quella figura di donna sarebbe servita all'emancipazione femminile in generale e alla sua in particolare: con la sua "Geierwally" Wilhelmine von Hillern poteva finalmente sottrarsi all'ombra di sua madre (Charlotte Birch-Pfeiffer, anche lei rinomata autrice di bestseller) e prendere le distanze da una società che l'aveva costretta a tenere segreto un figlio illegittimo.
"È la ragazza più bella e più forte di tutto il Tirolo" raccontò il cacciatore "ma è scontrosa come un gatto selvatico - i ragazzi davanti a lei se la danno a gambe che è una vera vergogna. Naturalmente non è colpa sua: il padre da piccola la picchiava sistematicamente, e l'ha cresciuta come un maschio."

(tratto da: Wilhelmine von Hillern, Die Geierwally
Nel 1863, l'anno in cui snidò gli aquilotti, Anna Knittel si era già sottratta al suo "destino di donna" e viveva come studentessa a Monaco. Dato che fin da piccola aveva dimostrato uno spiccato talento pittorico, confermato da più d'un esperto, era infatti riuscita ad imporre la propria scelta, quella di "prendere il largo verso il mondo".
A Monaco Anna Knittel non poté frequentare l'Accademia Statale delle Belle Arti, che fino al 1920 rimase vietata alle donne. Così si iscrisse come "primissima donna in mezzo ad un mare di uomini" ad una scuola privata.
Finiti gli studi tornò nel Lechtal, dove però le mancava l'aria. Quando il Landesmuseum Ferdinandeum acquistò un suo autoritratto in costume tradizionale tirolese, colse l'occasione per trasferirsi a Innsbruck. Ormai poteva mantenersi da sé, cosa che fece per il resto della sua vita, anche da madre di quattro figli. Suo marito, il gessista Engelbert Stainer, che lei aveva sposato contro il volere del padre, aveva inoltre un figlio naturale cui provvedere.

Divenne celebre soprattutto per le sue tele ad olio raffiguranti paesaggi o motivi floreali che facevano impazzire i turisti. Dipinse però anche 130 ritratti, tra cui quello dell'Arciduca Karl Ludwig, del Maresciallo Radetzky e dell'Imperatore Francesco Giuseppe I. Non smise mai di firmare le proprie opere con il suo nome da nubile. Quando, con l'avvento della fotografia, la richiesta di ritratti si fece sempre più rara, si specializzò nella rappresentazione dei fiori, che continuò a dipingere fino alla sua morte, e per il resto si dedicò anima e corpo alla scuola di pittura per giovani donne da lei fondata. Fece scalpore la sua decisione di tagliarsi corti i capelli.
Nel 1873 Anna Stainer Knittel partecipò alla Mostra Universale di Vienna con la tela ad olio "Alpenblumenkranz", che finì in Inghilterra per la bella somma di 40 sterline. Il 28 febbraio del 1915 morì a casa del figlio Karl Stainer a Wattens, per i postumi di una polmonite.
"Il tirolese continuò a raccontare allo straniero che la figura femminile che si stagliava lassù contro il cielo era Walburga Strommingerin, detta anche la Geierwally. E senza dubbio meritava tale soprannome: Perché il suo coraggio e la sua forza erano senza limiti - come se possedesse ali d'aquila. E la sua natura era ruvida e inaccessibile come gli acuminati spuntoni di roccia sui quali le aquile fanno il nido e da cui si librano per fendere le nuvole del cielo."

(da: Wilhelmine von Hillern, Die Geierwally)
Come "Geierwally" Anna Stainer Knittel divenne immortale: il romanzo fu tradotto in 11 lingue, venne adattato per innumerevoli testi teatrali e fu utilizzato come soggetto per varie pellicole - tra cui un film di propaganda tutto "sangue e suolo" girato con gli abitanti del paesino di Längenfeld e con Heidemarie Hatheyer, l'attrice scoperta da Luis Trenker.
Come eroina selvaggia dell'opera "La Wally" aiutò il compositore Alfredo Catalani - un contemporaneo di Puccini - a raggiungere il suo unico, vero e grande trionfo. In sintonia con i clichè del genere, la storia non si conclude con i due amanti felicemente riuniti, bensì con una doppia tragedia: Wally decide di seguire nella morte il suo Hagenbach, trascinato nel baratro da una slavina.
L'aria più famosa della "Wally" di Catalani fa parte della colonna sonora di ben 20 film, tra cui il cult francese "Diva" di Beineix (1981), in cui svolge un ruolo centrale. Anche la pubblicità tirolese ha fatto ampio ricorso alla leggendaria Geierwally e al suo indomabile coraggio. La gente di montagna ha sempre avuto bisogno di creare miti per esorcizzare la paura di fronte alle forze della natura. Lo ha fatto anche con la "Wally". In questo caso, però, dietro il mito e la finzione si scorge ancora, vivida in controluce, la figura di Anna Knittel, la "vera" Geierwally.
Traduzione di Donatella Trevisan.
Per (ulteriori) dettagli date un'occhiata alla versione tedesca!
Author: Astrid Kofler
If you hold the rights to one or more of the images on this page and object to its/their appearance here, please contact Fembio.
---