Biographien Maria Ditha Santifaller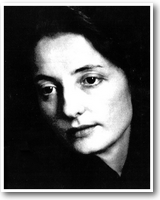 (Maria Christina Santifaller [eigentlicher Name]; Maria Ditha Hemsoth [Ehename], Maria Ditha Sellschopp [Ehename], Christina Suntaval [Pseudonym])
* 30 giugno 1904 a Castelrotto
+ 5 novembre 1978 a Dortmund
poetessa, giornalista e storica dell'arte
Maria Ditha Santifaller costituisce, come poetessa dell'Avanguardia austriaca e della Neue Sachlichkeit, una figura d'eccezione all'interno della letteratura tirolese.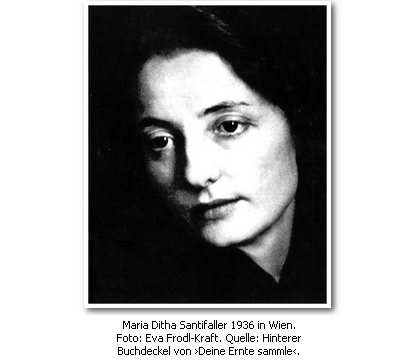 Il suo è un caso unico anche nel contesto della "autorialità femminile". Non la si può infatti annoverare né tra le scrittrici del nuovo benessere (in genere figlie di albergatori o commercianti), né tra le nobili letterate e tanto meno tra le poetesse cattoliche. Il suo aspetto delicato ma inequivocabilmente cittadino, il suo raffinato e malinconico mondo di immagini linguistiche, il tono elegiaco ma spettrale delle sue liriche sono totalmente autonomi e conservano un fascino ermetico come fiori di sangue e dolore (Blumen aus Blut und Schmerz).
Il tortuoso cammino della sua vita conduce la cosmopolita Santifaller da Castelrotto, suo paese d'origine, in una moltitudine di altri luoghi sparsi tra due continenti: la troviamo in soggiorno linguistico a Londra e a Parigi all'inizio degli anni Venti, poi come giornalista sul Lago di Garda sotto l'influenza di Gabriele D'Annunzio, è studentessa a Vienna nei movimentati anni Trenta, frequenta l'università di Firenze durante la II guerra mondiale, emigra in Argentina dopo il 1945, lavora in Germania come imprenditrice durante il boom economico degli anni Cinquanta, a metà degli anni Sessanta si trasferisce in Perù e infine si stabilisce a Dortmund, suo ultimo luogo di vita. In uno dei suoi primi testi in prosa la Santifaller descrive così il suo desiderio giovanile di viaggiare in paesi lontani: "Noi tutte ci siamo trovate almeno una volta su colline soleggiate, sentendoci felici: abbiamo dunque lasciato le nostre case per raggiungere i piedi di queste colline e da li la vita appariva assai lontana, come una splendente e seducente città che irresistibilmente ci attirava."
Già solo questo considerevole cammino di vita sarebbe, per una donna della sua generazione e delle sue origini, degno di nota: un percorso che unisce letteratura, scienza e istruzione, e al cui punto d'arrivo troviamo una storica dell'arte, specializzata in Giovanni Battista Tiepolo e il suo tempo, con due diplomi di laurea (a Vienna e a Firenze), che padroneggia tedesco, italiano, francese, inglese e spagnolo. A ciò si aggiungono altri aspetti biografici interessanti: quello della giornalista, della traduttrice, dell'imprenditrice.
Maria Ditha Santifaller è stata considerata, a lungo e a torto, una poetessa meramente regionale, soprattutto a causa della ricezione che le sue liriche degli anni Trenta ebbero in Tiralo.
Questa classificazione riduttiva evidenzia una spiccata caratteristica del canone letterario tirolese: nemico delle donne e refrattario alla tipologia dell'intellettuale cittadina del mondo, incarnata da Maria Ditha Santifaller.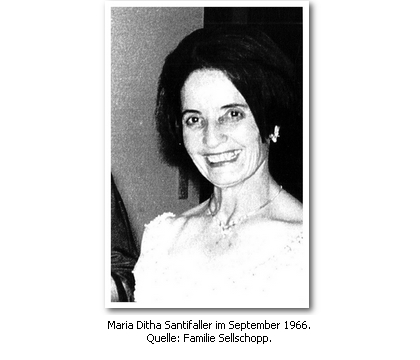 Solo una più attenta analisi delle tappe della sua vita, delle sue pubblicazioni in antologie e riviste, dei circoli letterari da lei frequentati a Vienna, dei suoi modelli e delle sue letture fa capire chiaramente quanto profonda sia la rottura che la Santifaller compie con la tradizione e le convenzioni. Da donna conduce (soprattutto fino al 1945) una vita non convenzionale e autonoma, da poetessa dona alle sue opere una veste formale che si stacca nettamente dai canoni tradizionali, il suo io lirico cerca, anche attraverso l'utilizzo della metrica libera, di sfuggire ad ogni legame con le persone o i luoghi d'origine: "Ma odio il giogo/ che così a lungo le opprime./ Non riconosco il precetto,/ sotto cui si sono spezzate./ Distruggo lo statuto/ che le avvolge in un eterno dolore." (da: "Il discendente").
La parte della sua opera letteraria che ancora oggi merita indiscussa attenzione è la produzione lirica sorta tra il 1927 e il 1938. In questo periodo e con queste poesie Maria Ditha Santifaller è forse la prima, tra le scrittrici e gli scrittori tirolesi, ad esprimere liricamente la necessità di una fuga dalla provincia, riuscendo a portarla a compimento - sia sul piano del contenuto che su quello della forma (ma anche sul piano concreto del percorso di vita) - decenni prima di Norbert C. Kaser, a cui è legata dall'amore per gli ermetici italiani come Quasimodo. In questa prospettiva e grazie alla sua qualità estetica, la lirica di Maria Ditha Santifaller costituisce una perla rara all'interno della letteratura tirolese.
Dal 1927 al 1930 Santifaller vive a Desenzano del Garda, scrivendo di cronaca e letteratura in italiano e in tedesco per la rivista Il Garda, che in quel periodo è l'organo di pubblicazione personale di Gabriele D'Annunzio.
Sono innumerevoli i dati biografici che dimostrano quanto Maria Ditha Santifaller fosse ancorata sia alla cultura e alla letteratura italiana che a quella tedesca. Santifaller legge Quasimodo, recensisce entusiasticamente il romanzo di Pirandello Il turno e nel 1927 pubblica una poesia d'amore sull'Italia in versione tedesca e italiana, circostanza che, considerata la situazione politica in Sudtirolo a quel tempo, è in ogni caso degna di nota.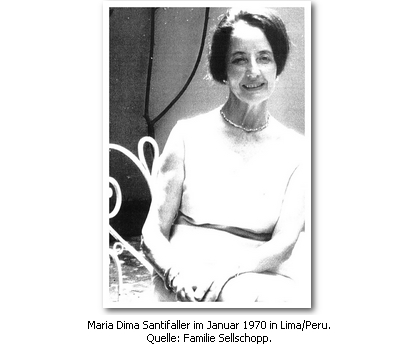 Contemporaneamente l'autrice cura anche i contatti con l'ambiente culturale tedesco, tenendo una corrispondenza con Ludwig von Ficker, poiché è interessata a Paula Schlier e a Georg Trakl e vorrebbe pubblicare propri testi nella rivista di Innsbruck Der Brenner, diretta dallo stesso Ficker. Durante il suo soggiorno viennese, a partire dal 1930, è attiva nell'associazione culturale Gruppe der Jungen, che pubblica la rivista Literarische Monatshefte. Il gruppo costituisce uno dei fulcri della giovane letteratura non nazionalsocialista austriaca tra le due guerre e svolge un'intensa attività di manifestazioni. L'appartenenza a questa cerchia permette a Maria Ditha Santifaller di avere importanti contatti letterari, aprendole delle possibilità di pubblicazione nell'intera area di lingua tedesca, a Dresda, Berlino e Monaco.
Nel periodo viennese nasce la poesia Rondine, i cui versi condensano in modo mirabile la nostalgia che attraversa tutta l'opera e la vita dell'autrice:
Rondine

Auree son le tue ali, stai lassù nella luce.

Nostalgia è il tuo sguardo sopra vicoli stretti a seguire la bellezza nella sera meditabonda.

Stare a lungo sulle città che brillano lontano con bianche chiese e colli.

Quante aureo il tuo batter d'ali nell'ultima luce.
Quando la poesia viene pubblicata nel 1931 sulla Neue Freie Presse, Karl Kraus la mette in risalto in una discussione e poi la pubblica anche sulla Fackel.
Nel 1938 Maria Ditha Santifaller volta le spalle alla letteratura per dedicarsi ad altro, tuttavia la lirica scaturita tra il 1927 e il 1938 merita ancora oggi tutta la nostra attenzione come espressione letteraria di una vita e di una scrittura controcorrente.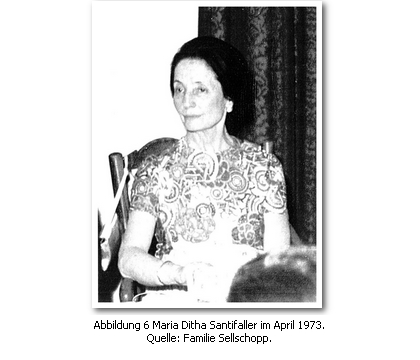 Traduzione di Alessia Corselli
Author: Karin Dalla Torre
If you hold the rights to one or more of the images on this page and object to its/their appearance here, please contact Fembio.
---