Biographien Maria Gaetana Agnesi
(Maria Gaetana Agnesi)
nata il 16 maggio 1718 a Milano
morta il 9 gennaio 1799 a Milano
matematica, filosofa, teologa e filantropa italiana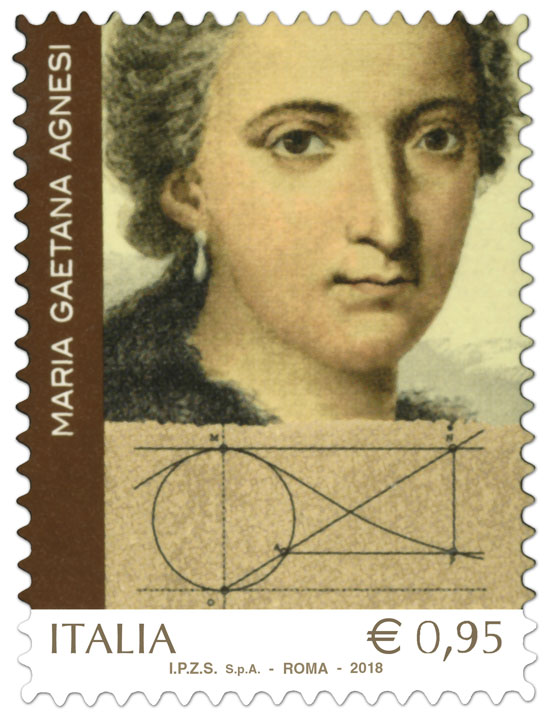 Maria Gaetana Agnesi vide la luce come primogenita di 21 figli di una ricca famiglia di commercianti milanesi, che riconobbe e incoraggiò il suo eccezionale talento scientifico fin dalla più tenera età. La seconda figlia, Maria Teresa, era invece molto musicale e si dedicò presto allo studio del clavicembalo. L'orgoglioso padre organizzava "serate accademiche" in casa sua, durante le quali Maria Gaetana e Maria Teresa potevano mettere in mostra la loro bravura. Gaetana discuteva di filosofia e scienza con i dotti ospiti, mentre la sorella li intratteneva con il suo clavicembalo.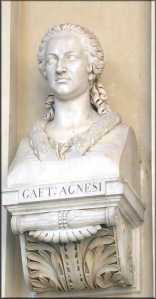 La vita di Gaetana procedette in questo modo finché, nel 1739, all'età di 21 anni, espresse il desiderio di entrare in convento. Il padre riuscì a dissuaderla. Gaetana acconsentì a continuare a dedicarsi alla scienza, ma solo alle seguenti condizioni: in primo luogo, voleva poter vestire in modo semplice e modesto; in secondo luogo, voleva poter andare in chiesa tutte le volte che lo desiderava; in terzo luogo, voleva essere esonerata dall'andare a teatro, a balli e ad altri eventi simili.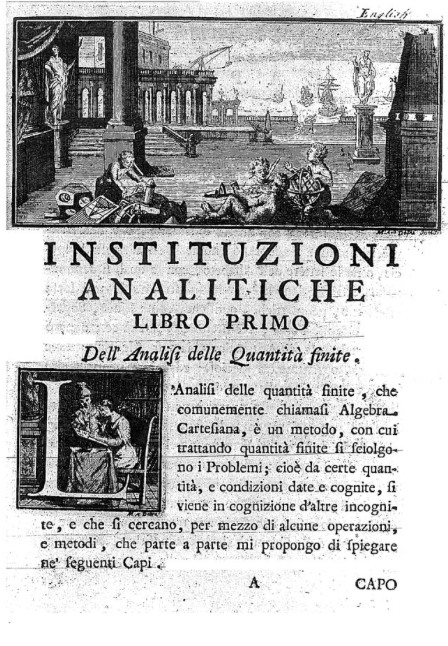 Per tutto il decennio successivo Agnesi si dedicò diligentemente alla matematica. Il risultato dei suoi studi e delle sue ricerche fu l'opera Instituzioni analitiche, pubblicata nel 1748, che ne consacrò la fama. Si tratta di una presentazione sistematica delle conoscenze matematiche del suo tempo. In due volumi, Agnesi tratta i campi dell'algebra, della geometria analitica, del calcolo integrale e di quello differenziale. Nel farlo, non rivendica le proprie scoperte matematiche, ma rielabora in modo approfondito la matematica del suo tempo nel tentativo di ricondurre a un "ordine naturale" le disparate scoperte disseminate nelle opere di molti autori: "Mentre mi occupavo dei vari metodi, immaginavo loro estensioni e diverse altre cose che forse non mancavano del tutto di novità e originalità". Agnesi attribuiva particolare importanza alla massima chiarezza espositiva, alla quale subordinava la "purezza del linguaggio".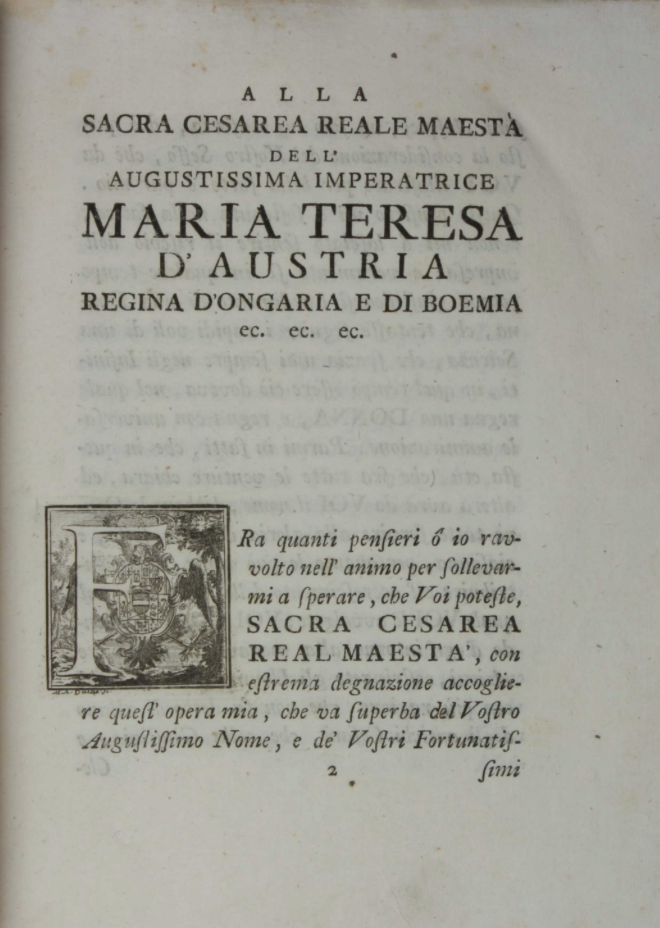 Maria Gaetana Agnesi dedicò le sue Instituzioni analitiche all'imperatrice Maria Teresa, che in cambio le regalò una scatola di cristallo con diamanti e un anello di diamanti. Papa Benedetto XIV la nominò professoressa onoraria all'Università di Bologna, dove però non insegnò mai, nonostante la grande fisica Laura Bassi glielo avesse chiesto più volte.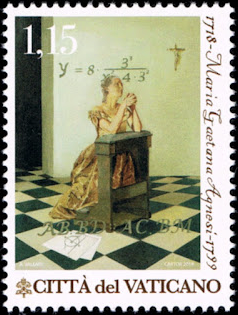 Quattro anni dopo questo trionfo - Agnesi aveva 34 anni - il padre morì (la madre era già morta dopo la nascita dell'ottavo figlio, quando Gaetana aveva 14 anni). Le restarono ancora 47 anni di vita, che dedicò integralmente alla pratica della fede e alle opere di carità. Si diede subito allo studio della teologia e iniziò ad occuparsi dei poveri e degli ammalati. All'inizio visse con alcuni dei suoi assistiti nella casa di famiglia, poi si trasferì in una casa popolare con quattro di loro.
Nel 1771 Agnesi assunse la direzione della sezione femminile del Pio Albergo Trivulzio e dedicò a questa istituzione gli ultimi 28 anni della sua vita. Il numero dei residenti salì presto a oltre 450. Nel 1783 Agnesi stessa si trasferì nella casa.
(Testo del 1998)

Traduzione: Donatella Trevisan
Author: Luise F. Pusch

Agnesi, Maria Gaetana. 1748. Instituzioni Analitche Ad Uso Della Gioventù Italiana. Riproduzione: 2012, Nabu Press.
Anzoletti, Luisa. 1900. Maria Gaetana Agnesi. Milano, Editrice L.F. Cogliati.


Frisi, Antonio Francesco. 1799. Elogio storico di Maria Gaetana Agnesi. Milano, Galeazzi.
Minonzio, Franco. 2006. Chiarezza e metodo. L'indagine scientifica di Maria Gaetana Agnesi. Milano, Lampi di stampa.
Mazzini, Moira. 2021. Maria Gaetana Agnesi. Una donna del Settecento tra Scienza e Fede.
Mazzotti, Massimo. 2020. Maria Gaetana Agnesi e il suo mondo. Una vita tra scienza e carità. Roma, Carrocci. ilmiolibro, kataweb.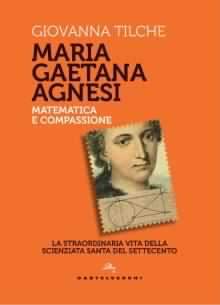 Spiriti, Andrea. 2016. Maria Gaetana Agnesi. Scienziata, umanista e donne di fede. Roma, Editoria Grafica Colombo.
Tilche, Giovanna. 2018. Maria Gaetana Agnesi. Matematica e Compassione. La straoridinaria vita della scienziata santa del Settecento. Milano, Feltrinelli.
Zen, Stefano. 2017. Maria Gaetana Agnesi tra Newton e Leibniz. Scienza, religiositá e autonomia femminile nell'Italia del Settecento. Roma, Aracno.
A.F.S.U. Accademia di Filosofia delle Scienze Umane. Maria Gaetana Agnesi. Personaggi della Matematica. https://www.afsu.it/maria-gaetana-agnesi/
Bianchi, Lucica. 01.07.2014. Maria Gaetana Agnesi. I tesori alla fine dell'arcobaleno. https://itesoriallafinedellarcobaleno.com/2014/07/01/maria-gaetana-agnesi/
Comune di Bovisio Masciago. 11.04.2023. Maria Gaetana Agnesi - Una scienziata fuori dal comune. https://comune.bovisiomasciago.mb.it/la-citta/personaggi-illustri/maria-gaetana-agnesi/
Né brutta né bella: nel salotto di Maria Gaetana Agnesi. 09.12.2021. Rappresentazione teatrale di Maria Eugenia d'Aquino.Roero, Clara Silvia. 11.02.2020.
Maria Gaetana Agnesi e le Insituzoni Analitiche. Genesi e successo europero di un trattato.
https://sites.unica.it/pls-matematica/files/2020/03/SilviaRoero_Agnesi_11.2.2020_Monserrato.pdf
Todaro, Veronica. Donne che storia! Maria Gaetana Agnesi. Il Dialogo di Monza. La provocazione del bene. https://www.ildialogodimonza.it/donne-storia-maria-gaetana-agnesi/
Consiglio Nazionale delle Ricerche - Comunicazione. 06.05.2017. Comics & Science On Air: le storie di Archimede 6. Maria Gaetana Agnesi, Versoria vitae.
If you hold the rights to one or more of the images on this page and object to its/their appearance here, please contact Fembio.
---